We are all familiar with the saying "A dog is a man's best friend." And friendships should be nourished. This means providing not only love , food and water to your dog. It's about giving your dog the right care and essentials. For example, one of the essentials is a nice place to sleep. Show your affection and love for your dog, and get a high quality dog basket bed. To make sure you have picked the right one, do not overlook things like size, material, features, etc. Just as it is important for people to have a comfy bed to sleep in, it is also important for dogs to have their own space to rest as well. Keep in mind some of the following things when shopping for a dog basket bed.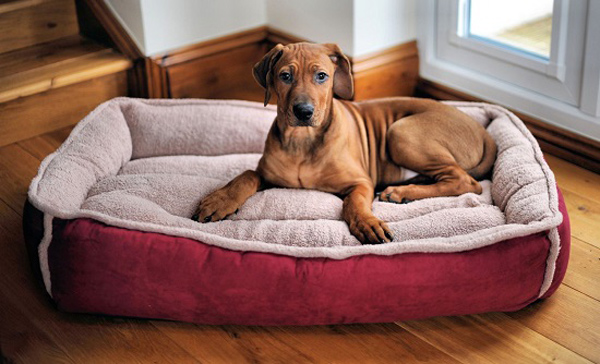 Consider Your Dog's Sleeping Preferences – Every dog has own sleeping position, same as people do. Therefore, observe your dog to see whether it prefers to curl up in a nest, or strech out on a flat rectangled bed.
Type of Beds – Three types of dog beds stand out on the market. The bolster dog basket bed looks more like a couch with an arm-rest wrapped around the bed. Dogs love this type of bed, simply because they can nest and cuddle against the bed at night. If your dog loves to squeeze in the bed from head to toe, then the rectangled type is the one you need to buy. The round dog basket bed is similar to the rectangled one, flat on both sides but with different diameter dimensions.
Washing & Care – This is probably one of the most important factors that you need to consider. You must understand that your dog is not immune to crawling insects and dirt. That means you need to take proper care of your dog's bed. Make sure the dog basket bed you buy is safe to wash and dry in the machine.
Durability – Most pet owners pay attention on the design rather than quality, when it actually needs to be the opposite. You should never sacrifice durability for design. Yes, you will find a lot of trendy and stylish dog basket beds, but quality and durability should always be your priorety. After all your pet will use the bed for years.
Replacement Parts – If you are determined to buy your dog a quality basket bed, then you must make sure that replacement parts are easy to get. That will save you a lot of troubles in the future, when you decide to change bed's inner-pillow or a cover.