Way back before cubby houses were manufactured in most distinctive and cool ways, they were just something that most dads put together for their kids. They were nothing fancy and usually a little faulty. Some were even just sheets or tarp strung over plastic chairs. These days cubby houses are not the same at all, they are sleeker and come in so many designs and shapes. In fact, they seem to be making a huge comeback with more and more people looking for the right one. Most of the time it is families who want to give something to their kids or add value to their homes by adding something interesting into the yard such as a cubby house. There are even custom designed cubby houses made to fit the architecture of your yard completely.
Just like anything else, cubby houses are also left open to latest trends and innovations – therefore nowadays we can witness a few new takes on the cubby house. The main focus with the modern cubby house seems to be keeping things fun. When you're designing something for children, you are quite limited as you need to keep them safe. There have been great innovations in keeping just the right balance between fun and safety. Most of the time cubby houses will do this by incorporating colours and elements of surprise like hidden rooms to give kids a sense of adventure and letting them escape adult environments.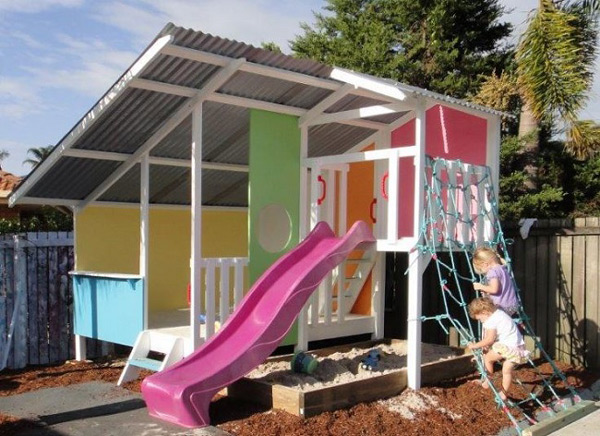 There are four factors you need to remember if you want your cubby house to be awesome:
Safety Comes First
This is something that can't be stressed enough and something that we as parents strive to uphold. When it comes to cubby houses, be aware of anything that can fall onto the house and always check any railing, ladders, and weak spots that may need replacing – get to it on time. If you are building the cubby house on your own, you should make sure the materials you are using a free from toxic chemicals that could harm your children. If you are planning on putting the cubby house outdoors you need one with lockable doors and windows to make sure that no animals and fewer insects can get inside.
A Sense of Adventure
Cubby houses were invented for the purpose of fun and adventure in a first place. Therefore, make sure that you get your kid one that can be adapted to any kind of environment from their imagination. DIY-ing the cubby house every once in a while is a must, and for that purpose you need to make the cubby house adaptable. Your kids will grow and their desires will change, so being able to update it to their current wishes is quite an achievement. Keep the design of the cubby house simple, kids will get tired of the same eccentric design pretty quickly.
Privacy
Elevating the cubby house is another point that adds to the adventurous, getaway feel and while it is not always possible to put it extremely high, even a few steps can make a huge difference. This really gives kids a sense that they are escaping from adults and their regular home. You also need to consider that if you plan to sell your home any time in future, you need to keep the cubby house removable.
Homey Elements
Second, it is great to have certain elements from a true home, such as bookshelves, chairs, pictures, and so on. This will really give your kid a sense of ownership over the cubby house and that's the way it should be. When they feel like they own it they are more likely to take responsibility for it and tidying it up.
Hopefully, after reading this article, you will be able to make an informed decision on what kind of cubby house you want to add to your backyard.