If you are in the fabrication and manufacturing industry, then you know that reliability and productivity are the keys that make the difference between a successful or failing business. To remain competitive, companies today need to continuously work into finding ways to boost their production and minimise defects, while maintaining low costs for machinery and labor. Many manufacturing facilities, small or large-scale, are turning to robot welding to achieve these goals.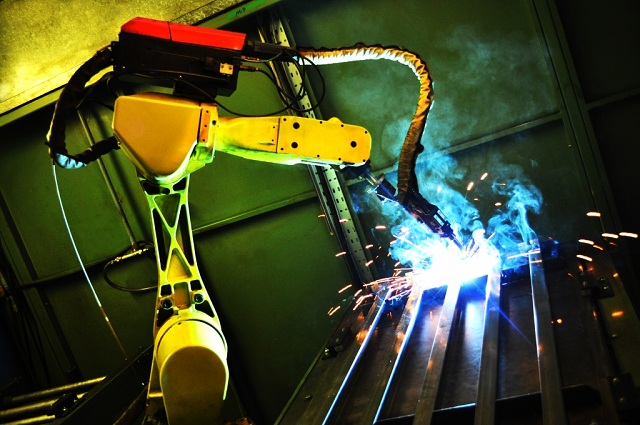 When it comes to applying robotic welding in your work environment, careful planning is necessary for the system to function in an efficient and profitable manner. Though there is the factor of price to be considered, you should keep one aspect in particular in mind: welding robots provide plenty of long-term benefits for a company.
While welding robot is considered an expensive investment, this system is capable of incredibly precise and quick welding. The payback from these systems comes in the form of significantly increased productivity and welds of highest quality. In addition, robotic welding provides an advantage in labor costs and lower energy consumption which is both good for your pocket and the environment. If you are thinking of investing in a welding robot system, remember it is the best decision you can make in the long run. Most companies using these systems expect a complete reimbursement within a period of 15 months maximum after installing them.
To reap the benefits of robot welding, it is crucial to choose accurate and reputable machinery design. Poor joint access, fit-up or gaps all impair a robot from accomplishing its jobs properly. In order to choose the best part design for your welding robot application, keep an eye on the simple parts that enable the robot to perform the same weld repeatedly and avoid intricate tooling or clamping to hold it in place as they can affect the efficiency of your robot.
For optimal productivity and low costs you also need to select your consumables (such as nozzles, contact tips, retaining heads and liner) prudently. Not less crucial is for well-skilled operators to get proper training and learn the ways robotic weld works before its implementation. Operators must be familiar with ongoing supervision and maintenance of robotic welding to ensure proper functioning for many years.
Overall, good equipment selection and skillful operating are the essential components of managing a productive and profitable robotic welding operation. Whether you are new to robot welding or are looking to improve an existing system, understanding these factors will get you a long way by helping you gain a competitive edge and make the most of your investment.