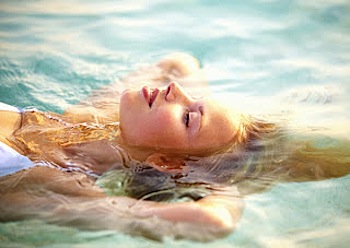 Another summer season is drawing near and it is time to arm yourself with all the sunny season accessories. However, aside from getting cute outfits and loading up on sunscreen lotions, it is time to think of the ways to protect your hair from the harmful UV rays and keep it shiny and healthy during hot summer days. There are several things you can do to ensure beautiful summer hair.
First of all, regular hair care is essential for healthy hair regardless of the weather season, haircuts (even if it's just to trim the split ends), washing and maintenance. Let's start with washing. Rule No.1 is to avoid washing hair every day. Instead, wash your hair every 2-3 days; use gentle shampoo only, apply small amount (size of a 50c coin) to the scalp and rub it gently. Always rinse well and use hair conditioner. It is recommended to use hair mask, at least once every two weeks, depending on your hair texture and health. When it comes to drying, avoid using blow dryer whenever possible. It is best to gently rub and then wrap the hair in a towel for about 10-15 minutes.
Let hair fall freely, gently comb with a wide-tooth comb to avoid breakage as wet hair is extra sensitive. When brushing, always comb your hair starting at the roots and work your way down. It is important to brush hair twice a day, in the morning and before going to bed. Proper brushing stimulates blood circulation in the scalp area which increases oxygen level important for the growth of hair follicles. If you are in a rush and need to use blow dryer, hair straightener or curling iron, always apply heat protector before using these products. These are just few basic hair care things you need to implement in order to avoid hair damage and hair loss in women.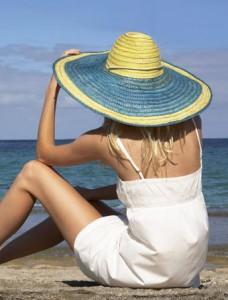 However, there are few other tips you need to know to prevent damaging and thinning hair during hot summer days. Just as you would use sunscreen to protect your skin from harmful UV rays, you need to do the same with your hair to protect it from sun, salty water and sand. The easiest way to protect your hair is by wearing hats or scarves. They are really appropriate, trendy and great hair protectors not only in summer, but during winter too. If you are not a hat person, use UV protection hair sprays which contain keratin, protein that does wonders for hair.
Also, avoid permanent hair straightening tretments, hair straighteners, curling irons and blow dryers because they dry out hair. This is especially true for women who have thin and weak hair. Use organic shampoos and conditioners and always wash hair after swimming in a pool. If you spend a lot of time on the beach, avoid direct sun exposure right after being in the water. This will greatly damage your hair.
The above mentioned tips are proven for any hair type. Improper hair care may cause major damage and lead to hair loss and you'll be forced to use various hair loss treatments. Hair loss in women can occur due to many reasons, but proper care of your hair will help you prevent major damage. After all, beautiful, healthy and shiny hair, is what defines female beauty. It is every woman's secret seduction weapon. So ladies, be good to your hair. Take proper care not only of your hair, but of your whole body as well and enjoy life!