Whether going on a weekend getaway or on a one-week vacation to the incredible Brighton beach in Melbourne's suburb, you still have to go with a luggage. It is simply inevitable as you will surely want to go out every night, change several bath suits and outfits. A small handbag simply doesn't do it. But, I have few tips up my sleeve and few suggestions on what to wear to Brighton beach! Take a peek!
Workout Clothes Are A MUST – If you thought summer hats are the must, you got it wrong. There is no better place for a morning workout than a beach. Pack your workout tanks with specially built-in bras and running shorts. If you want to make an impression and be noticed, choose fun colours and modern prints.
All You Need Is Three Pairs Of Shoes Max – When it comes to shoes, you only need two or three pairs. Obviously you will need an athletic pair of running shoes and a pair of flat sandals. If you think on going out at night, you can take one pair of high heels too. Choose a neutral colour and style in order to match any outfit, whether it is a day or night.
Do Not Forget To Take Several Jumpsuits – With so much to see in Brighton, there is no doubt you might be busy visiting so many places, so you will have to take with you an easy to wear clothing. Make the getting ready process in the morning quick and easy by packing a few jumpsuits. They are the ideal piece of cloth to wear anywhere as they are one piece and easy to put on. If the nights get cooler, you can throw a shirt or sweater over the jumpsuit.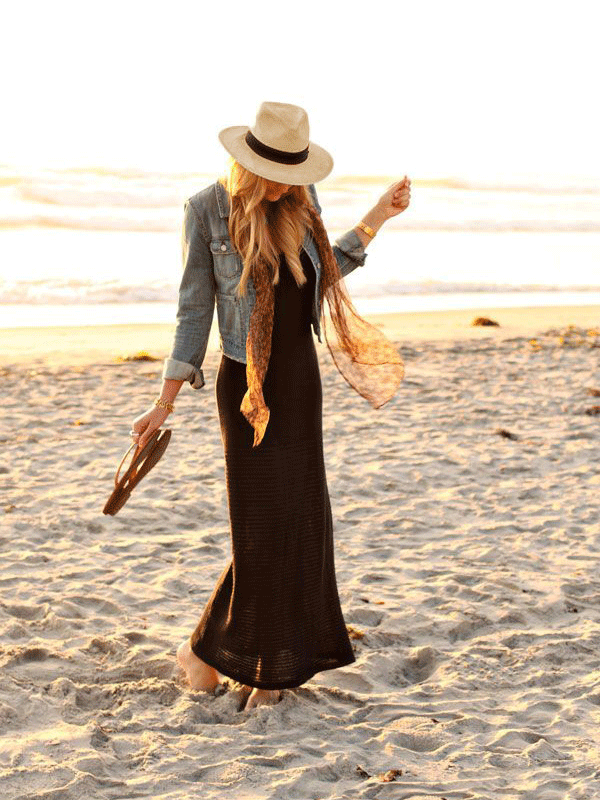 Cool And Comfortable In A Cotton Maxi Dress – Do not leave without a maxi dress. Just like jumpsuits, maxi dresses are extremely comfortable and easy to wear. You can choose a lightweight cotton maxi dress that will keep you cool on hot days and will make you look trendy as well. They are quick-drying, which is another benefit for taking few of them when going on a vacation.
Cover-up With Wide Brim Hat – Cover-ups and summer hats are essential when going on a vacation. Both cover-ups and summer hats are trendy and yet a great solution when going on shopping after the beach. These two essential items will keep you cool; they will protect you from the sun and will make you look chic.
Accessories – Regardless of your outfit, accessories are a great way to enhance your look. They also do not take much space in a suitcase, so when packing take a few necklaces, scarves and bracelets.