Camping, you either love it or hate it! While some people love the idea of going outdoors and living a simpler life for several days, others hate the idea of having to sleep on the ground and having limited access to fresh and clean water and food. Luckily, nowadays the number of people who prefer spending the weekend adventuring outdoors is on the rise, compared to the ones who love watching Netflix all the time.
When it comes to camping, except for the basic things like carrying a tent, sleeping bag, proper clothes and lighting (headlights and torches), you also neeed to think about food. And while it's true that camping requires a lot of planning ahead, one can make it easy and simple by choosing the types of food wisely. One thing is certain, experienced campers state that making a meal with just several ingredients or warming up a ready one is one of the joys of camping. Hence the common remark that a simple sandwich with cheese and bacon is more delicious when you eat it outdoors.
Canned Sardines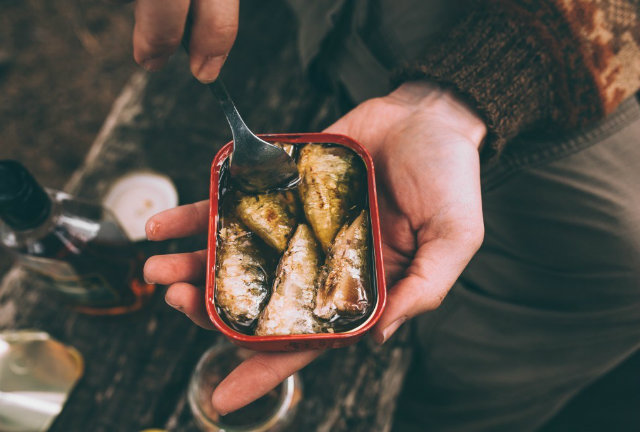 If you're not able to carry raw or frozen fish, purchasing several canned sardines can certainly do the job. These small oily fish are high in protein and offer a good amount of calcium, vitamin D and cobalamin. They are also rich in iron, magnesium and vitamin B6. They can be consumend in a number of ways: put in a toast, on crackers, in salads, on pasta dishes, on a pizza and so on.
Eggs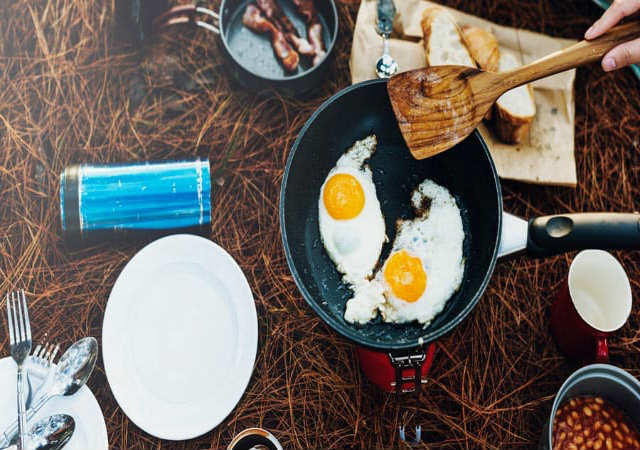 Another simple, fast, yet nutritionally dense type of food that can be consumed on a daily basis are eggs. The only concern about eggs is their transportation and nothing more. Just like sandwiches, omelettes in nature can be tastier, especially when prepared with a range of fillings and food items. Eggs prepared with mushrooms or cheese with lots of seasoning are something avid campers consume a lot, especially with warm and crunchy bread.
Trail Mix, Bars and Nuts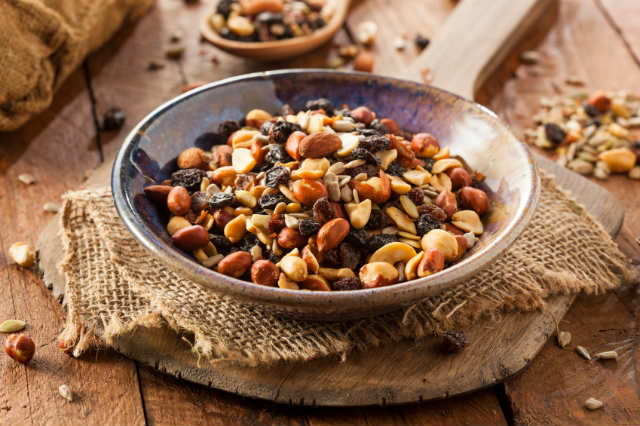 There's no denying that everyone loves snacks, which means that no camping experience and trip can be complete without them. For example, an enjoyable trail mix with dried fruit and nuts can surely satisfy the hunger of every camper when if there's not enough food or when there's no time for a proper meal. However, usually people love to have such camping meals at hand as they are ideal for when the body has higher energy demands. The mixture of carbohydrates, fibres and protein is ideal for supplying the working bodies with the needed extra energy and nutrients required for moving for a longer period of time. Except for the trail mix and bars which are available in different fruit flavours and nuts percentage, purchasing several packages of nuts like peanuts and almonds is also great for satisfying the hunger while providing the body with lots of energy.
Instant Mac & Cheese, Cu Noodles and Soup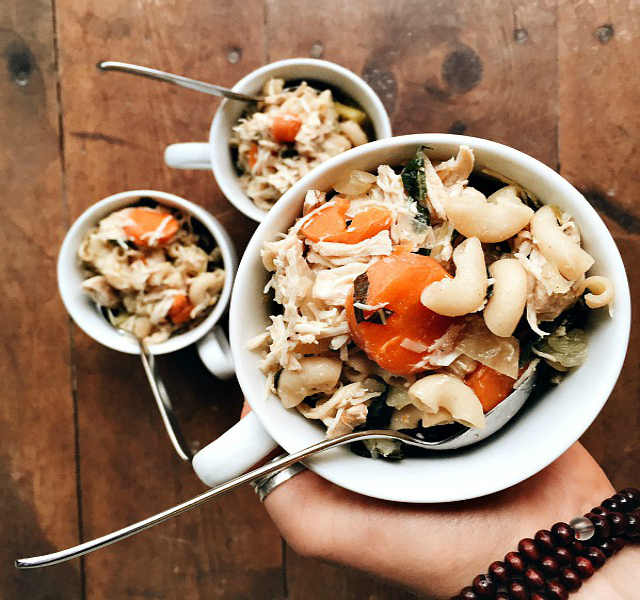 These types of camping meals will surely bring back some college memories for many former students for who this was a constant go-to option (chuckles). Usually, such instant camping meals require only hot water for preparation and nothing more which makes them the ideal choice for camping.
Beef Jerky and Dried Fruit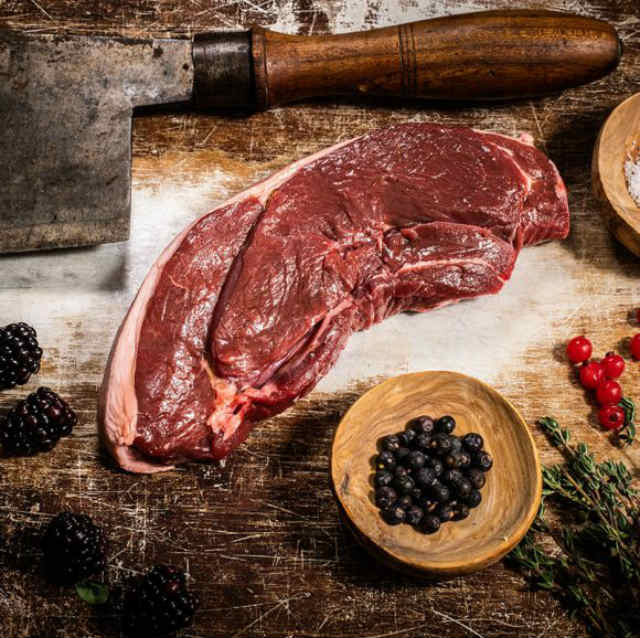 When extremely hungry and in the need of some extra energy (for instance, when still hiking or exploring a place), beef jerky and dried fruits are everybody's best friend. In fact, experts state that these camping meals are the preferred type of food among campers as they requires zero prep and cleanup.
Instant Coffee and Tea Bags
Although not an actual camping meal, coffee is, needless to say, an essential daily beverage. No matter where we are or what we do, most of us are addicted to caffeine and need it on a daily basis (some in larger quantities). Well, you can carry a small Moka espresso maker and make a warm and fresh coffee or use an instant coffee that needs to be diluted in a cup of hot water. For those who aren't coffee fans, taking different flavours of tea bags will do the job.
Sandwich Making Materials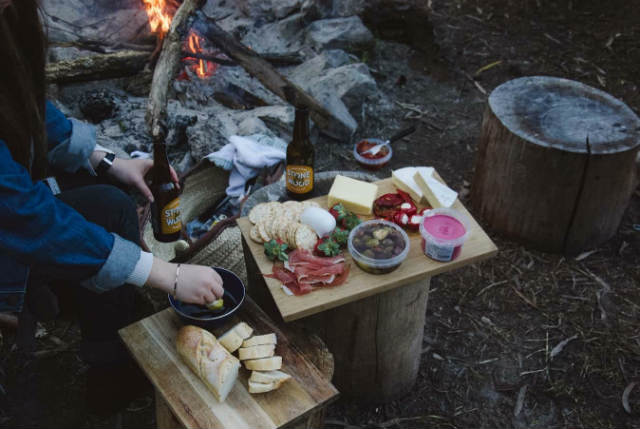 As I already mentioned, there is nothing tastier than eating a sandwich outdoors, so having some sandwich making materials is a must. Bacon, butter and cheese are best for making a salty version of a sandwich, while peanut butter, jelly, fruit and some other extras are essential for preparing a sweet sandwich that could be combined with a glass of milk, tea or coffee – perfect for in the morning.
Camping Breakfast Burritos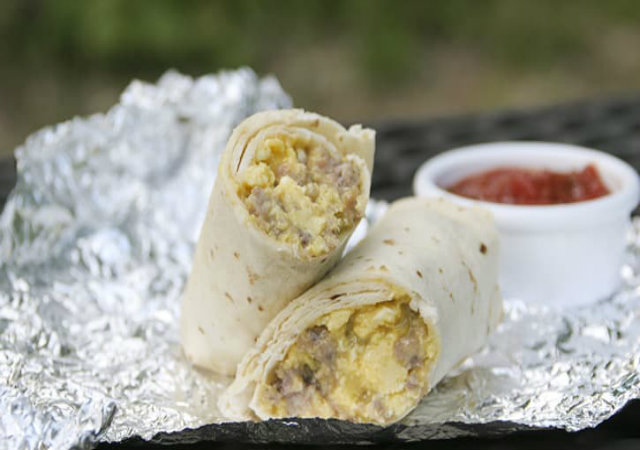 For those who want to have a proper homey breakfast, there's the option of a chicken burrito. The main ingredients for this breakfast are tortillas, chicken sausages, eggs, crispy fried/baked potatoes and shredded cheese.