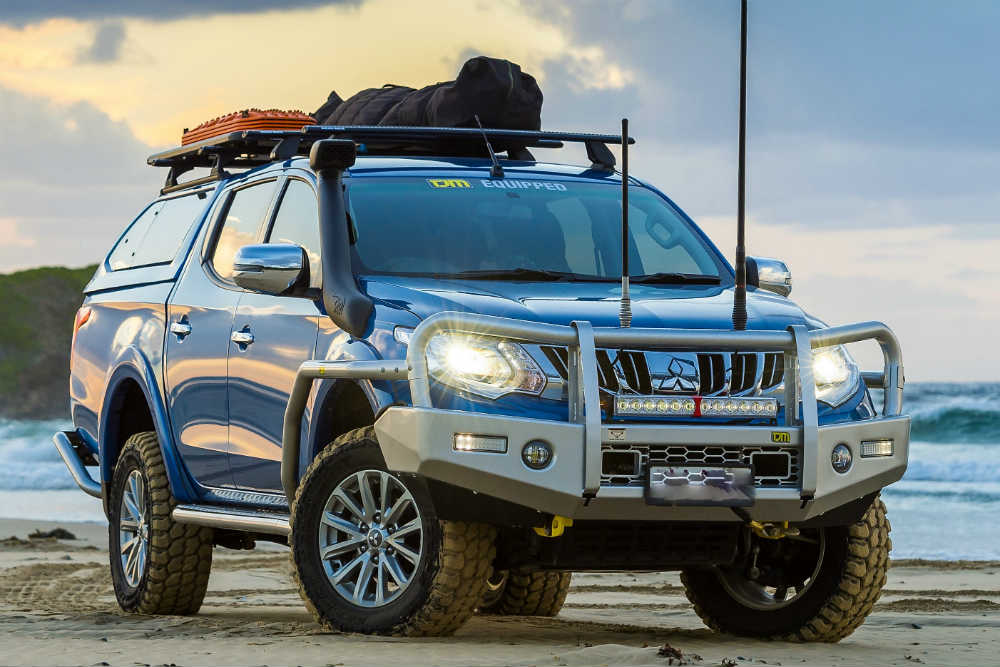 When you decide to go 4WDing, you should be aware that you are in fact making a big step into the remote and unknown. Every system and part of your vehicle has to be in top shape and you should be prepared for everything that may come your way. For that reason, before venturing off-road, you need to consider equipping your 4WD with some useful accessories. If you own a Mitsubishi Triton, here are some of the best ways you can prepare your ride for a hassle-free adventure.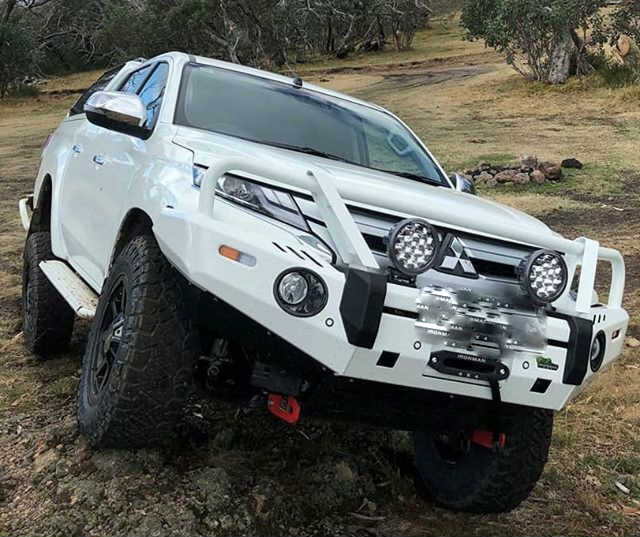 1. Bull Bars
In the outback, there's always a risk of hitting a wild animal or having rocks jump up from the road and into the front of your vehicle. To protect your ride, you'll need a quality aftermarket Triton bullbar.
Aftermarket bullbars come in several varieties these days. Look for one that has high-lift jacking points and numerous recovery hook and eye locations. In terms of materials there are many options as well. Some go for alloy bull bars and this is not a mistake in itself. However, if you're looking for durability, you might want to checkout the range of premium steel bullbars.
You may also want to look for a Mitsubishi Triton MQ bullbar designed and made in Australia. This is important because the build is developed with the harsh Australian sun and road conditions in mind, so these models usually have salt spray and UV metal coating. And they are made to comply with local safety standards (like ADR69 and airbag safety regulations).
There are bull bar models with detachable side wings, this is another feature to consider. You also want to look into the capacity of this Mitsubishi accessory to support a winch. If it is made of 63 mm steel tube welded by robots it should be able to take up to 15,000 pounds winch. Even though it can be overlooked the weight of the bull bar affects tyre, suspension, and brake wear.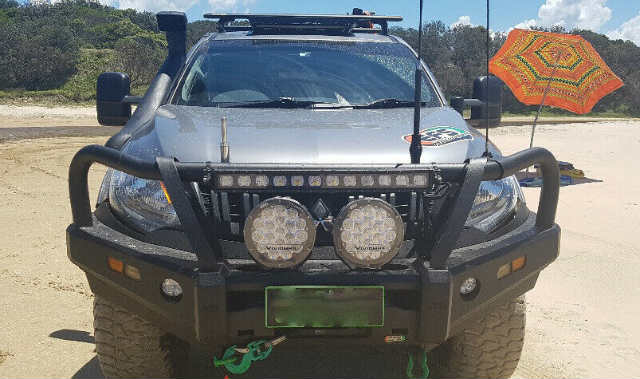 2. LED Lights
Mitsubishi Triton MQ offers a really convenient way of lighting the off-road trail at night. The allotted location of the light bar of the ute is thoughtfully situated upfront. When planning to upgrade your driving lights, it is almost practical wisdom to go for LED bar instead. You will be grateful when you need to floodlight a stray animal in the dead of night. In a sense, if bullbars offer protection to the front of your vehicle, LED light bars to help protect the bullbars.
They come with a polycarbonate lens and resilient aluminium housing for protection from the elements. Their wiring depends on the type of front protection you have already installed. Or the one you intend to install soon. It usually has two modalities: outboard reflectors for widespread light and inboard reflectors for long-range reach.
3. Door Protection
Every 4WDer will tell you that your door takes a lot of beating. More than an urban car, anyway. The vehicle is higher and this translates into a high degree of wear. To counter it, many adventurists add protection to the door edges to eliminate the ugly paint chips and scratches.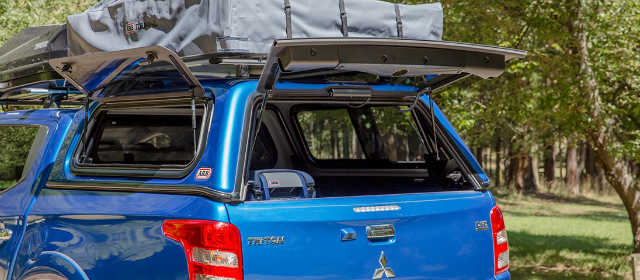 4. Cover or Canopy for the Rear
The rear of the Mitsubishi Triton leaves a lot to the imagination. This multitude of options can serve to confuse you. So, many owners decide to just leave it as it is.
Those that want to clearly show that this beauty is not fresh out of the assembly line often leave their mark at the rear. Installing a tonneau cover is one way to personalise the rear. It consists of gas struts and stainless steel hinges for easy operation. One has to keep the versatility and flexibility of the truck bed when going along with this kind of cover. You'd want to look for a mechanism that locks firmly and securely into place.
And security is not the only concern. Your long-term plans also affect this choice because you might want to put something on top of it. Even if that means that you'll need to transport the occasional game animal or sporting gear. You will have to plan in advance and check the options for mounting crossbars for safety.
The other, more permanent looking solution for the back of the ute is installing a canopy. These are usually made of durable and tough ABS plastic. You can select one in the exact same colour as the rest of your 4WD for a perfect fit. While the canopies can also wary, most of them contain a gas lift rear window, tilt upside window and a front window. Safety is guaranteed with a lock. Your ultimate intentions are pivotal with this gear as well – you have to buy them having in mind the carrying capacity of any roof rails you might wanna install on top of the canopy.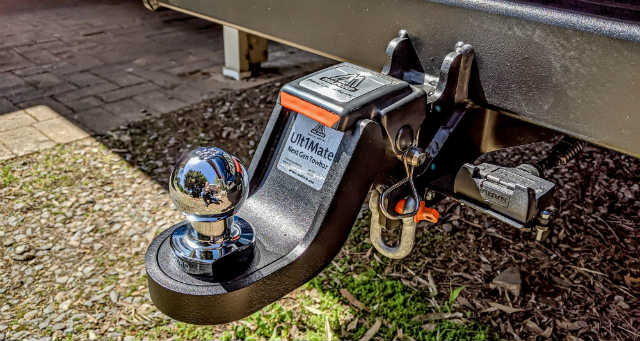 5. Towing Gear
No one wants to be stranded in the outback with a vehicle in disrepair. And certainly, no one is comfortable leaving their 4WD behind, so reliable towing gear is very important.
There are towbar kits that are specifically made for Mitsubishi. Apart from the innate compatibility, if you go for the same manufacturer you can enjoy better warranty in case something goes wrong. These kits include a towbar, tongue, wiring harness and flat plug. Some kits come with a towing ball, some don't. They can be attached to your recovery points with relative ease.
Nothing speaks recovery point as a winch does. This is where the type of Triton bullbar you selected can play a crucial role. Your winch choice should be based on your bull bar and vice versa so that both of them can get you out of harm's way.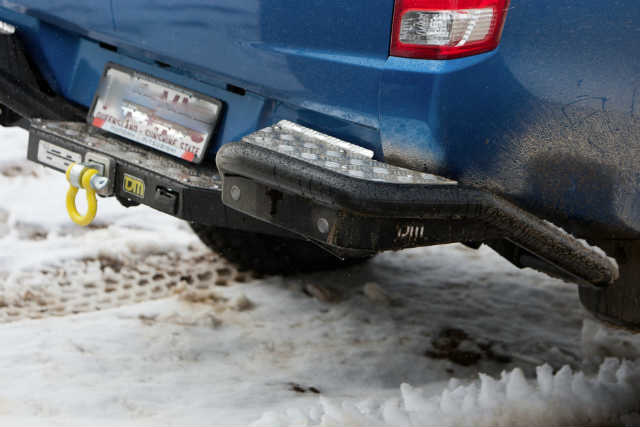 6. Rear Bar
Although it is not as popular as the bar for the front, a rear bar can serve to protect your vehicle from preventable damage. It can be paired with the Triton MQ bullbar, especially if appearance is important to you. The materials and the build are undoubtedly very similar.