We have to admit being adventurous is part of our nature, us Aussies I mean. Considering our ancestors have lived the camping lifestyles, it sure is in our genes. This is why it's not surprising the numbers of 4x4s have been on the rise in our country, particularly the Toyota Hilux, which goes to show how much most of us are all up for some adventures off the beaten track.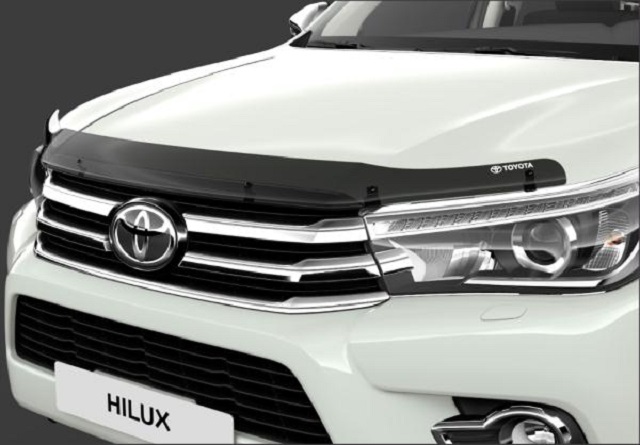 However, an important thing to have in mind is off-road adventures require the adequate preparation; from knowing how to pack properly, knowing the things to pack accordingly to the area where you intend to go, and evenly distribute the weight all around your vehicle, to properly accessorising your 4×4, it's all part of the adventure.
Since Australia is known for its creepy crawlies , you should expect to see plenty of them along the road, and the annoying thing is you should expect many of them to bump into your precious vehicle. Unless you want to get a collection of bugs, or debris also, you're best off investing in a Toyota bonnet protector.
Why is this such an essential accessory you may think? Its design is certainly made to protect (as you can guess from the name) your vehicle by sweeping the bugs and debris (including stones) into a stream, and then sweep them over, deflect them by deflecting the airflow, so your windshield is intact; talk about efficiency.
Since purchasing a Toyota bonnet protector is an important investment, there are certain things you'd have to have in mind when doing the purchase if you want to make the most of it. First and foremost, you have to make sure the protector you get is made for your vehicle model, as well as in the same specific year of the vehicle, to perfectly match its contours.
Second, you know you've made the perfect choice when your protector is aerodynamic in low to medium profile, something that ensures both functionality and stylishness for your 4×4. Materials matter in terms of durability, and the best among them has got to be acrylic, as it's resistant to cracks and scratches.
You'd be surprised to find third party manufacturers create the same outstanding quality protectors that match your vehicle, and come in more affordable prices so it's the sort of investment that would pay off in the long run. They make for easy installation as well, particularly the no-drilling option which is perfect if you don't want to drill your 4×4, and just use existing holes instead with fasteners.
There are also specific videos you'd be able to find online from pros if you're not exactly sure on the installation, so you'd save on time and money. They're even easy to maintain, with a bit of washing with water and soap every now and then, so it's not a matter of whether to invest in such an accessory, but rather when to do so, and the answer is as soon as you decide to go on an off-road adventure.