Me and my boyfriend recently moved into a new apartment, a penthouse on the 14 floor in one of Melbourne's freakishly tall buildings. I'm not the type of person that suffers from height phobias, but for the sake of security and speed of running towards the exit, I'd rather stay on the lower floors. But, the thing about penthouses in Melbourne is that the view you get from those glass walls is worth every single dollar and every drop of sweat when you look down from the perfect balcony.
So when we entered the apartment, even though my judgment was clouded by the 10-minute journey in the elevator, everything was clear the moment I saw the view: we were going to live here. I won't go in details about how I designed this beautiful space, but I will share something you all may want to include in your home: the bar stools.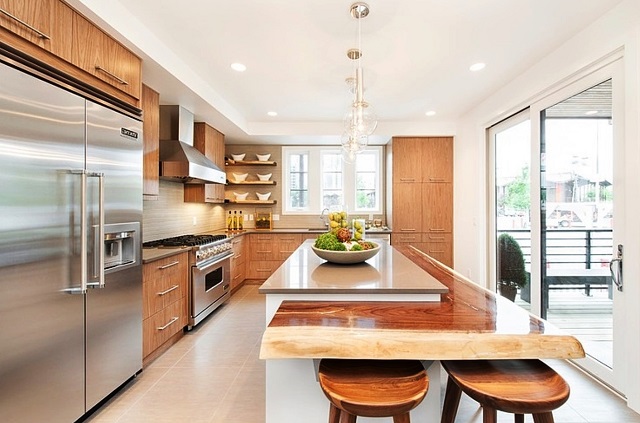 Bar stools are an inevitable element in the design of every modern home; whether you put them in your kitchen, or you have a special bar area in your living room; they give the space a dose of modern, chic and stylish. And you know what they say: your home speaks a lot of your personality. So, I did my homework Sherlock Holmes-style. I researched different designs, models, retailers; read reviews, visited forums; compared brands and prices until I finally found just what I was looking for. I devoted time and effort to buy bar stools that are just right and so should you. Make sure you look for something that has these three features.
Bar, counter or spectator?
If you thought that bar stools are simply bar stools, all the same just slightly higher than a regular chair, you're wrong. There are three heights of bar stools you can choose from: a bar stool is designed to match the part of the counter that is stepped up from the rest of it, which is 106.7 centimeters high. Their height is normally 76.2 centimeters. A counter stool's height ranges between 60 and 66 centimeters and they're designed to match a standard counter height, which is 91 centimeters. A stadium stool is the tallest, and ranges between 86 and 91 centimeters of height, perfect for placing them in front of a TV. So when you decide to buy bar stools, know this important difference in terms.
Material
It's crucial to choose the right material for your bar stools; they should match the overall room style and design. Also, you could make your work a lot easier if you choose materials which are very easy to clean and maintain.
Brushed stainless steel is always a good option. It works great with almost every interior design style.
Mixing materials is also a good choice. For instance, walnut and chrome make a wonderful pair together and can fit into any room design, bringing warmth and comfort.
Comfort
Comfort matters a lot, especially if you're sitting in this type of chairs and having no contact with the ground beneath you (kind of a problem for people with height phobias). Also, it depends on what you'll use them for: for having breakfast, or just for morning coffee or a glass of wine? Looking at it from this perspective:
Arms or no arms? Bar stools with arms are perfect if you plan on using them with a table for dining. Stools without arms serve for more simple purposes, like having a cup of coffee by the counter in the morning, or sitting with a glass of wine while listening to some smooth jazz and enjoying a perfect evening atmosphere.
Leg support is also important since no one wants to sit on a chair while their legs dangling with no purpose. Choose chairs with footrests for maximum comfort.
If your chairs come with a sturdy sitting surface, you can always put cushions on them. The discomfort from a bar stool should be the thing to ruin a date night at home with your babe, the perfect wine and some jazz music on.