A set of kids table and chairs is an indispensable part of the furniture setting in any children's room. Complementing your little ones' room with a set of quality table and chairs is a good way to add value and functionality as well as to create a more personal space for them in their room. Be it for studying, colouring, solving puzzles, building with blocks or having tea or play parties with their playmates, these two furniture elements have an immense impact on the level of fun they will have during all kinds of entertaining activities.
But you cannot just enter any store and buy the first set of kids table and chairs that you come across. It is your little loveys you are shopping for, so it is worth spending some time planning and considering how these pieces of furniture would fit in their room. First things first, to make the right choice you ought to determine what exactly you are looking for, and after that take into account several important considerations that will help you narrow down your options. If you have little or no experience in buying children's furniture, let me introduce you the most important features you should look for when shopping for these elements.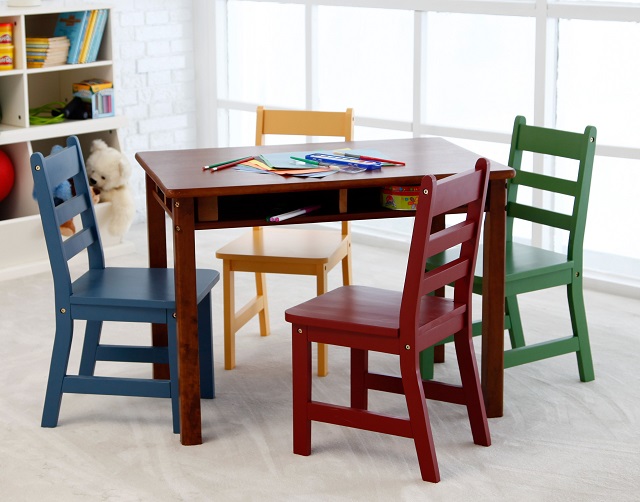 Functionality
It should go without saying that functionality is of the utmost importance when it comes to buying a kids table and chairs set. Of course, the first thing to have in mind while shopping is their age; it makes a great difference whether you need to shop for furniture for babies, toddlers or adolescents, mainly because of the concrete purpose of use.
Available Space
The next thing to do is measure the space available in their room. Only by taking accurate measurements and having them in mind while choosing the kids table and chairs you can determine the size of the furniture pieces you should buy to fit perfectly in the overall room setting. Make sure you leave enough space in the room so that your kids can easily move around the set and play.
Structure
The structure of these two furniture elements, including the material they are made from, has a significant impact not only on their usability, but on their safety as well. Look for well structured furniture that features a sleek design with washable and durable surface, without sharp corners. It is of utmost importance to choose pieces that won't be a threat for your children's well being, destroying all the fun.