If you're someone who constantly operates with power tools using an air compressor, then you know how inconvenient it can be to have all those different air hoses lying around everywhere. For that reason, many people that use an air compressor to power their tools (whether that's for manufacturing, home improvement tasks, or vehicle repair), opt for air hose reels so that they can have a cleaner and safer workspace.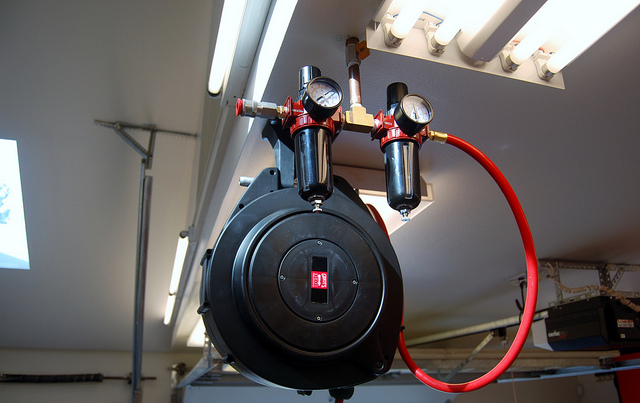 While air hoses are functional tools, they lack ergonomics and a stand-alone host. A retractable air hose reel removes the usual hassle of handling an air compressor. Having a retractable air hose reel around, you'll never have to deal with intertwined or tangled hoses again. Obviously, this removes a lot of safety hazards that the air compressor can pose, so you can keep on working having a peace of mind – not worrying about your hoses getting in the way. This consequently results in an improved pace of work and productivity, regardless of what task is at hand.
However, there are various different types of air hose reels available nowadays, and depending where you look, you'll find models that are meant for light-duty use and some models that are made for heavy-duty use under rough working conditions. The heavy-duty types will typically cost you more, but you're getting value for your money in the long run, as they're ruggedly built with strong, reliable and quality housing.
Some reels come with a hose themselves, while others might not. If you want to ensure compatibility between the reel and hose, simply opt for a reel that comes with a hose. That way, you ensure the entire hose fits in properly, and the retractable feature works properly with it. Some reels feature a handle, so if you're going to be moving the reel often, a handle can come in very…handy.
Additionally, some reels are made of weather, corrosion and rust resistant materials, which makes them ideal for rough outdoor use under extreme weather conditions. Moreover, the reel may feature a spring rewind mechanism, which allows for trouble-free operation and can easily be re-tensioned without having to remove the reel casing.
Lastly, consider whether you need a mounting mechanism. Some mounting methods can be compatible only with particular setups, while others can be mounted virtually anywhere. Generally, you can mount the reel either on the floor, the ceiling, or on the wall. So, by taking into account how and where you'll be using the hose most frequently, one mounting mechanism can be better than the other.