All dancers, regardless of ballet, jazz or modern, know that it's important to keep hair off their face. Anything that may get into your eyes and obscure your vision increases the risk of making a mistake or even worse – falling and getting injured. But besides helping you stay safe and perform better, keeping your hair styled in a professional way also influences your stage appearance.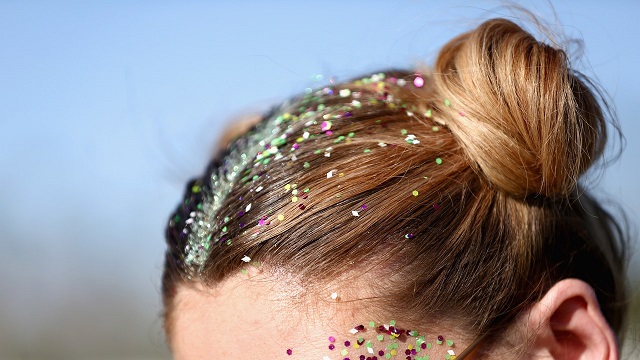 Along with your costume and make-up, your hairstyle also needs to grab the audience's attention. However, up, on the stage, you're several metres away from the first rows, which means that the audience can have a hard time noticing all the details of your stage look. Putting this into account, you need to go 10 times bolder in your choice of clothes, make-up and hairstyle as well.
Due to the fact that they are some of the best hairdos for securely holding the hair in place, most dancers prefer buns, braids and ponytails. And this leads us to the question "How can you make something as basic as a bun bolder?". Well, there are several ways to do it – by using either glitter, hair paints or hair accessories – or even all three at the same time if you're particularly bold!
If you want to shine on the stage both literally and figuratively – glitter is your friend. I mean, who doesn't love glitter? It's fast to apply and can be used both as part of the makeup and on the hair. However, there's a difference between one type of glitter and another. Usually, glitter gels are too runny and might be unable to stick to your strands, especially if your hair is thin. With that being said, it's advisable to opt for a dance glitter spray. Glitter sprays are much faster to apply, and you don't need to worry about having to scrub your hands clean afterwards. What's more, glitter spray also adds extra firmness to your hairdo, helping it stay in place.
Additionally, I'll also suggest getting a dance glitter spray from a specialized dance store. These stores stock products which are designed for dancers. Through personal experience, I've found that hair glitter found at the Halloween aisle in the supermarket is not only a nightmare to remove, but also tends to fall off as you move which can ruin your costume. However, specialized dance glitter sprays are 100% safe to use both on the hair and skin, and are designed to dissolve easily in water, allowing for fast and thorough clean up.
While hair sprinkled with glitter is certainly dramatic enough, many dancers want to make an even bigger impact by using bold hair colours. However, be careful. Using hair paints, coloured shampoo or similar methods of temporarily colouring the hair can cause it to stain. So, either use them in moderation or stick to hues which are closer to your natural hair colour.
And finally, if you don't want to bother with clean-up, you can also use some hair accessories. And the choice is certainly huge. For instance, you can use a red ponytail holder for a minimalist yet impactful look, a circlet for oriental dance, a tiara if you're playing a role in a period dance piece, a headband for hip hop or modern dance, a hat for jazz dance, and so on.