If you're new to the world of exhibiting and trade show circuit, you might feel like this is the best chance you have of getting your brand and its message across, but the question is – how? If you've ever walked across an exhibit or a trade show circuit, you've probably noticed pull up banners. Also known as roller banners, these pieces are affordable and extremely effective at portraying your brand, product, and message. However, in order to get the best one for your needs, you'll first need to consider a couple of basics.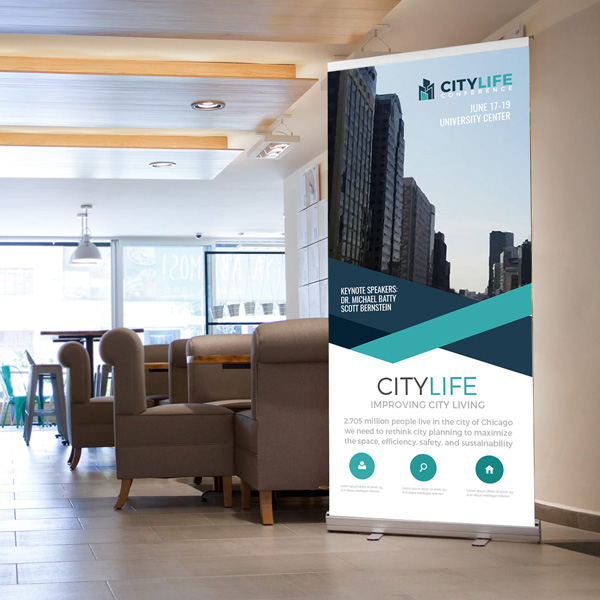 Roller banners are self-standing, retractable banner stands that feature a printed graphic panel. They're usually made from aluminium (the base and most of the hardware), and vinyl and polypropylene substrate (the graphics area). This makes them extremely lightweight and portable, which is one of the biggest benefits for bringing one to an exhibit or a trade show.
They can vary in size but are generally quite large. As such, pull up banners command a visual presence in any area, which makes them perfect for use in promotional photos, videos, and backdrops to staging. In other words, they're very versatile and cost-effective. Their cost-effectiveness comes from the fact that they can be used across all facets of your business – you can use them for a photo prop, as welcome banners, or staging background banners.
Additionally, they're easy to use all the way from unpacking them to assembling them and taking them back down. Roller banners typically weigh less than 3kgs and they're incredibly easy to transport. However, even though they're lightweight, quality pull up banners are made to last. Their aluminium base is extremely sturdy, and the prints on polypropylene or vinyl graphics are made to last. Some manufacturers provide roller banners along with a carry case that's padded to ensure your stand is well-protected.
As far as graphics designs go, you need to be aware of three important things. The first and most important one is the 3-second rule. All of the graphic's key elements should be visible and understood in about 3 seconds. If you can't get the brand's message or idea from looking at it in about 3 seconds, you got too much information on it. Then, you need to identify your main goals. You might be using the roller banner to promote a new product, or just raise awareness for your brand. And last but not least, you need to use high-resolution images for the ultimate impression.