Carpet vinyl tiles along with other vinyl flooring products are some of the most versatile and long-lasting flooring solutions available on the market. They are good-looking and are easy to maintain, a perfect choice for rooms with high foot traffic. Every flooring solution no matter how expensive it is, is prone to some minor or major damages as a result of extensive usage. So, keeping your carpet vinyl tiles good-looking like on the day they were installed, requires a little knowledge. Here are few simple tips about what you need to do in order to keep your carpet tiles in good condition.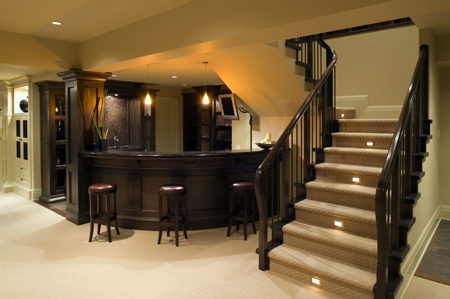 Create A Maintenance Schedule – Regular care will help you maintain and protect the appearance of your carpet vinyl tiles. Depending on how many people are living in your house, here is a recommended maintenance and cleaning schedule:
Daily – Clean your floors by wiping up spills and vacuuming dirt.
Weekly – Give your vinyl floor a good dry cleaning.
Periodic – Use a stain remover made specially for vinyl. Spray the cleaner on the floor and remove it immediately using a dust mop.
Use The Right Cleaning Solution – It is highly recommended to ask your carpet tiles retailer to recommend a cleaning solution best to use in order to protect your carpet vinyl tiles. For stubborn stains, use stain remover made specially for vinyl. Avoid using following products:
acetone
ammonia
solvents
abrasive cleaners
lacquer thinner
All these products can damage your vinyl. Also avoid using detergents or paste waxes because these products can leave a residue or dull film on your carpet vinyl tiles.
Use The Right Tools – Sweep your carpet tiles regularly to avoid dirt build up which can easily scratch your vinyl tiles. Use a broom or dust mop with acrylic or polypropylene bristles. If you use vacuum for your tiles, make sure to use the bare floor attachment. Make sure the wheels of your vacuum are free of sharp edges or debris. To avoid gouges and scrapes, stay away from brushes with bristles made from wool or other abrasive materials.
Prevent Damages – Once the carpet vinyl tiles are installed, wait at least 24 hours before placing any heavy objects like appliances or furniture. Put mats in crucial areas throughout your home to catch spills and dirt. Use a mat or blanket or some other item to protect your vinyl when moving your furniture in order to prevent tears and scuffs, and use floor protectors on the legs of the table and other furniture pieces to avoid permanent damages.