Hiking can be a pleasurable experience even when passing through muddy terrain, swampy grounds and rocky hills, but only if you equip yourself with the proper hiking gaiters. A gaiter is basically a piece of nylon or other rigid and flexible material which goes on your leg covering the area between the ankle and the end of the calf. This simple solution can prevent pesky little things like pine needles and small rocks from entering your shoes, whilst it can also protect your clothing and footwear from scratches and water splashes.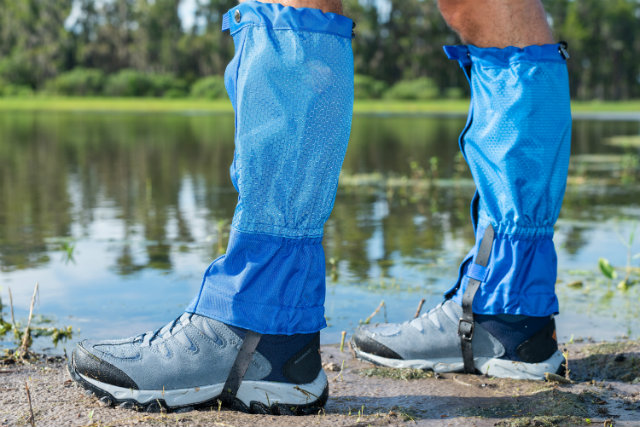 Benefits
Block Debris
Stopping frequently to take out pebbles and sticks from your shoes shouldn't be part of your hiking experience and that's the number one reason why you should wear gaiters for hiking as even the most basic pair will make your hike a lot more enjoyable. It is especially important to use gaiters when you are going on a long-distance backpacking trip or if you are going to be bushwhacking while taking on a hiking trail.
Shield the Shins
Wearing gaiters is also extremely beneficial in the sense that you won't get your pants ripped or your legs all scuffed up when going through thick bushes or traversing dense vegetation that may scratch, stick or prod. Hiking gaiters can also help prolong the lifespan of your footwear.
Insulate
Gaiters for hiking can also serve as an additional insulation layer for keeping your feet warm in the cold weather. If you couple this with the waterproof capabilities, you will also keep ice and snow from collecting on your pants and footwear.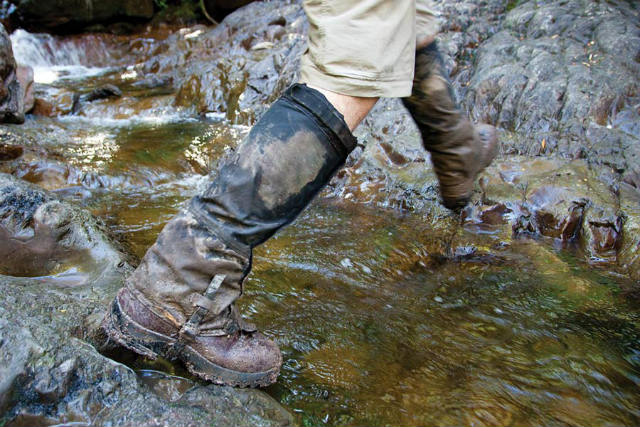 Rain Runoff
Rain can easily slide down your legs and enter your shoes which can be very dangerous in the cold, but not with gaiters. They can divert the rain away and prevent it from pooling into your shoes.
Mud & Bites
Splashing through deep mud with gaiters will keep your feet clean and they are also a great barrier against bites from leeches, snakes and insects. In this case, it's best if you go for thicker gaiters and whilst they may not be very comfortable, at least they'll keep your feet safe and warm.
Features
Abrasion Water Resistance
The abrasion and water resistance of gaiters for hiking is provided by two types of materials: Cordura nylon and Goretex fabrics. Whilst standard nylon is very durable and abrasion-resistant, Cordura nylon is twice as durable and abrasion-resistant.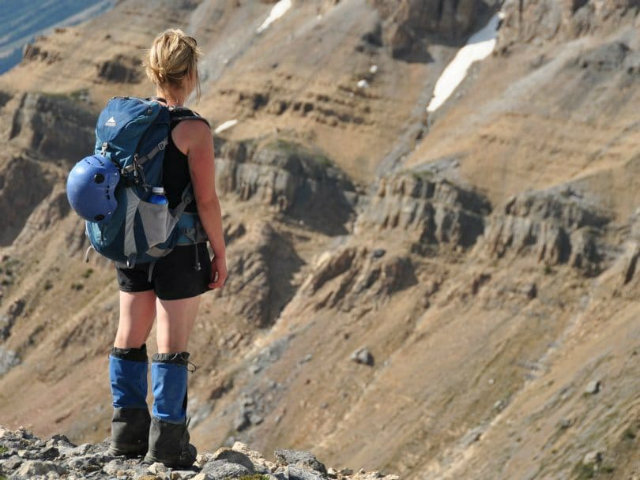 Gore-tex is a membrane of pores that are big enough to let air escape but small enough to prevent water drops from entering. This membrane is laminated with ePTFEa hydrophobic plastic which further enhances the waterproofing capabilities of Gore-Tex. You can also go with polyurethane-coated nylon which is a lightweight material ideal for scrub bashing and rock scrambling.
Secure Fit
An adjustable Velcro girdle will keep the gaiter in place and the snug fit it provides will ensure that pebbles and other small debris won't enter your shoes. They are also very convenient and increase air-flow too. For an extra snug fit, you can pick up gaiters for hiking with lace hooks which attach the bottom of the gaiters to your laces – this also adds a layer of security when it comes to keeping the gaiter in place. An instep strap is another option that can secure the lower edge of your gaiters and it goes underneath the shoe – a durable strap is one made of thick leather or synthetic fabric.
Insect Repellent
You can also find gaiters that have their surface treated with an insect repellent – this can be quite helpful when hiking in areas known to house ticks, mosquitos or other similar insects.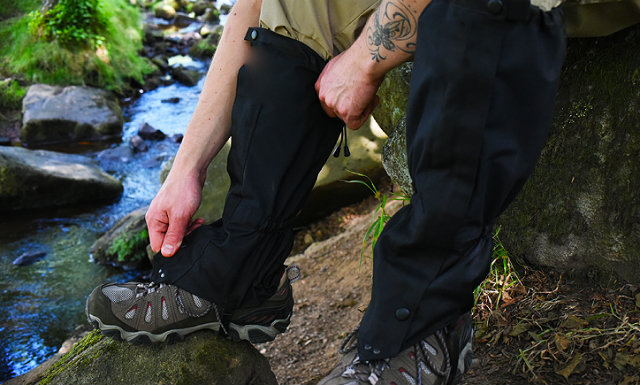 Putting Them On Properly
• The fabric of the gaiters should wrap around behind your legs and the openings should be in front when stepping in. Also, the buckles of the instep strap should be on the outside of your feet, otherwise you'll end up kicking them while walking. Before you put the gaiters all the way up, you should adjust the instep strap to the appropriate length first. Gaiters that have external instep straps can be adjusted after you put the gaiters completely on. No matter the type of instep strap, you should snug it up in order to make a tight seal around your shoes.
• Lace hooks should be attached as far as you can reach your shoes comfortably. When securing hook-and-loop closures, don't overlap the fastener all the way if you have big calves – 1cm overlap is enough. Don't go overboard with the top closures either as this will make things quite uncomfortable – snug them up just so the gaiters won't slip down your legs. If you are going exploring in heavy rain, make sure you wear the gaiters underneath your rain paints. This way the rain won't run underneath the gaiters and directly into your boots.