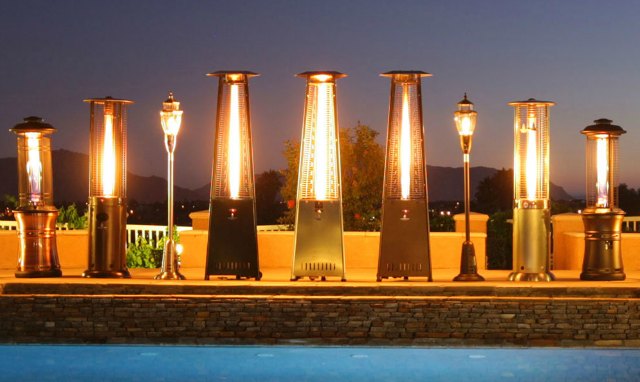 Autumn is the perfect time of year for late night outdoor gatherings with friends and family. But it is also the time of year when natural warmth disappears and the second best thing as a source of heat are outdoor heaters. Available in different types, styles and sizes, outdoor heaters can do a lot more than just physically warm the atmosphere; they can easily become the focal point in your outdoor space, due to their attractive look. Below we will go over two different types of classification, according to the type of fuel used and their style:
Different Types Of Fuel
Natural Gas
Natural gas outdoor heaters are great heating solution as they are more affordable than propane gas heaters, they offer continuous heat and require little maintenance. Since there are lots of natural gas heaters available on the market, you can easily find a model that comes with included gas line for easier installation. Keep in mind that you need help form a professional plumber for its installation.
Propane Gas
Propane gas heaters are the most commonly used types of outdoor heaters as they can provide instant heating. They are also super easy to use and assemble which is another reason to choose them for your patio space. The most wonderful thing about these heaters is that they do not require professional installation. Since they are available in different designs, shapes and sizes, propane gas outdoor heaters can be set up anywhere you want. All you need is a gas tank (placed away from the unit) and you are ready to use this fancy and functional heating unit.
Electric Fuel
Electrical fuel heaters are great if you instantly want to add heat to your patio space. The electric heaters use a special bulb that produces warmth and since they use a residential outlet, you can place them anywhere you want. They require low maintenance and unlike propane heaters, they can be used in covered or partially-covered areas.
Outdoor Heaters Styles
Stand-alone/Floor Heaters
Stand-alone heaters are usually used in commercial spaces, as they are usually tall and thin, giving a modern, urban and chic ambience. They produce a large amount of heat, making them ideal for large outdoor spaces like the fancy outdoor terraces of coffee restaurants or hotel pools.
Tabletop Heaters
Tabletop heaters can be found in the form of mini floor heaters or as traditional table lamps. Great for both commercial and residential use, tabletop heaters will look perfect if placed on side or large tables because of their small size.
Mountable Heaters
If you want to save on floor space, the mountable heaters are the perfect solution for your needs. Coming in different sizes and shapes, these heaters are placed on the wall or ceiling, making them perfect for industrial or work spaces.
Reference: www.milandirect.com.au