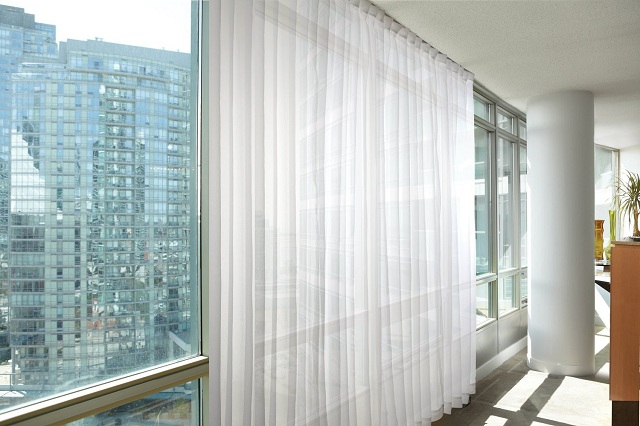 By now we've witnessed many interior trends coming and going, it's almost impossible to keep up the pace with them. I'm not that much of a fan of trends to begin with, because I prefer my taste to be my guide, though I sure am happy that certain trends are always on-style.
One of them I'm glad to have incorporated at home is sheer window curtains as the classy window treatment they are. Sure, I don't disagree bare windows are low-maintenance however curtains provide my home with the much-needed luxury, immediately transforming the ambiance. Besides, curtains are easy to clean.
Not only are they available in a variety of fabrics (luxe or linen) and colours, perfect for anyone's taste and needs, they're also custom-made and what I love about them is they can be used as stand-alone treatments or in a combination with other coverings, such as blinds, heavier curtains like the blockouts, or even drapes.
What this means is, though they are designed to bring about privacy, more light control and insulation, they leave the space for further enhancing of both privacy and light control. Speaking of insulating the home, you might as well consider them as the energy-efficient versatile and stylish decorating pieces. On top of that, they're cost-efficient too!
Despite the protection, however, they still allow plenty of natural light in brightening up the living space. They go so well with any room, it doesn't matter the style there is, so I couldn't just stop after adding them in the living room; every room in my home is filled with the sheer window curtains flair.
Covering up top to bottom, regardless whether you have wide or small windows, it's easy to cover up the interior décor with seamless elegant effect, adding softness wall-to-wall. You could do so matching the colour with that of the walls for a blend-in outcome or go for something contrasting and make the wall stand out.
For me, they are the wow-factor I was aiming for, injecting my abode with a vibe of relaxation, and they are far from being the granny curtains they once were. Thanks to how airy they make the home feel, you could let them inspire you to use them in more ways than one; for instance, have you considered using them with doors as well?
A great way to make for a chic entrance is to install a sheer curtain, whereas if your home is open concept, you could count on the help of these curtains using them instead of traditional room dividers. The possibilities are endless!