Industrial style is often associated with lofts with oversized windows, exposed bricks and metal, raw wood and concrete. However, with a few elements and some imagination, you can pull off this style without too much fuss. With the right pieces of modern industrial style furniture, decorations and lighting you can achieve the most attractive characteristics of this style in any home, and not only in urban environments.
What Makes Industrial Style Stand Out?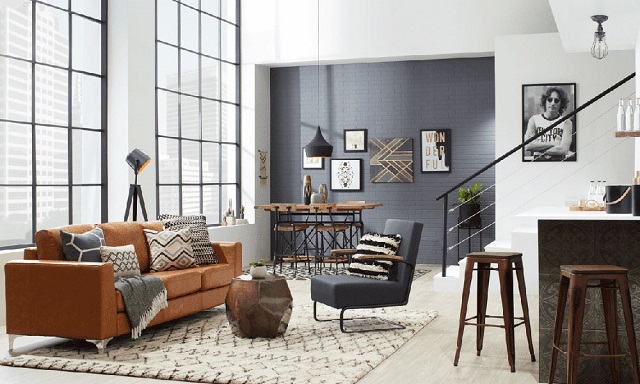 As the name suggests, the industrial style has been inspired by industrial structures, like warehouses or factories. Many of the characteristics, especially the openness and the stripped back architectural details and bare materials of these industrial spaces were translated into the interior design style.
Maybe it's because it's minimalist in nature, or because environmentally conscious consumption has become a trend, but industrial style is very popular right now. Reusing and repurposing things is allowed in this style, and there are also beautiful pieces made of reclaimed materials that you can buy to help you achieve the effect you want.
The simple clean lines, the open space, the raw materials, such as metal, concrete, wood and brick, as well as the natural, muted dark and light colours, make it really attractive and eye-catching. And if you want to achieve it, you can do it easily and without having to spend too much. Here are the elements that you can include to bring this style home.
Industrial Furniture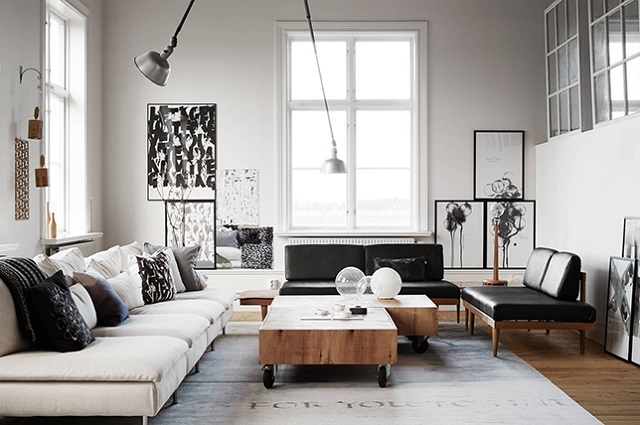 Thanks to the increasing popularity of the style, there's a huge range of beautiful industrial furniture Australia stores have to offer, so you can easily find something that will fit nicely into your home, complementing the rest of the décor, and create a unique and impactful, but also harmonious and open contemporary interior design.
Even if you're not a huge fan of the style as a whole, you're going to fall in love with the furniture design, I'm sure. Like the style itself, industrial furniture is stripped down of any unnecessary adornments. Usually made of raw and exposed natural materials, including metal, concrete, wood, the furniture pieces give off a striking bare and timeworn effect.
Even if you don't want the room you are decorating to be entirely in this style, furniture pieces made of wood, steel, iron, concrete, stone, copper or leather can be a great addition to many different contemporary settings. For instance, homeowners and interior designers often use industrial furniture Australia and worldwide in combination with other minimalist styles, such as the very popular Nordic Scandi style.
Industrial furniture is as versatile as any other type, if not more. Whether you decide to buy new or recycled pieces or recycle old rustic industrial furniture yourself, your options are vast. From big furniture pieces like tables made of wood or concrete, metal leather sofas, cabinets, sideboards, bookshelves, to smaller pieces like armchairs, stools, ottomans or storage trunks, industrial style is a great way to add function and personality to your home.
Furthermore, the neutral palettes of the industrial style can be a great backdrop for art pieces with vibrant colours, as well as decorations to shine. The contrast you'd get with this kind of mixture can look fantastic and impressive. Another recognisable characteristic of industrial style is the clear lines and simple shapes and designs of its elements. With a little bit of imagination and creativity, you can use industrial look furniture in any combination with pieces in other styles, colours etc. Nevertheless, if your idea is to keep the industrial style vibe, then you should try to keep abstract shapes to plush fabrics a minimum and avoid excessive use of accessories.
Industrial Decorative Elements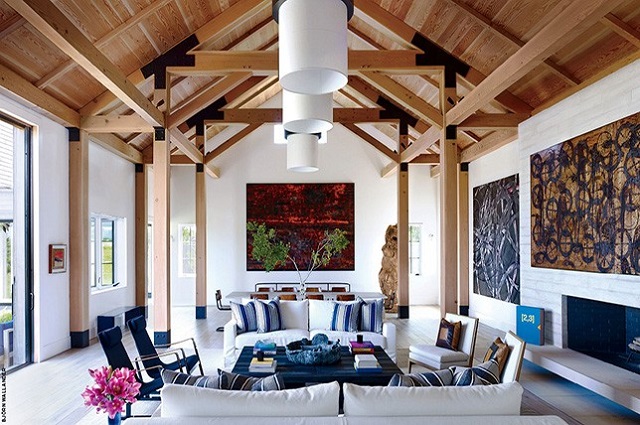 The recognisable industrial decor includes metal structures and steampunk adornments, like exposed clock mechanisms, salvaged objects, homemade metal artwork, art depicting some of these industrial themes, etc. Nevertheless, you can use many different elements to decorate your industrial style home.
Big or small wall art pieces, whether they are paintings, photography, posters, murals, illustrations, art prints with vibrant colours, monochromatic or black and white, abstract, depicting elements of nature, portraits, architectural designs or fashion… Anything you love can look gorgeous if you incorporate it in a smart way! You can use art to warm up the space and add contrast to the rawness and simplicity of the elements and the colours of the style.
Wallpapers are another more decorative element that can give you a great opportunity to achieve the industrial style in any home. For instance, you can cover your walls with industrial-looking out-of-the-box wallpaper designs as a brick wall, abstract or geometric designs, factory motifs, etc.
Industrial Lighting Fixtures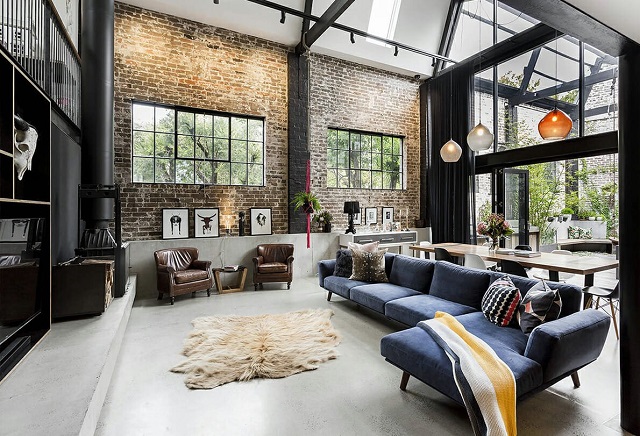 Important both in regards to style and functionality, lighting fixtures play a vital role in industrial style. Like vintage industrial furniture, industrial light fixtures are inspired by the lighting used in industrial spaces. Nevertheless, nowadays, you have many options for this style.
Industrial style ceiling pendants feature exposed bulbs, wire cages, bare, unfinished-looking dark or white metal, and while they don't feature embellishments, their raw, edgy look is a great way to decorate your home in the beautiful minimalist industrial aesthetics.
Light, of course, is vital – for functionality, for safety, and also for décor. And, even though you don't need to live in a loft with very high ceilings to have an industrial style home, openness is essential to the style. This is why you should try to use both natural and artificial lights to imitate the vibe of that openness. And choosing the right lighting options, and putting them in the right places, can help you do that.