Growing plants in containers saves you space and it is a great alternative when you are restricted by poor soil, too much shade, limited mobility, too little time, or a difficult climate. However, even when growing in containers, plants still require frequent watering, which can be a problem if you are forgetful, or you are just not home very often. Nevertheless, one awesome recent advance in the gardening industry may provide you with just the right solution you need. Introducing, self watering pots.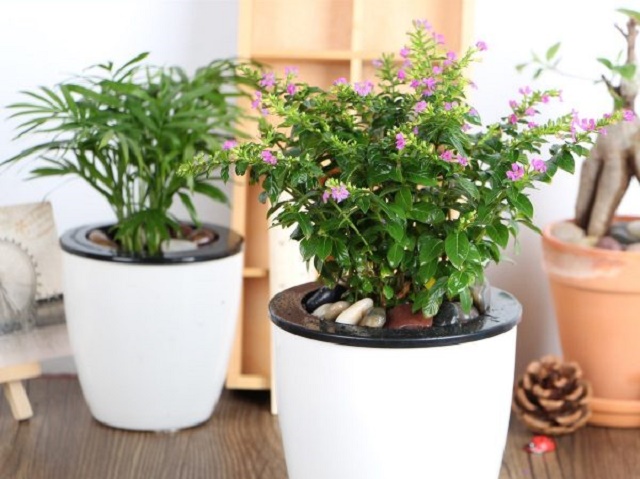 Basically defined as planting containers with built-in water reservoirs, self watering pots can meet the moisture needs of plants over a period of several days while also offering some other tremendous benefits to them. For instance, if the plant's roots become water-logged, chances are the plant will stop thriving and will die. This is where self watering pots come in helpful. They are designed to prevent this with an aeration screen that keeps the reservoir separate from the roots and soil, preventing them from becoming waterlogged. Here are some suggestions on what are the best types of plants to grow in these pots and how to care for them.
Tropical Plants
Tropical plants look stunning in containers. Peace lilies are a good choice for an indoor plant – they feature broad, graceful leaves and fragrant, showy white flowers. They can reach heights of 1.20 meters, so give them plenty of room to thrive. They are one of the few plants that bloom in low light conditions and thrive well in moist soil.
Vegetables
You probably haven't thought about the idea of growing vegetables in self-watering pots, but this can be a very good combo. In fact, more and more home gardeners are growing vegetables in containers as they are known to offer the same benefits as raised beds. Consider vegetables that will stay within the boundaries of the container such as carrots, cherry tomatoes, garlic, cabbage, cilantro, and other herbs.
Caring for a Self Watering Pot
Although you can water your plants less often when they are in a self-watering pot, you will want to keep an eye on the container and the level of water in the reservoir. It is important not to let the reservoir run dry because if this happens, your plants won't get the moisture they need. When it comes to fertilizing, it is recommended to get a specially made self-watering container mix that contains microbes that help the roots draw in moisture easier.