If you are of the opinion that you must have a large deck or patio in order to be able to enjoy a comfortable and stylish outdoor area, get ready to change your mind. With the right arrangement and choice of furniture pieces even small outdoor areas, such can become the perfect outdoor oasis, great for both relaxation and entertaining. Here are some ideas to get you on the right track to creating an inviting outdoor area.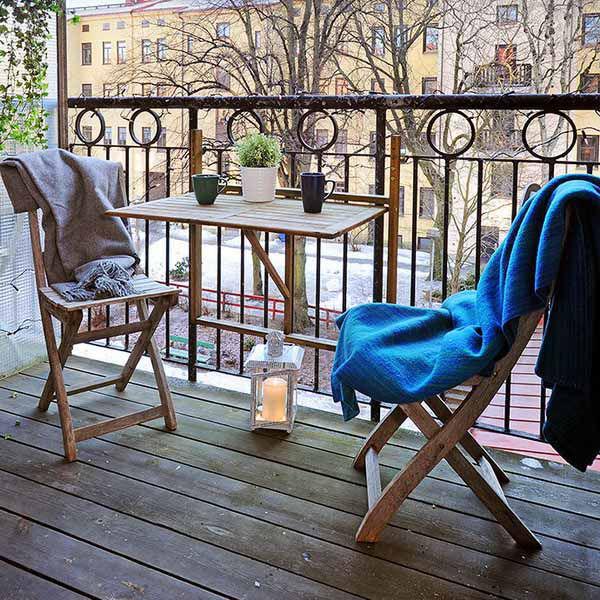 Minimal Furniture
If you have a balcony that is particularly small, you won't want to take up all the room with solid pieces of furniture, but instead, keep it simple and slimline. Small tables and folding chairs are ideal for this kind of space as they are light and practical. Outdoor ottomans are also a great furniture idea for balconies as this is a versatile piece that can be used as extra seating for guests, as a side table to hold magazines and plants and can even be used as a footrest to put your legs up at the end of the day while enjoying a glass of wine. Don't forget to add some potted plants here and there for a pop of greenery.
Movable Furniture
To make the most of your space, choose an outdoor furniture set that can be moved and configured to suit your needs, depending on the number of guests you will have. There are many outdoor furniture collections with which you'll be able to create your own inviting seating arrangement, be it a curve or a semi-circle, without taking up too much space.
Furniture With Storage
Comfortable seating can make an outdoor area a great place for relaxation and conversation, but it can also take up too much space. A simple outdoor sofa or outdoor ottomans with built-in storage can help you make the most of your precious square meter.
Add a Rug
Whether you have a cozy patio or a little balcony, an accent rug will fit nicely under a table and chairs. Just make sure you choose a rug that has colours and pattern that complement your outdoor furniture.
Add Ambience
Add ambience to your space by incorporating hanging lights, candles, and flower arrangements. Also, don't forget to scatter around some cushions and pillows in bright colours and patterns as to make your outdoor space even cozier. Just remember to bring your cushions and pillows indoor during bad weather as to keep them dry and fresh and avoid having to deal with mildew.