I like to think of creativity as a superpower every human being is born with, one that activates whenever we discover a chance to rebel against decay by giving birth to something full of beauty and life. When it comes to honoring Mother Nature and life itself, I believe that there is no simpler and more pleasing way to do that than turning our outdoor space into a friendly home for as many plants and greenery as we can afford and take proper care of.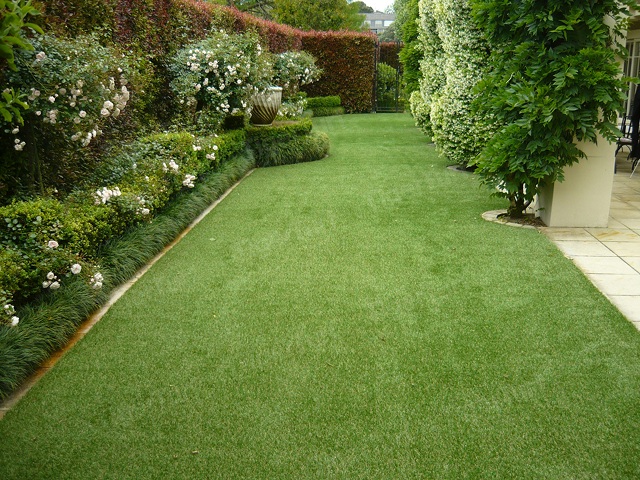 Ah, yes, people so often forget that looking after their modern and tastefully landscaped garden is an ongoing process, which means that they should have both the time and will to regularly water and clean every single flower and tree they have planted in their yard, as well as mulch their patch in order to improve the health of the soil. As a result of this, many city backyards have been transformed into graveyards for the once vibrantly beautiful plants. Please, be wise and learn from the mistakes of others – do not buy any form of green life unless you are completely sure that you will be able to keep it healthy and alive. That is the point of gardening, after all, right?
If you want to enjoy the calming sight of greenery in your yard, but you are afraid that your daily work-related responsibilities might make the care and maintenance of your garden an impossible mission, then I advise you to consider buying artificial grass, as well as plants that do not require much attention.
Yes, we have all seen what an amazing grass alternative a synthetic turf can be. These products are designed and made to look realistic and to last for a long period of time. Having in mind the fact that the synthetic turf does not need to be watered nor mowed, you will realize that purchasing artificial grass is actually a great idea. Laying an artificial lawn in your garden will give you the chance to dedicate more time to your rose bushes and fruit trees, since they are not as independent as daylilies, geraniums, and yarrows. If you are interested in implementing low-maintenance plants in your yard, then I should also mention yuccas and pasque flowers, as they are stunning and easy-to-maintain perennials that can endure almost any weather conditions without paying for their survival with a portion of their beauty.
I am no expert, but it seems to me that even the busiest persons among us can create a charming little oasis for themselves and their family with the help of the right plants and products. No wonder people say that where there is a will, there is a way.