When Calls The Heart movie is a historical drama based on the best-selling novel series When Calls The Heart by Janette Oke. The author of this inspirational story is a committed Evangelical Christian from Canada. Janette Oke is also known as a pioneer of inspirational fiction. She is one of the authors that have significantly contributed to the development of the Christian fiction. For this she has received the President's Award from the Evangelical Christian Publishers Association in 1992. The value of her work was also awarded with the Gold Medallion Award for fiction and with the CBA Life Impact Award.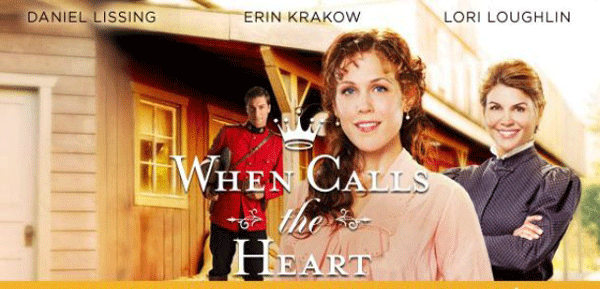 Released in October 5, 2013, the movie was directed by the well-known director Michael Landon Jr in co-production with Believe Pictures of Los Angeles. The cast of this movie was comprised of talented actors: Poppy Drayton as Elizabeth, Stephen Amell as Wynn, Daniel Sharman as Edward, Maggie Grace as Aunt Elizabeth, and more.
The story of the movie When Calls The Heart revolves around the young, beautiful and rich teacher, named Elizabeth Thatcher. She comes from a wealthy family and is accustomed to a comfortable life. In 1910, Elizabeth accepts the challenge to leave the comfort of her life in the high society to get appointed as a teacher in a school in a small Western frontier prairie town.
Accepting the teaching position in the hardscrabble Alberta frontier was not easy for the cultured, young and rich teacher. She has to face the fear of living in an environment she is not familiar with. Coal Valley, the small coal mining town is her destination. It's a place where people lead completely different lives than the one she is used to, in the high society. Anyway, her passion for her job and her strong determination to learn to live on her own, gives her the strength and motivation to walk this not-so-easy path.
In the rural place struggling to do her best for the schoolchildren, the life of Elizabeth Thatcher gets a new direction when she meets the handsome member of the Royal Northwest Mounted Police, Wynn (starred by Stephen Amell). This is when the adventure of purpose, courage and love in When Calls The Heart begins. Discover the beautiful romantic story by purchasing your sample of this 90-minute faith-boosting family movie that tells a heartwarming story. Not only will you fall in love with it, but the movie will also want you to buy and read the book.