Coming from a line of French immigrants, my upbringing has taught me that the French have a somewhat special approach to cooking and dining. I still get a warm feeling when I remember how my grandma would spend the whole day over the stove mixing up ingredients into an opulent masterpiece. And then, the family would gather around the table and take their time to savour the lovely meal while talking and sipping on wine.
And while on the topic of French dining, we should not forget an important ingredient – the setting. I have to say, the French are masters at that too. Even if you don't have time to cook and enjoy your meals the French way, I'm sure you won't remain indifferent to the charm of a kitchen designed to capture the mood of Provence. The French style is considered the crème de la crème of kitchens because it combines sophistication with practicality. And the way it succeeds in this is by incorporating antique looking furniture pieces that efficiently use space.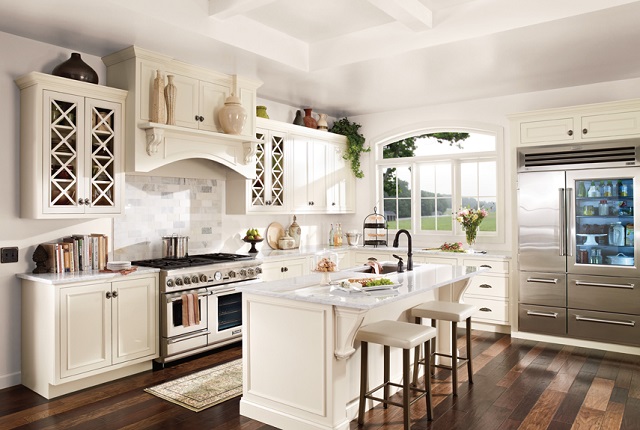 Therefore, it's no wonder a quintessential part of this kitchen is the cabinet. But no regular cabinet, only a large kitchen buffet and notch is fit to store all the delicate kitchenware and aromatic spices. And like any other Provincial furniture piece, the kitchen buffet also should don elegant carvings and soft sinuous curves that convey an old-timey appeal. To capture the true Provence spirit, look for one with doors shaped in antique fashion influenced by Baroque and Rococo architecture. With its impressive stance, the buffet can become a majestic focal point in this kitchen that strives towards simplicity.
Another furniture piece that carries an important purpose is the sink. A double butler sink offers plenty of space to wash the heaps of dishes that accompany French dining. One that has a brass tapware can perfectly complement the kitchen's timeless feel. Next in importance are the shelving units which, like the buffet, should feature a colour palette of antique white or ivory. Large open shelves that hang on the wall will eliminate the need to add further cupboards.
One of the advantages of this kind of kitchen is that it's an absolute storage savour. The large kitchen buffet, in particular, can carry a lot of weight, and I mean that literary. If you go for a smart design that mixes cabinet shelves and drawers, you will have all the space to store every little thing you need for cooking and dining. I should also point out that when choosing a buffet, one that has glass instead of wooden doors can look a lot more appealing. Moreover, because the glass is transparent, you can use the buffet to showcase some of your prized kitchen possessions. For further charm and practicality, you can also incorporate some hand-woven baskets next to the buffet to keep your tablecloths.
As far as accessories are concerned, be careful not to overdo it. An iron rooster as the most recognizable symbol of Provence and some wooden frames with nature scenes are perhaps all you need. This type of kitchen demands that the space is left open with a lot of room for air to circulate and carry the inviting smells of home-cooked food.