Dog leashes no doubt make walking our dogs easier and more efficient. They help you guide your dog, keep you dog's pace, stop your dog from frightening people, doing their business in inappropriate places, digging up someone's yard, running away, or chasing another dog. They help teach your dog what is okay and what is not. And as many of you may already know, dog leashes are not an option anymore as they have become part of the laws in most places. Luckily, you can buy leads for dogs in most pet stores, shelters, or even online. But how to do you know which lead to choose? Below we'll go over the different parts of a lead you should consider before buying one for your dog.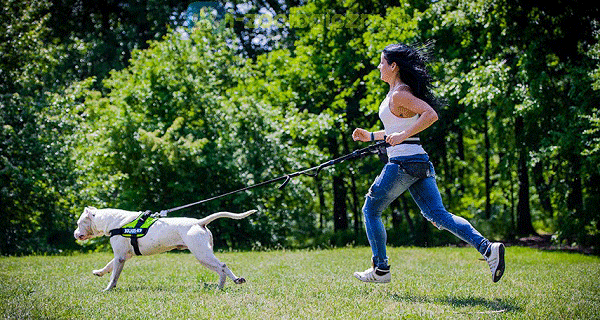 First let's go over the types of leads for dogs you are most likely to come by. The first is the standard and definitely the most common type of dog lead on the market. It is used for basic training and daily use like walking. They are really popular because of the variety they come in, you can find them in all different materials, colours, and sizes. The next lead is the retractable lead and you may have seen them as they work with the same mechanism as a measuring tape. The owner will hold the device which does not let the lead slack. They can come really long, or normal lengths and you can adjust them with the device, but note, they are not considered ideal for training.
There are also adjustable leashes but don't confuse them for retractable leashes. These leashes just have a few notches that you can adjust to make your dog more comfortable. The last type of common lead is called the martingale lead and it is a combination of a lead and collar in one. This is mostly used for smaller breeds of dogs and it is made from a material that can slip over the head and tighten on its own.
The next factor we will look at, is the material. Let's start with nylon. Nylon is great as it is a strong material and it can dry very quickly if it gets wet. It is also one of the most inexpensive materials that dog leads are made out of. The only thing you should be careful of, is that it can irritate your skin or your dog's skin if it is constantly rubbing. Cloth leashes used to be more popular before nylon came along, but they would fray too easily so these days nylon seems to be the more popular choice between the two.
Leather is a bit more expensive, but it is really durable so the cost shouldn't be an issue. Leather leashes can stand up to your dog's chewing habits and will not fray from the objects around them. You can also find treated leather which would be softer and more comfortable for your hands. Chain leashes used to be popular but have slowly started to become less popular as they are heavy and can easily injure you or your pup. Professional dog trainers never use these kinds of leashes. The last material we'll discuss is the reflective kind. This is great for dog owners who like to walk at night so that cars and incoming traffic can see you from a distance.
There are a few more things you should take into account when looking to buy leads for dogs. You want to choose a lead that will give you some control and that will work for your breed of dog. The width of the collar should be based on the size of your dog, larger dogs will require wider collars. Never compromise the comfort and safety of your dog for a more affordable leash. A good tip is to buy more than one collar for your dog, as your dog grows you may need to change them. It is wise to stay away from a chain leash, even on larger breeds as it is not safe and can lead to injury. Also, don't add any accessories to your dogs lead as it can end up being a choking hazard.