The human body can survive up to a week without water under regular circumstances. If you are exposed to direct sunlight, and if your diet is not balanced, this time frame can quickly dwindle down to three or four days. But even if you were to survive, dehydration can take a serious toll on your body . That being said, it's crucial to make sure you have access to potable water when you are on the go.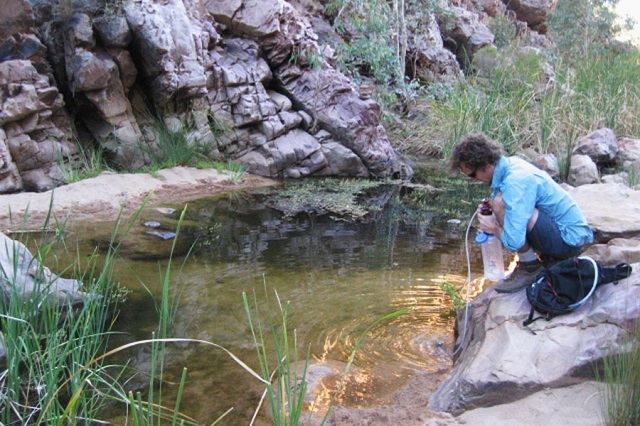 Source:
Snowys
Filtration Is Key
But when exploring the Outback, it's logistically challenging to carry enough clean and fresh water to keep you hydrated. So, what are you going to do? Can you rely on sources of water you come across on your way, like for instance creeks, streams and lakes?
While water is easy to find everywhere outdoors except in a desert. free-running water can be dangerous. It can house a whole host of parasites, bacteria, viruses and industrial contaminants. Drinking untested and unfiltered free running water can ruin your outdoor adventure. And in some cases, it can get you into a life-threatening situation.
Luckily, even if you are far off from civilisation, there is an abundance of filtration methods you can employ to filter your water. However, some can be too elaborate and bulky like charcoal, gravel and sand biofilters. Or power-hungry like an Ultraviolet light water purifier. None of them fit in your backpack. That being said, as an average hiker what you need is a compact and reliable water filter system to cover your outdoor hydration needs.
Ideal Portable Water Filter System Checklist
Hydration equipment has to be lightweight, durable and foldable. Every backpacker, hunter and trail runner knows – real estate on your back is not cheap. You need to be able to fit this gear easily into your backpack. Here's what you should look for in a basic outdoor hydration system.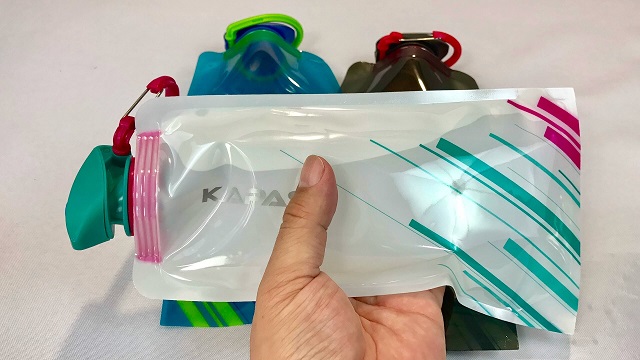 Source:
Youtube
1. Water Pouch
There are multiple brands on the market that make light water bladders which can be folded when not in use. The important feature here is not the weight of the pouch as much as it is the durability of the materials used to make it.
In terms of durability, the standards have already shifted towards materials such as ultra-durable, abrasion-resistant, water-proof nylon. It is pure science now. And if you are not familiar with the harmful side effects of using plastic in packaging beware of pouches that contain BPA or PVC. BPA stands for bisphenol A, an industrial chemical, and exposure to it raises the risk of serious health problems .
To be on the safe side, look for a water bladder made of TPU (Thermoplastic polyurethane) with extraordinary elasticity, transparency and resistance to wear. One that has Radio Frequency welded seams will be especially worth it since it's very tough. The warranty period is the greatest testament to the quality of your pouch. If they give you a lifetime warranty, then you know you found a long term solution.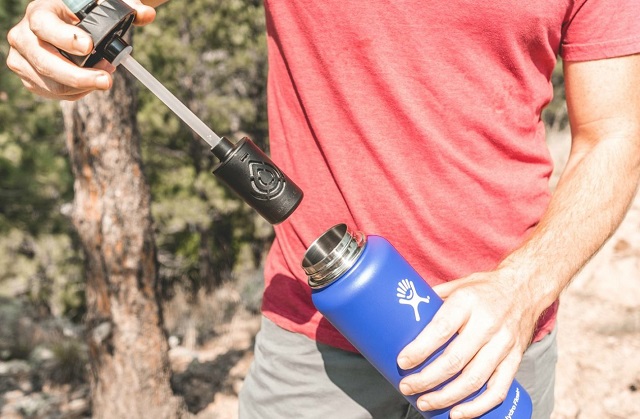 Source:
Gearforlife
2. Water filter
But having a decent capacity water bladder serves no function in the bush without a proper water filter. You obviously want to look closely into your filtration options. As a backpacker or outback adventurist, go for static devices that do not require a power source. A filter you can use hundreds of thousands of times using your hands only, anywhere, anytime.
While these filters are replaceable units, those on the high end allow up to 300000 litres of water to pass through them before they need to be replaced. The technology on these things has advanced significantly. You can now buy a handheld filter with micro-fibrous tubes (like those used in medical dialysis) at affordable price. Bacteria and protozoa remain trapped in the outer walls and your water is 100% safe.
3. Nozzles
Even though they're not completely necessary, adding nozzles to your hydration system allows ease of access and versatility. This addition can make your experience easier and save you precious time. Adding nozzles to your hydration system allows you to have a quick sip without needing to stop. And this can be really helpful if you're a trail runner or hunter.
If these three pieces: water bladder, water filter and hoses are not available from one manufacturer you can easily buy them one by one and combine them. It is important to double-check the compatibility of the different gear. Pay close attention to the measurements of the plugs.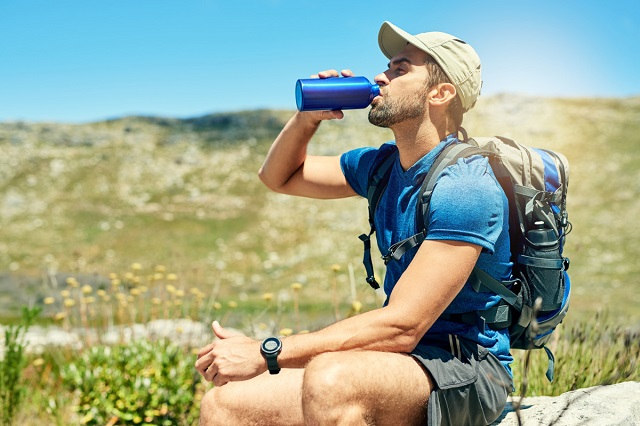 Source:
Backpacker
Quick Tips on Staying Hydrated in the Bush
Your outdoor hydration kit is not the only thing that will keep you away from dehydration in the outback. You can get strategic about water intake and performance to avoid unwanted scenarios.
Proper Head Start
Make sure you consume enough water before you depart for your adventure. And this doesn't apply to the very day you are leaving your home. It can go back as much as three days before taking off. A well-rested and hydrated body can face challenges with greater ease.
Proper Timing
If possible, make sure to plan your activities to take place before or after the hottest part of the day. Early mornings and late afternoons are cooler and easier to handle.
Proper Liquids
Water is your best friend out there. Drinking alcohol, or drinks high with caffeine and sugar will unnecessarily burden your body. Hiking in the sun will get you sweaty, so make sure you replace the lost salt with drinks full of electrolytes.
Read Your Body
Dehydration spirals out of control quickly. The typical signs are: extreme thirst, fatigue, nausea, headache. Worst case scenario includes organ failure and death. Even if you are not in an extreme situation. Improper hydration will not only impact your mood and level of comfort. It can also impair your decision making , and that can get dangerous quickly.
Keep Water Available
Frequent sips of water are always preferable than infrequent chugging of larger amounts. Set up your hydration system to be accessible in a way that will allow you to take this sips without making stops along the way.