How many times have you picked up a chocolate bar on your way out of the store, right after you were "finished" shopping? Well, there is a reason why people buy impulsively just before leaving the store. This is because of retail displays – they are great at grabbing people's attention and are there to showcase all the delicious sweets for sale. This is why buying a chocolate display counter for your bakery can be a great addition to your store as it can help you increase your revenue drastically. But let's see what are the features and options to consider when buying this type of display counter.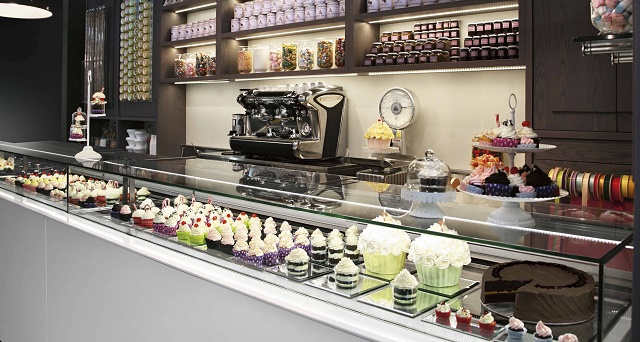 The first thing to consider is size. If you have more room, you might be tempted to get a larger counter to fill up the entire space, but if the products you are planning to sell have a short shelf life, this can be counter productive. It might be better to get a display counter that is smaller, but sufficient for the products you are selling. This way you will save up on both space and money. What's more, many manufacturers offer a smaller version of their cases with the same benefits as their larger counterparts.
The next thing you should watch out for is the shelving. A good rule of thumb is to try and find a case that maximizes the visibility of all of your products, no matter on what shelf they are. A good chocolate display counter would be one that is designed to keep the products closer to the front so that all of them are equally visible for the customer. Glass shelves are a good option as they provide a see-through display of your products from all angles and they are a better alternative when compared to wire shelving. They can make your products appear as if they are "floating" and they look great too.
Style-wise, you can find displays with a straight edge glass and curved glass models. Curved glass models are more popular and give off a sleek, modern look. But ultimately you should chose the design that best suits your store and fits in perfectly with your business' image. And finally, you should look at the lighting they provide since most chocolate display cases and bakery cases provide interior lighting that can ensure your products look their best. Depending on the model, some cases provide specialized fluorescent bulbs as to give out a certain look, and can be found positioned on the top or mounted on the shelves. This again, is a matter of taste and you should choose the design that matches your plans best.