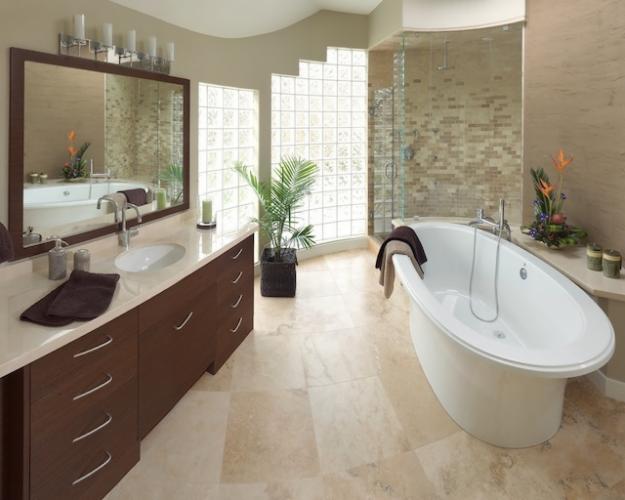 Majority of people when considering home renovation, leave bathrooms on the bottom of their to-do lists as they are quite demanding and time consuming. Some even make bathrooms special projects. This is quite reasonable if you consider the fact that bathroom is one of the most visited rooms which is why it must be well organized and super clean at all times.
Getting deeper into this issue, bathroom renovation is not just working on better layout of new bathroom cabinets, but choosing accessories, paint color, tiles and designing a harmonious look where pieces compliment each other. Everyone wants functionality, but at the same time beautiful design with right color combination and modern shower cabin. Nevertheless, some people choose to leave the interior design and layout part of renovation to professionals, while some like to have a big part in the decision-making process. If you like being involved, here are some tips to help you out.
Determine your needs
Before you start drawing different designs and get into color details, determine your needs. Do you prefer a bathtub or are you a shower cabin person; do you mostly take quick showers or have long relaxing baths after work? Decide if you want mirrors and their size; layout of windows (how much light you want in your bathroom) and other details that will make your mornings more comfortable. Start taking notes.
Space convenience
Try to optimize your bathroom space when working on the new layout. Try to keep in mind that less is more and that a spacious bathroom indeed looks more inviting and modern. Try not to place your washing machine in the bathroom, but instead get a smaller separate room for it, if possible of course. Also make sure you choose smaller but practical vanity units Melbourne shops for bathroom appliances have their own workshops where you can order a vanity unit according to your specifications.
Floors
It's a general opinion that floors should be either from ceramic or marble tiles, but there is more to it. Like any material, even ceramic and marble tiles come with different quality. Don't get lured by low prices and do some online comparison before you proceed with your purchase.