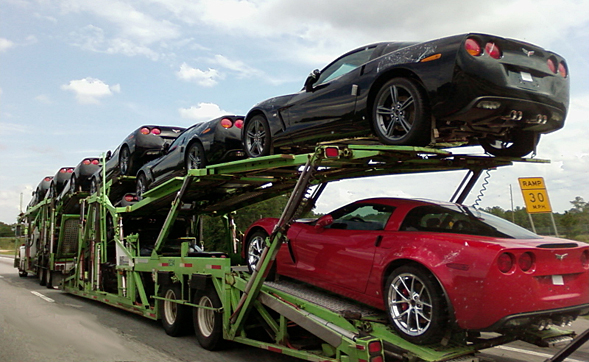 A car carrier trailer is one of the most common trailer types you can see on the roads and highways across Australia. As the name indicates, the car carrier trailer is especially designed for efficient transport of vehicles. The car carriers may vary in size and amount of cars they can carry, but usually they can hold and travel with 5-10 cars. However, China has produced car carrier trailers with greater car capacity, which are used all around the world. Years ago, these trailers were open, while today they are available as open and closed trailers. For more efficient loading and unloading of cars, most car carrier trailers are equipped with a built-in ramp for handling cars, and a power hydraulic system for raising and lowering the ramp.
An open car carrier trailer is a cheaper and more affordable option than the enclosed carrier trailer. Because of that, the open car carrier trailer is more commonly used. But for transporting new cars from the manufacturer's facility to the auto dealerships, the enclosed carrier trailers are a better option, because they offer more advantages in terms of safety and lower costs. The open car carrier trailers provide a higher carrying capacity, but in this way the cars are exposed to various dangers. When moving cross-country, some car owners decide not to drive their cars to their new location, but to ship them. Some buyers of second-hand cars also prefer getting their cars shipped to their location.
Just as most trailer types, the car carrier trailer can be attached to trucks by using a fifth wheel coupling. This trailer has a double-deck design and both decks can be further divided into a number of loading and storage ramps. Each deck can be tilted and lifted independently by using a hydraulic system. Most trailer types are used for transporting vehicles, objects or loads that cannot be transported with other vehicles. With a car carrier trailer, there is no need for winches and loaders, since the vehicles that need to be transported can use their own power to enter in the car carrier trailer.
For loading vehicles on the top deck of a double-deck car carrier trailer, the rear half of the deck needs to be lowered down hydraulically to form a drive up ramp that leads to the upper deck. The top deck is loaded first and unloaded last. Powerful and highly efficient, the car carrier trailer is a number one choice for many transportation companies all over Australia.