Scrapbooking is a crafting activity and one of the most creative ways to record your memories by adding photos and preserve the stories behind them, or hold memorabilia such as tickets, letters, certificates and more. Sometimes referred to as cropping, it is a simple and easy way to express your ideas, with no rules applied nor expertise required.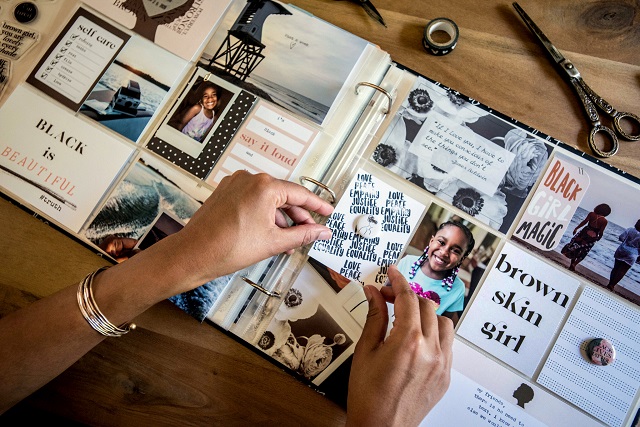 Source:
Nytimes
As a preservation method, scrapbooking was used throughout centuries for creating collections of various items like recipes, playbills, greeting cards or tickets. Today, it is a very popular hobby, mainly thanks to the rise of bloggers, forums, online galleries, as well as digital scrapbooking that helps people share their crafts online and print hard copies.
It allows scrapbookers to explore various ideas and find their own scrapbooking style. Individuality is the main characteristic of the scrapbooking industry in Australia, which is diverse, innovative and artsy. Due to the country's large expanse, vast economic and social changes between cities and towns, many scrapbookers buy their scrapbook supplies online and take part in online communities and groups where they learn from each other and shape the scrapbooking and crafting industry Australia wide.
How to Begin Scrapbooking
You can easily purchase scrapbooking supplies as most craft stores have a dedicated space for the materials needed for scrapbooking and crafting. First, you'll need to decide on your scrapbook format before buying any scrapbook supply. Let your stories dictate which format you choose as there are traditional, modern and non-standard ones.
The traditional format features layouts created on single sheets, usually 12×12 inches squared, and you can make anything from simple designs to decorative one and mixed media play.
The modern formats come in a variety of sizes, with plastic sheets for photos and journaling that give you the opportunity to get creative, while non-standard formats offer greater size flexibility and allow you to tailor the format to the occasion, whether it's for travel or maybe a gift.
Once you've decided on how you're going to scrapbook, then you can look for the basic supplies and start the first page of your scrapbook album. Here is a list of the essentials you need.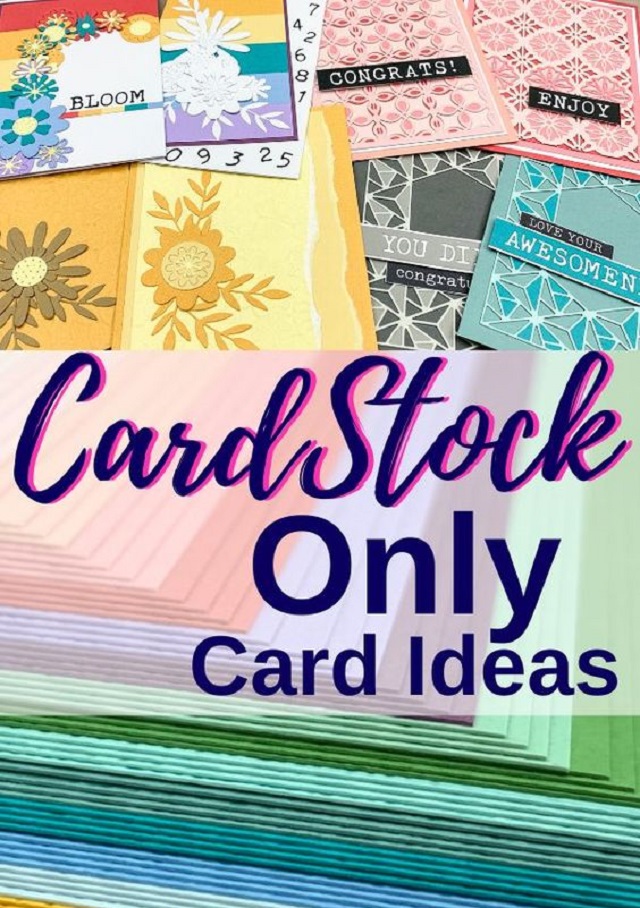 Source:
Pinterest
Card Stock
This is the basic scrapbook supply, hard papers with thicker quality that will keep your scrapbook intact for a long time. Choose the colour scheme of your scrapbook first and then select the card stock, as it will create the base and you can use it later for making establishments, highlighting a text or an image and more.
Die Cuts
These are premade cut paper shapes, sold in packages. You can add them to your scrapbook pages.
Scrapbook Paper
There is a variety of solid coloured and patterned paper, in different sizes, sold in individual sheets or stacks. Choose the one that would go best with your colour scheme and scrapbook requirements. The scrapbook paper is the design of every scrapbook and gives the overall look. You can use the same paper or use different patterns for each page, from baby girl designs to vintage style, floral and animal themes, depending on your personal preference. Acid-free paper, known as ph neutral as well, is the most common choices as it has been treated in a certain way that removes the acids present in wood pulp papers.
Cutting Tools
Large and small straight edge pairs of scissors and a paper cut will be very helpful in the process of making your scrapbook. And if you want to add more creative elements to your scrapbook, you can choose from many different shape cutters, corner cutters and border cutters. With a good trimmer, you will be able to give a more professional look to your scrapbook by cutting papers straight and use it to bind the scrapbook album as well.
Embellishments
They enhance the pages you created in your scrapbook by giving it a creative and personal touch. You can use flower cuts, numbers, letters, laces, buttons, ribbons, tags etc.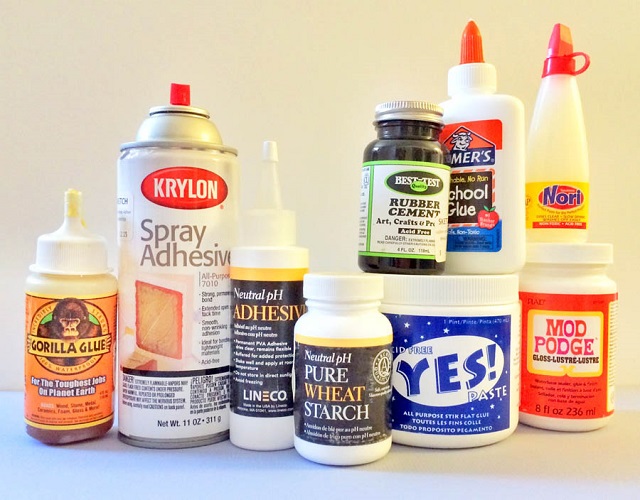 Source:
Memorykeepingideas
Adhesives
There are many types of glues used for scrapbooking, such as glue sticks, liquid glue pens, photo tape, foam dots, and they all need to be photo-safe and acid-free. A double sided tape is recommended for pasting scrap papers and photos. All of the scrapbook adhesives are easy to use and don't create a mess. A glue gun is the best choice for pasting some heavy work and binding your scrapbook.
Pens & Markers
Choose pens that are fade resistant and waterproof, art design markers and calligraphy pens as well. Though most of these markers and pens allow a wide variety of effects, if you're feeling unsure to write on the scrapbook layout directly, you can practice writing on a piece of scrap paper first.
Stamps – Stamps will add beauty to your scrapbook, there is a variety of different stamps to choose from and you can always use markers to add colour to the stamped images if needed.
Stickers
These are an important embellishment to your scrapbook pages. Usually, they're sold in packages and come in a number of shapes, different themes and designs, specially made for scrapbooks.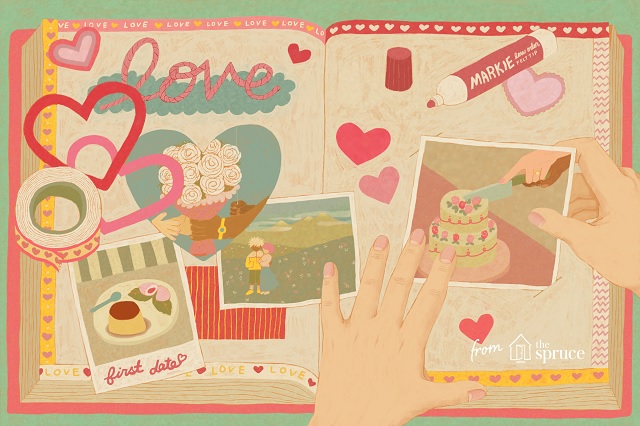 Source:
Thesprucecrafts
Templates
Templates are stencils that can help you make the most perfect shapes and borders on your scrapbook. And it's very simple, you just place the template on the paper, trace the shape, cut it out and glue to the layout.
Photos
Photos are the most essential part of your scrapbook. You can select the photos at the beginning when you start creating your scrapbook and then sort them in the specific order in which you would want to paste them in the album. That way you'll get a clear idea of every page you'll be making and what embellishments and other elements describe it best.
Binding
In the end, you'll need to bind all the pages together in order to hold your scrapbook right. Finding a way to bind them is crucial at this point. There are many techniques, the easiest and most simple one is spiral binding. All you need to do is punch in the pages and bind them together with a ring. There is also the stack the deck binding technique that gives a neat edge to your scrapbook and keeps it longer, but it might seem difficult the first time you try it.
Useful Tips
Make sure to organise your thoughts before you begin, and then organise all the materials. Decide on the scrapbook page look, whether it's going to be a theme or story page, and proceed to sort your photos. Once it's done, choose the most suitable layout for your theme, gather all tools and supplies needed and start your scrapbook making. You don't have to use original photos, but scan and print the selected ones and use the printed version.
If you find scrapbooking interesting and a potential hobby that you would like to enjoy more, look for inspiration in scrapbooking magazines, online videos and websites, as well as personal blogs. It is a stress relieving activity you can use to express your creative ideas and have fun.