For many of us, our backyards are an important part of our homes. We probably spend as much time there as we do in our living rooms. Maybe even more so, if you're an avid fan of the outdoors. And honestly, who could blame you? It's the ideal spot to relax, enjoy the fresh air and spend some quality time with family and friends. At the end of the day, that's all you need.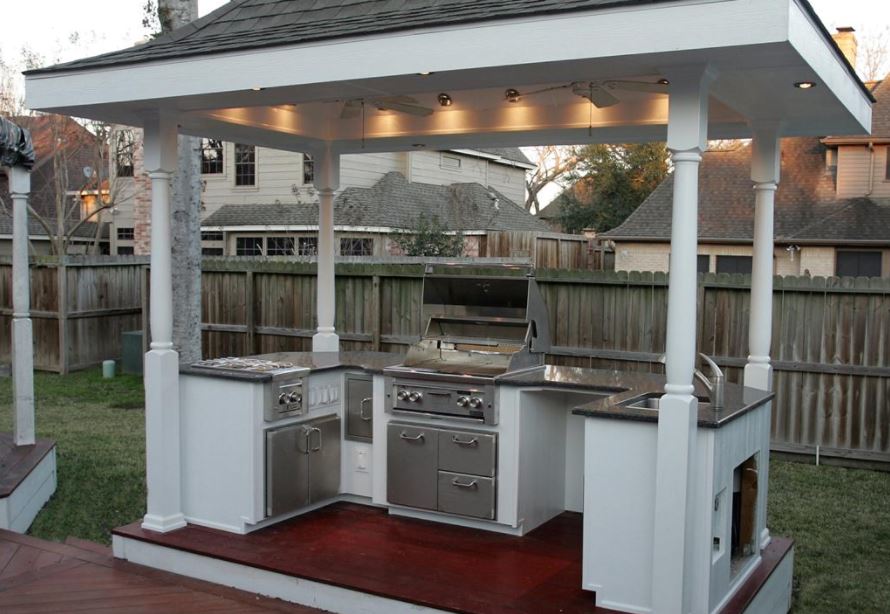 And sure, having a backyard in the first place is the main criterion here but that, in itself, isn't really enough. Like with any other room in your home, you'll need to equip it with the right tools to get the most out of the outdoor experience. Given the fact that there's loads of options constantly being thrown at your face, you might find yourself rubbing your temples and feeling, quite understandably, overwhelmed. Rest easy though as there is a silver lining here. We've narrowed down a list of essentials for every backyard lounge area to ensure a pleasant and enjoyable experience for everyone.
Put on Your Chef's Hat in an Outdoor Kitchen
It's simple really, just bring the cooking party outside and enjoy the great outdoors while preparing your favourite meals. It gives you the opportunity to mingle with friends and be productive at the same time. Outdoor kitchens are quite practical too, since you're saving up on your electricity bill and keeping any unpleasant smells from going into your home. This is especially relevant if you're deep-frying or cooking meat because the smell can linger in the air for hours afterwards. And no one wants to deal with that.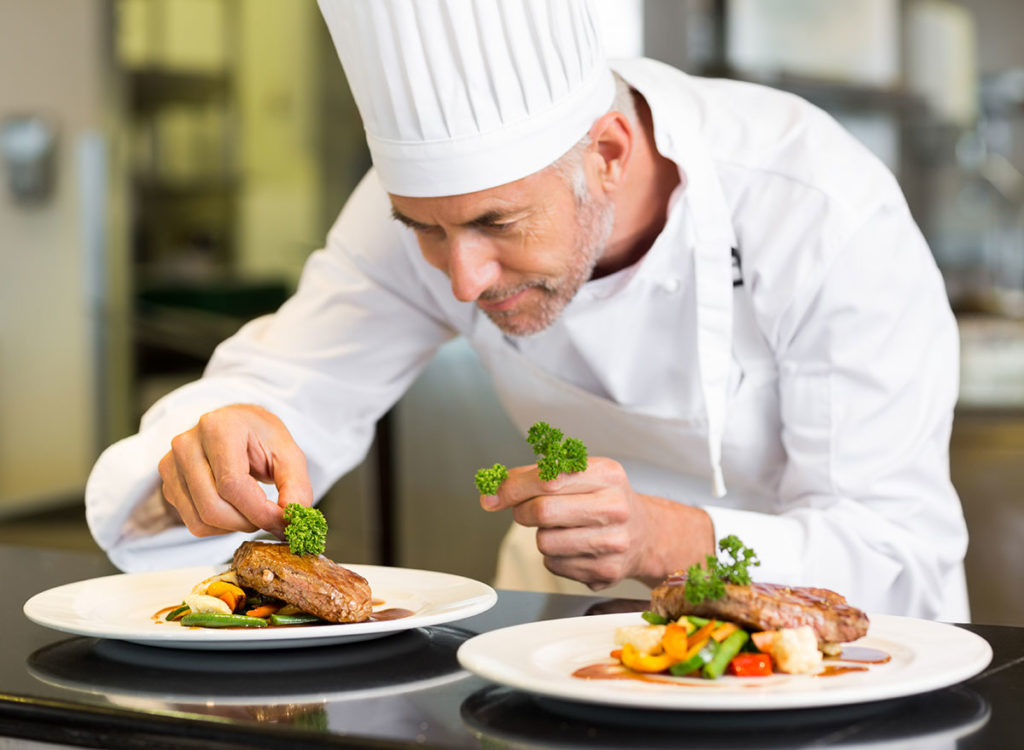 Most of the time, outdoor kitchens are a direct reflection of their indoor counterparts. This means that you'll need to install some basic kitchen tools and appliances so that you're not continuously running around back and forth to get what you need.
Outdoor Kitchen Storage
Anyone who has ventured into the cooking adventures knows the importance of proper storage. This begs the question, can you install a kitchen cabinet outside? The answer is yes, absolutely. You should definitely pay close attention to installing a solid stainless steel outdoor kitchen cabinet to store all your goods. They come in a variety of designs and sizes which makes them easy to attach to any other parts of your modular kitchen for a seamless and contemporary design. The hidden lockable castor wheels make it easy to maneuver the cabinet to your desired position in the kitchen and secure it into place.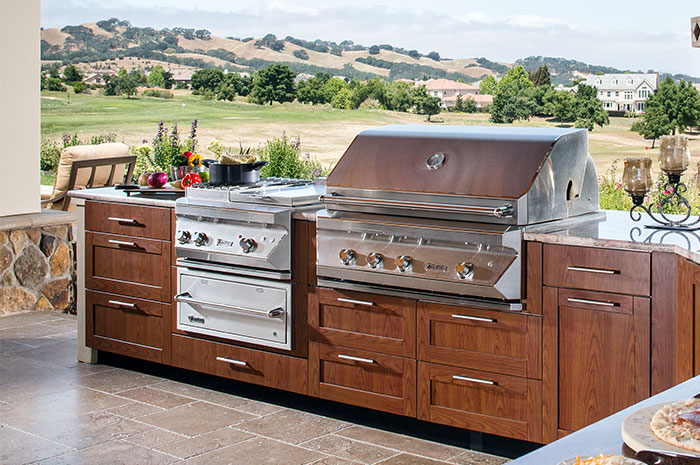 Stainless steel cabinets are extremely durable because steel is a material that is most resistant to corrosion and staining. It's also bug and weatherproof which means they can withstand all kinds of weather conditions and creepy crawlies without giving in. They're the perfect storage space for all your cooking appliances.
Another advantage is that some outdoor kitchen cabinets come with a pre-installed sink for increased functionality. The sink module usually has a hot and cold mixer to cater to all of your cooking needs in fabulous fashion. By having a sink outdoors, you eliminate the need to go in and out of the house just to be able to wash your hands. The faucets can be flexible too, giving you the ability to easily wash down any spill or leakage you might come across while cooking. Making your favourite healthy and delicious meals without the proper tools is virtually impossible and adding a kitchen cabinet to your arsenal should be one of the very first things you do.
Smokers and Barbecues
Let's be real here, whenever you think of preparing food in your backyard, you're thinking of cooking meat. For many, traditional barbecues are the way to go. You can opt for a built-in barbecue for a sleek finish or a portable one if you want more versatility and the freedom to move it around as you wish. A barbecue is a quick and efficient way to cook food through a direct heat source, usually either coal or wood.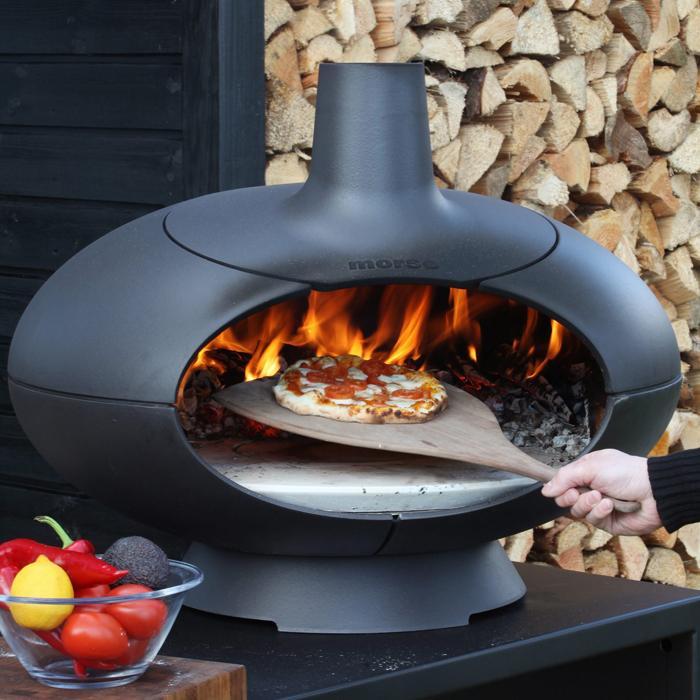 On the other hand, smoking is basically a slower, tamer version of a barbecue. The meat is cooked at a lower temperature and a slower pace, which makes for a savoury roasted taste. There are a few different types of smokers for you to consider before choosing the appropriate one for your backyard.
Pizza Oven
Who doesn't love a good ol' pizza, right? We sure can't say no. All the more reason for you to install a handy pizza oven in your backyard. If you're not feeling too keen on grilling meat, just pop in a pizza bun in the oven and enjoy the crispy crust.
Most pizza ovens are built-in and dome-shaped, providing equal heat distribution powered by either wood, coal or gas. An added bonus is the fact that you can use it as an oven to cook other meals as well, including bread and meat roasts. Quite convenient if you ask us.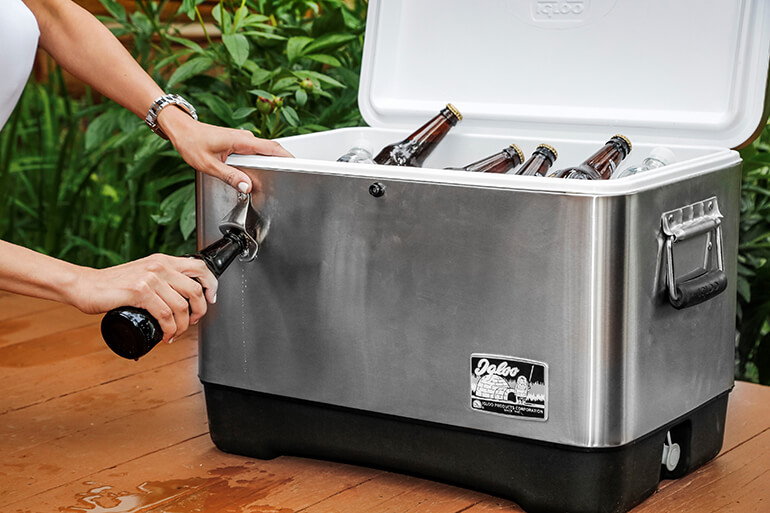 Coolers
No one wants to sip at a warm drink on a hot day so you'll definitely need to include a drop-in ice cooler in your outdoor kitchen. Their high-quality lid ensures that everything is sealed in and safe inside and also keeps your drinks from warming up from the heat of your cooking station.
Take a Breather With Lounge Accessories and Furniture
After all the cooking is done, you'll need a comfortable place to kick your feet up and enjoy the meal. You can add a dining set with however many chairs you'd like to mirror your dining room or you can go for a more laid-back setting with a coffee table and cushioned seats. Make sure that your seating arrangements match the overall vibe and look of your backyard so that they're not too chunky or small.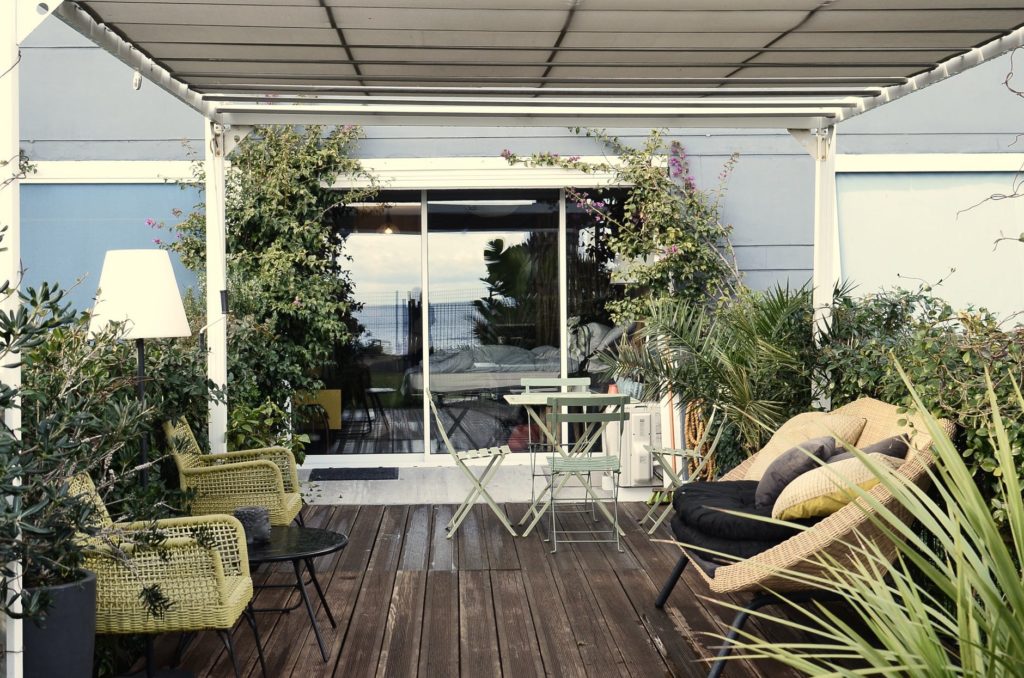 And while the sun is beneficial and we're sure everyone would like a nice tan, it's not really a good idea to have sunshine all up in your face while you're trying to feast on a nice steak. This is why you need to have a sizable umbrella to prevent sun rays from interfering with your dining experience and stop the sun rays from, ironically, raining on your parade.