Most of us have experience with moving. Relocating your home from one place to another can be either rewarding or stressful, depending on how you plan the entire thing. One of the most important aspects in the whole moving process is getting your possessions and property safely transported from point A to point B. Using poor packing supplies can leave your valuable belongings at an increased risk during transportation. This means you need to choose your moving supplies wisely, including one of the basics – packing blankets.
These are not transitional blankets, they are packing blankets designed specifically for the purpose of moving things. They are used for keeping your furniture protected against any scratches and damages. They're usually made from polyester or a mix of cotton and polyester which adds to the weight of the blanket in order to keep your belongings secure. There are no doubts – moving blankets can really prevent any potential damage on your most treasured items.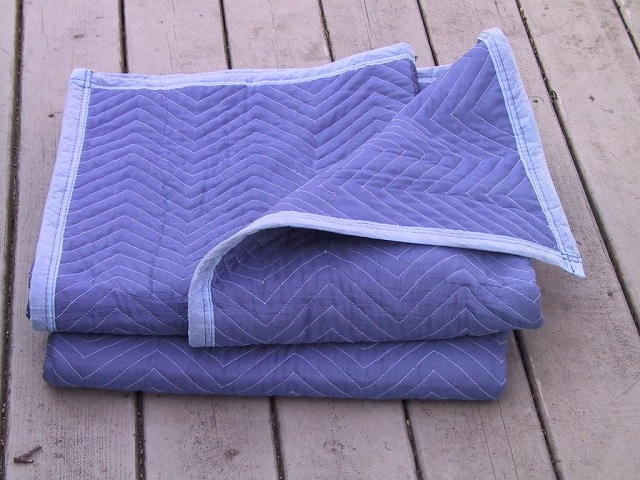 Generally, you will get what you pay for. So, for the ultimate results, you need to find a professional moving company to work with. Most moving companies offer a wide range of packing blankets along with various insurance policies so you can have your items protected during transportation. It is always better to pay a couple of dollars more for quality moving blankets rather than to have your items damaged and end up with a bigger loss. They can be reused which means you can take advantage of your initial investment through the course of a couple of years. They also have higher resale value if one day you decide to sell them. Quality textile blankets are durable and are very useful when wrapping them around larger pieces of furniture. They offer better protection to heavier, wooden furniture that can be easily scratched, chipped or marred while moving them. When looking for quality moving blankets, there are some factors to consider:
The best choice of material is woven polyester. It is soft enough not to scratch the surface of the furniture;
Consider the strength and quality ratings based on weight per dozen;
You can choose between recycled cotton filler or a cotton-polyester blend. Here applies the rule – the more the better;
Consider the size and the weight;
Buy the best one you can find because the cost of a blanket is a cheap insurance against the damage of your belongings.
Packing your belongings properly with a moving blanket is an important final step. It is crucial to use ties and straps so that the blanket is perfectly tightened around your furniture or other of your belongings while being transported. So, as you travel to your new home, you can keep calm knowing that every piece placed in the back of the vehicle is protected in the best possible way.