There's no doubt that the wedding decor as a whole has the power to communicate a lot of what the bride and groom want to achieve with the wedding atmosphere, so taking into account everything is paramount. That being said, wedding centerpieces are one of the most important details and when chosen right, they can do wonders.
Generally speaking, wedding centerpieces are one of the first things guests notice when entering the venue which is the reason why so many brides tend to pay so much attention to this. Since there are lots of things which one can combine for the creation of wedding centerpieces, overdoing it is quite common.
Instead of having an elegant, stylish and modern centerpieces, quite often the end result is disastrous. In order to avoid that, there are some do's and don'ts that brides need to keep in mind. The main things to consider include the wedding theme, venue space, table sizes and shapes, and the decorative elements that will make the centerpieces stand out.
Choose a Theme
The first thing brides need to do when planning a wedding is deciding on the theme. This is important as the theme will dictate the rest of the wedding decisions like choosing the proper the season, wedding attire, venue, table centerpieces and the time of day. Whether you're going for a romantic, vintage, elegant or rustic look, the choice of table centerpieces is one of the ways that could help express your personal taste and style.
Usually, wedding centerpieces were all about incorporating vases of all sizes filled with seasonal flowers, however this has changed. Nowadays, the type of implemented centerpieces can mainly depend on the overall wedding theme. For instance, minimalist style weddings usually are in need of some simple geometric inspired centerpieces, while rustic weddings are all about incorporating candles in a combination with jars, flowers and jute details.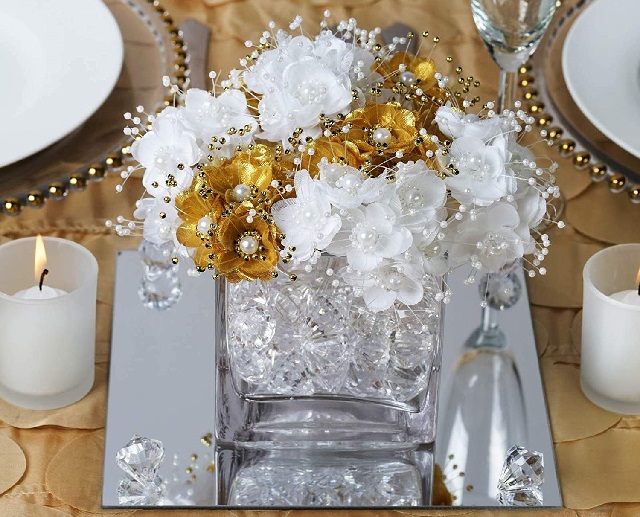 Experiment with Details
Without a doubt, flowers are considered a must-have when it comes to designing wedding centerpieces, however, today's wedding planners recommend thinking out of the box. Except for flowers, nowadays, more and more brides are relying on the beauty of mirror plates for centerpieces. In combo with lanterns, mirror plates for centerpieces can provide incredible mood lighting on every table at the wedding thus creating a soft romantic glow. Usually, they come in a range of sizes and shapes, out of which the round mirror plates for centerpieces are the most commonly used ones.
Except for lanterns, placing tall vases and candle lights is also an option for those who want to make things more elegant and sophisticated. Now, when it comes to the design, besides the use of plain and basic types of mirror plates, brides can choose from the many high-end finish mirror plates for centerpieces. Usually, such mirror plates have a faux pearl decoration around the edges or gold finish handles that make them look like a sophisticated tray. Regardless of the type, the final effect of using such plates as centerpieces is always breathtaking.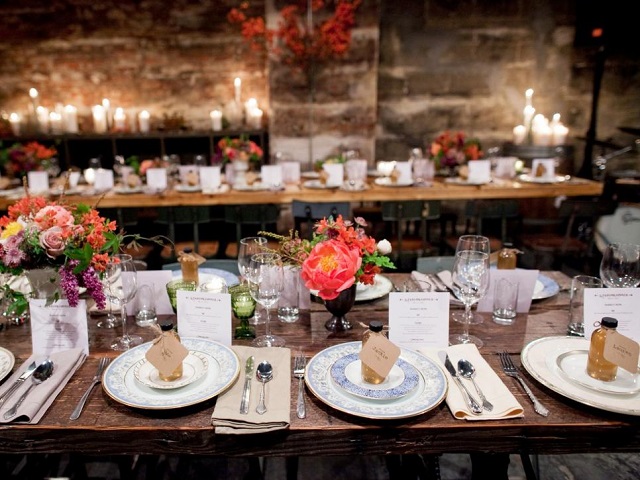 Don't Forget to Consider the Tables' Sizes and Shapes
The type and size of the centerpieces are factors closely related to the tables' sizes and shapes. Keeping this in mind can help brides determine the type and size of centerpieces without compromising the guests' view and space. For instance, round tables are great for conversations and the ideal type of centerpiece for such table would be a tall clear vase with some dramatic branch springs placed on a mirror plate.
Square tables have a lot of middle space, allowing the bride to adorn the table with a bigger centerpiece. These tables are great for adding both mirror plates, lanterns and flowers as the space allows it.
When compared to the previous two types, rectangular tables are longer, so they require multiple centerpieces or a garland that can run throughout the entire table.
Don't Overdo it
In the midst of all of the preparations for their the big day, brides usually get overwhelmed by the choice of decorations, so they often get stuck in the middle. The most common mistake is overdoing it with the decor and this includes centerpieces. To avoid this, wedding planners and experts recommend sticking to the rule "less is more". Simplicity is always better than complexity, and if you feel inspired to make a more mix and match look with the centerpieces, make sure you consult a professional so that everything looks neat and elegant.
Additional Tips by Professionals
Opaque vases are great for hiding floral stems and for creating a neat appearance;
Cutting flowers in varying heights is great for creating depth and visual interest;
It is allowed to experiment with thicker and thinner blooms;
Asymmetry in centerpieces can mimic nature and create a more appealing look.