Due to the fact that we are blessed with an awesome climate in most parts of Australia, outdoor entertaining is a big portion of an Aussie's life. But if your outdoor space is not prepared yet for entertaining friends and family and hosting events, here are some tips on what you can do to improve it.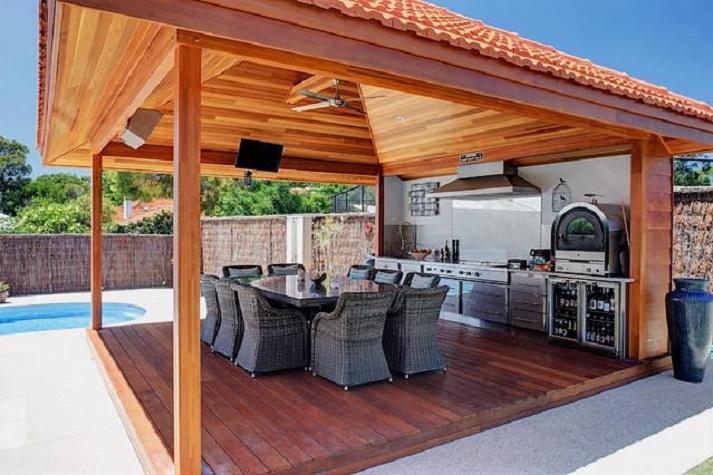 Lighting
Proper lighting is essential when it comes to night-time entertaining both for visibility and for the purpose of creating a nice atmosphere. If you are planning to include a dining space you should go for a soft, yet powerful enough lighting since no one wants to dine with harsh lights glaring in their face, but no one likes to sit in the dark while trying to guess what they're eating either. You can also add lighting around the edge of the patio or the stairs (if any). To illuminate unique features, like for instance if you want to show off your greenery, you can place lights below the trees and alongside your plants. Candle lanterns are another way to add character through lighting.
Appliances
Your outdoor entertaining game wouldn't be complete without an outdoor bar. You can expect for it to become the centre of outdoor entertainment space where you can all enjoy some good food and drinks. But in order to make it functional, you must equip it with some utilities. Whether you're hosting a barbecue, having your mates just sitting around, or making cocktails for a party, a bar fridge makes an invaluable addition to any outdoor bar. These outdoor fridges are the perfect party starter as they are all you need for the hot days to ensure there are always soft drinks, beer, or wine available so your party guests never go thirsty. Small and compact outdoor fridges are space savers so you'll still have room to fit in other appliances. What's more, some come with a great features like energy efficiency, interior LED lighting for visual appeal and convenience and a built-in automatic defrost function. All of these functions will come in handy, so pay attention to them.
Seating
Finally, what can also bring comfort and function to your outdoor space is great seating furniture. You want to set it up to be as comfy, inviting and relaxing as possible so you can all enjoy your time outside to the fullest. You can arrange your seating so it's easy to see and hear everyone – modular seating is a great choice as separate units can be moved around. Outdoor bean bags can are also a great choice for relaxation. Furthermore, don't forget to add colourful cushions or rugs to inject a touch of colour.