Don't you just love summer? Nothing feels as liberating than getting to shed the extra layers of clothes and let your skin breathe a little. And of course, you finally get to switch from your tight and heavy boots, Oxfords and similar footwear to styles that let your toes wiggle freely, like walking sandals for instance.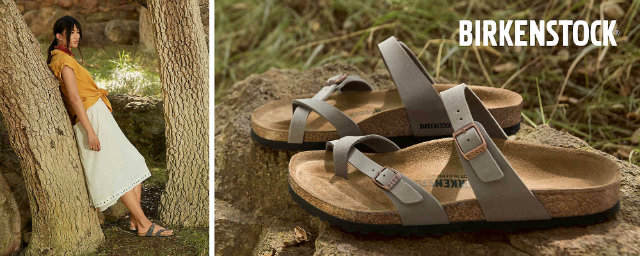 Source:
dsw
Sandals have long been the footwear staple of women's summertime wardrobes. They help you stay cool and look so darn cute when paired with a long, airy sundress. From heading to the beach to hanging out with friends on a barbecue or touring some of the most beautiful cities in the world – you can do everything in a great pair of ladies walking sandals.
But with so many options at your disposal, how do you know what works best for your feet? Having both your comfort and style in mind, here's what to look for.
Pay Attention to Materials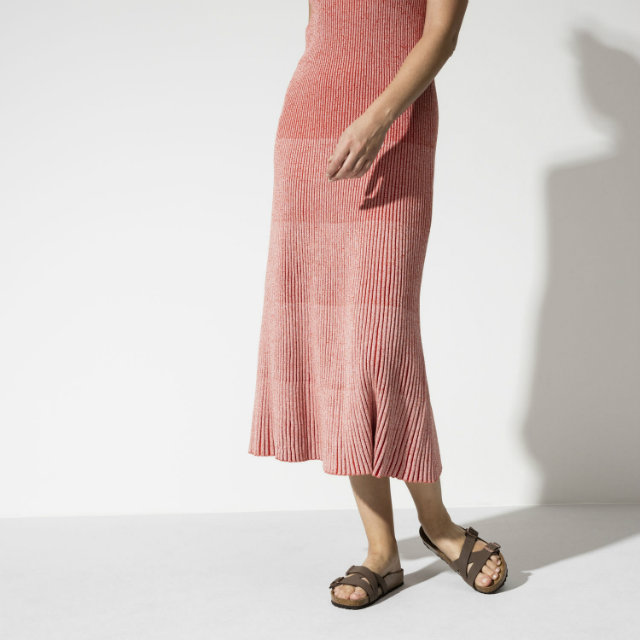 Source:
ehshoes
The material used in making a pair of walking sandals will have a great effect on durability and comfort. Additionally, the material the ladies walking sandals are made of will determine which settings they're best suited for and how to pair them with your outfits.
Leather
When it comes to shoemaking, leather is the synonym for quality. It's durable and can withstand heavy wear and tear, while also being stretchable and flexible to ensure your comfort. And today, quality leather ladies walking sandals are available in many colours and styles that look fantastic. While any component of a shoe can be made of leather, manufacturers often opt for synthetic footbeds in order to help the feet stay cool. The most breathable and comfortable sandals made of leather feature an EVA foam footbed, so make sure to check those out.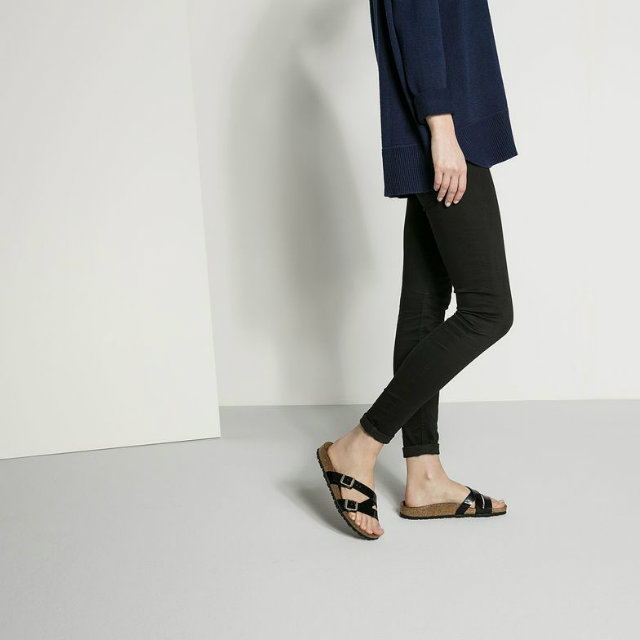 Source:
birkenstockonline
Sandals can be made of many types of leather, but the most common ones are full-grain leather and nubuck or suede. Since all types of leathers are known to absorb water unless treated with a water-resistant coat, these sandals are best worn in dry environments. In other words, it's not recommended to wear leather sandals to the beach or pool. Style-wise, these sandals are the most fashionable due to the elegant look leather has.
Rubber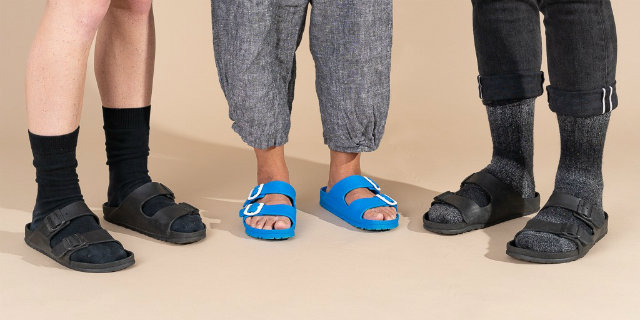 Source:
nytimes
Many walking sandals are made of rubber. Compared to sandals made of leather, rubber pairs have a more casual look. So, while some leather models may look elegant enough to be worn with stylish outfits, rubber sandals are best reserved for laid-back, casual occasions like going to the beach. Plus, rubber is a 100% water-proof material which makes these sandals are a great option for places where you may get your feet wet. When they are properly taken care of, rubber sandals are known to last.
Get the Right Size
Getting the right size is crucial when buying footwear. But it's of essential importance when buying sandals. After all, if the size is too small, your heel will hang outside of the sole and your toes will be pushed forward – and this creates are a really unattractive sight. And if the size is too big, your feet will move around in the sandals, and the lack of stability can cause an accident.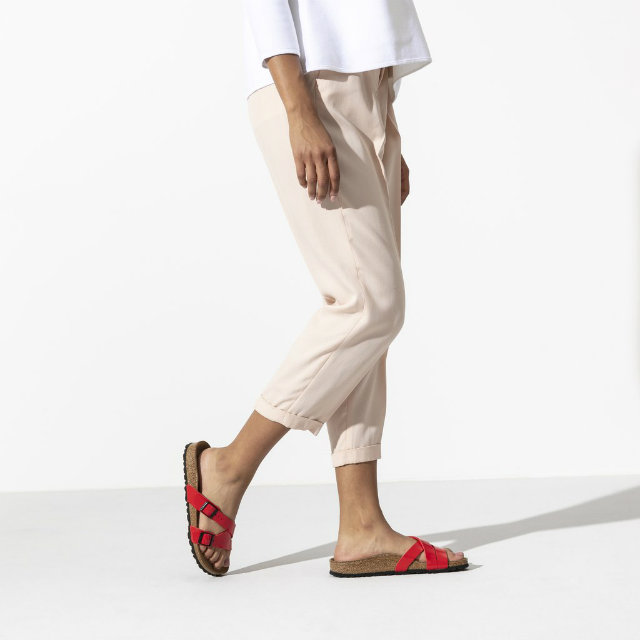 Source:
birkenstock
That being said, always make sure to try the pair on when buying. But if you're shopping for sandals online, make sure to check the size guide in detail and measure your feet to ensure you'll get the right fit.
Look for Good Arch Support
Arch support in shoes makes all the difference when it comes to comfort and keeping your body upright in a proper position. Unfortunately, many think that arch support is only crucial when buying footwear like hiking shoes or trainers. But summer is a time when we're very active outside, so making sure your sandals can support you properly is essential.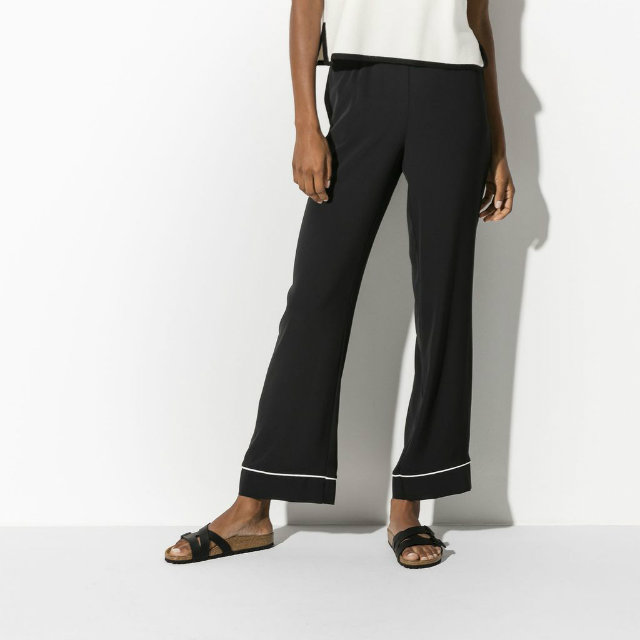 Source:
elkmonttradingcompany
Combined with adequate cushioning like an EVA footbed can provide, arch support helps to take off the pressure from your feet. And this, in turn, helps to prevent fatigue, sore feet, pain in the knees and ankles, and posture problems. But sandals with good arch support can be hard to find. That being said, I'd suggest getting yours from a store that specialises in comfort footwear. Popular comfort footwear brands like Birkenstock, Ecco, Keen, and Frankie4 are known to produce sandals that are good for your feet and have a modern design.
Go for Timeless, Versatile Designs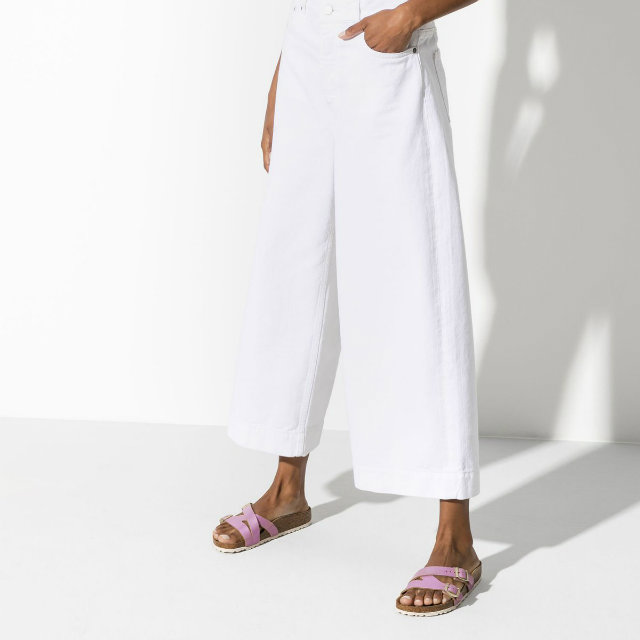 Source:
twitter
Finding sandals that offer optimal comfort and are the perfect fit for your feet is incredibly hard. So when you do, it's a huge plus to be able to pair them with most of your outfits. That being said, it's wise to pick elegant and timeless designs that can complement the majority of your wardrobe. Sandals in a neutral colour such as black, brown, navy, or beige will be easy to match with everything, no matter how bold or simple the outfit.