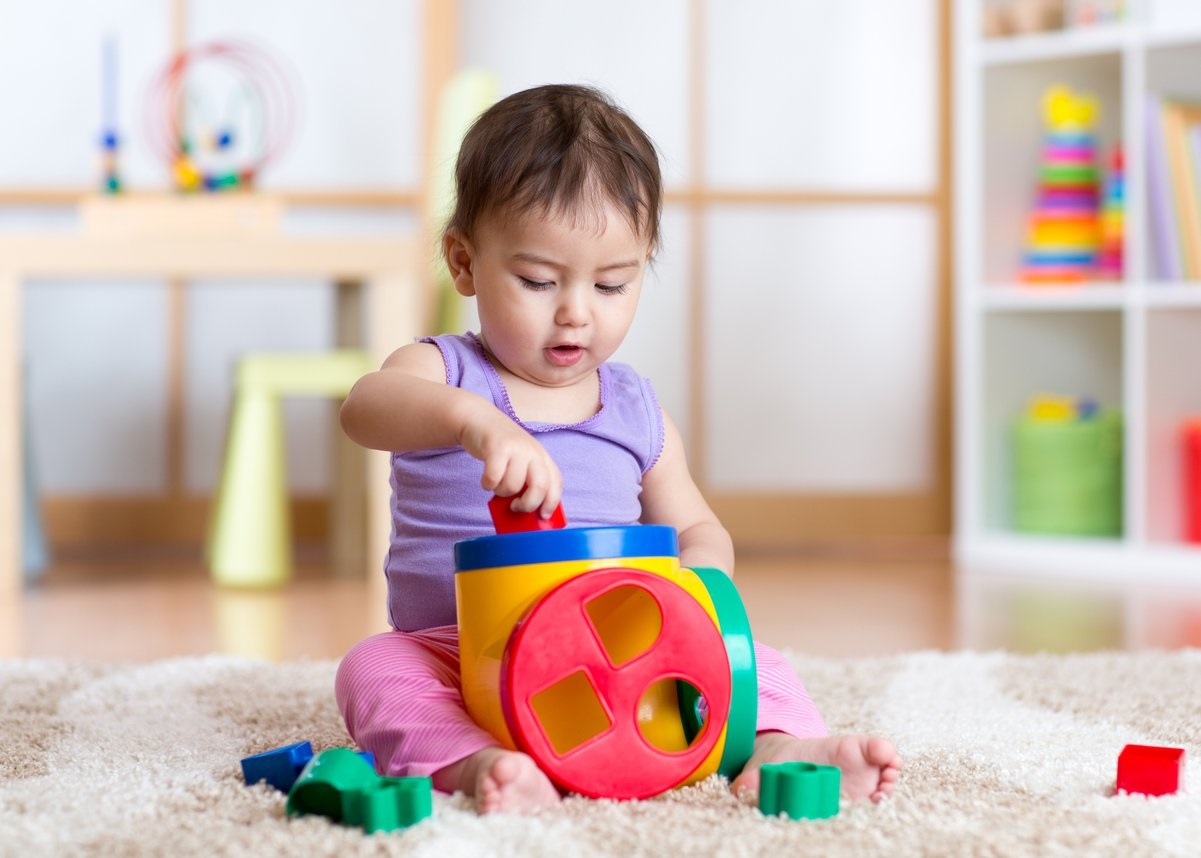 Toys play a big role in every baby's growing process, starting from the first months until the teenage years. Not only are they a great way to keep your little one entertained, but they also impact your baby's physical and mental development. For this purpose, it's important to pay close attention and carefully pick what you give your little one to play with. To ease the process for you, we wrapped up a couple of tips on how to choose the right toys for your baby.

Consider Your Baby's Age
When choosing toys for your baby, the first and the main thing to take into account is their age, since not all the toys match your little one's development stage. But luckily, nowadays the market offers a plethora of choices that are specifically designed for every stage of your little one's development.
Newborn Toys
Your little one is called a newborn from their birth to about 2-3 months of age. At this stage, your baby doesn't need any complex newborn baby toys, since their vision is still blurry and they don't perceive anything but simple objects in bold colours and patterns. As they grow up, the main goals until the 3rd month are to learn to make eye contact and start following objects with their eyes.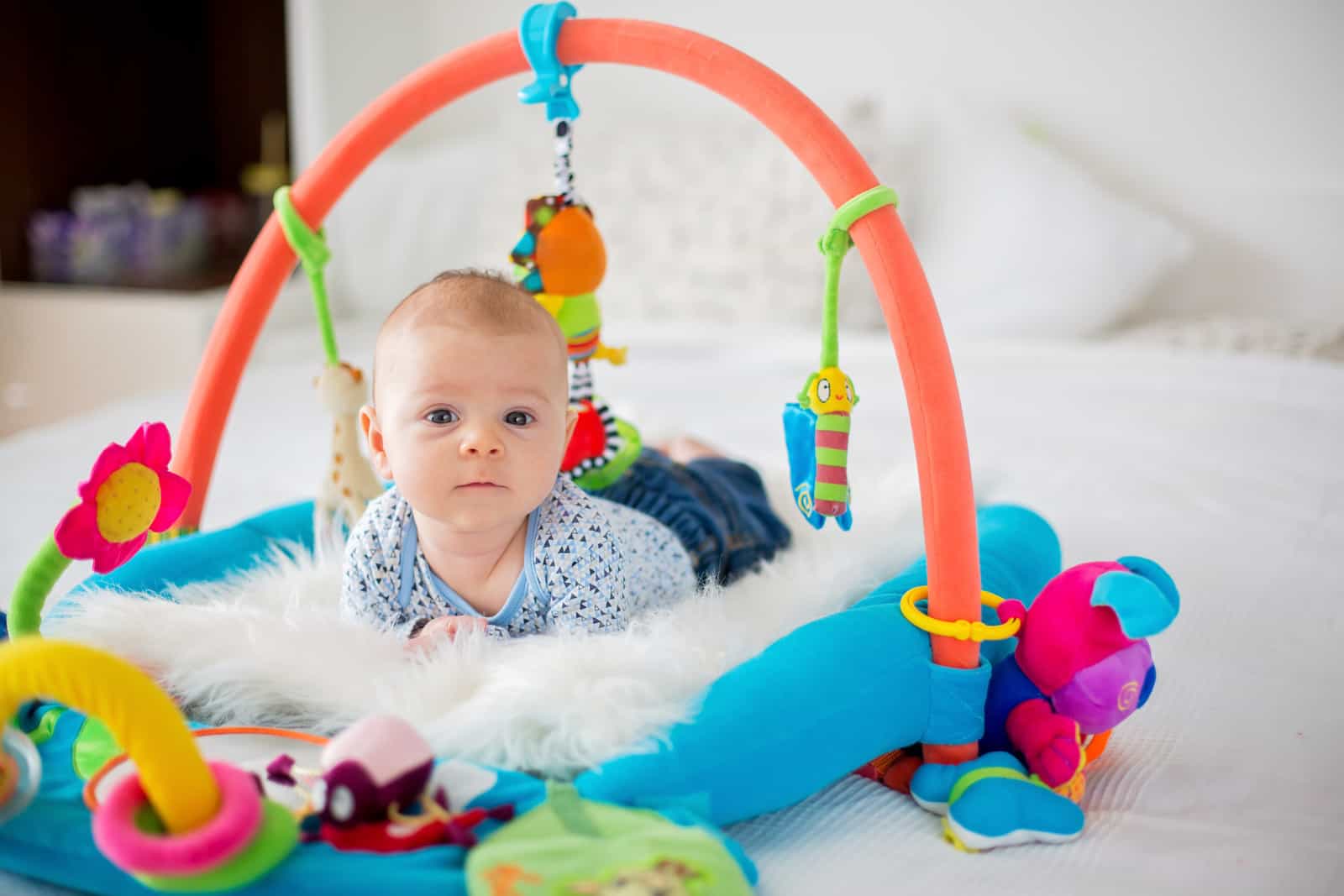 So at this stage of its development, it's important to choose simple and colourful newborn baby toys such as soft plush toys in basic shapes and contrasting colours you can hold in front of your baby, or a cute baby mobile for the crib and play mat to stimulate their vision, as well as their head, neck and core development.
Infant Toys
Infants are babies that are still in the first year of their life, and during this year, your little one goes through a lot of development stages. Once it passes the object perceiving phase, your baby can start enjoying things that are stimulating the other senses.
Playmats and baby mobiles are still a great choice, since trying to reach the dangling toys is a great way to stimulate hand-eye coordination as well as start perceiving different sounds.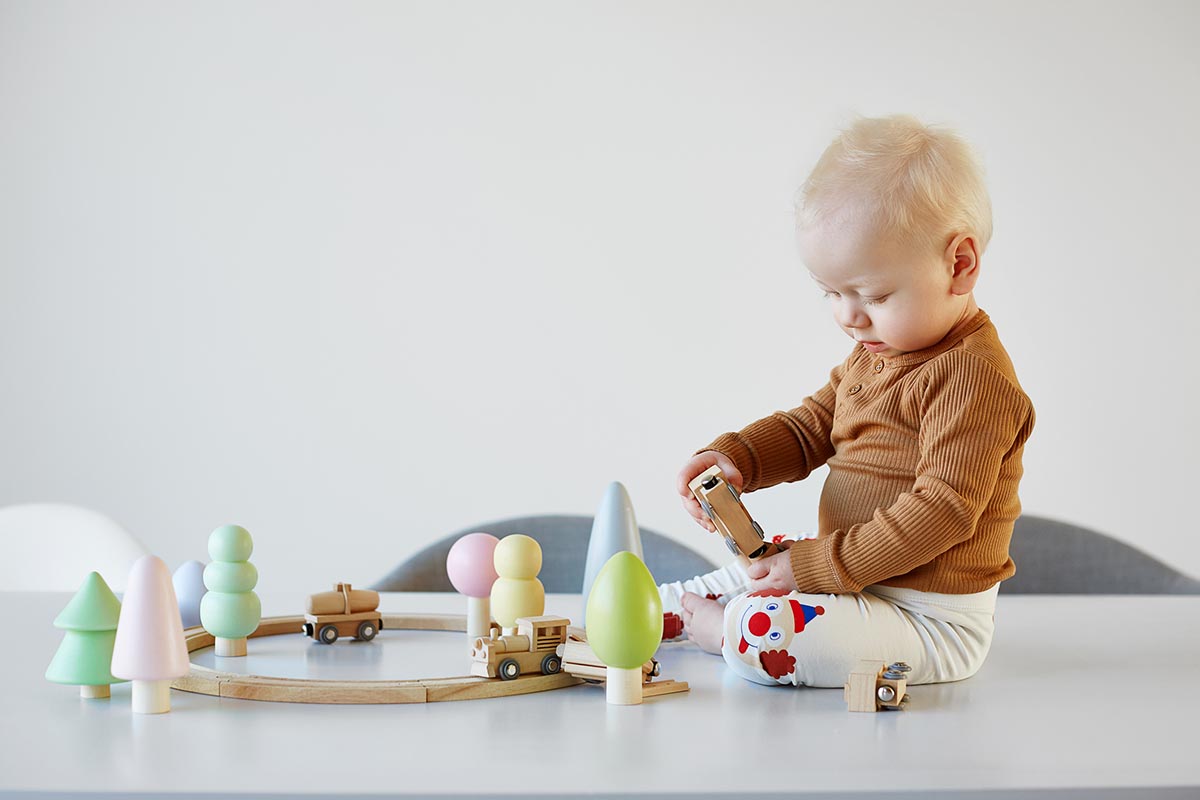 When it comes to your baby's hearing perception, rattles and stuffed animal toys that make different sounds are a great entertainment source that will also stimulate their hearing sense.
Toddler Toys
Once your baby celebrates the first birthday and starts to attempt their first steps accompanied with communicating hand gestures such as clapping, waving and pointing, you can consider it a toddler. At this stage, your baby has already acquired some motor skills, which means it's time to elevate the toys to the next level.
So, get your little one some more animated playthings such as different stuffed animals in more complex colours, nesting cups or boxes and hammering sets to improve the motor skills even more. Musical toys such as rattles, tambourines, drums, different puzzles and pretend-play sets are also great to get your baby introduced to different sounds and let them "make some music" on their own to stimulate creativity.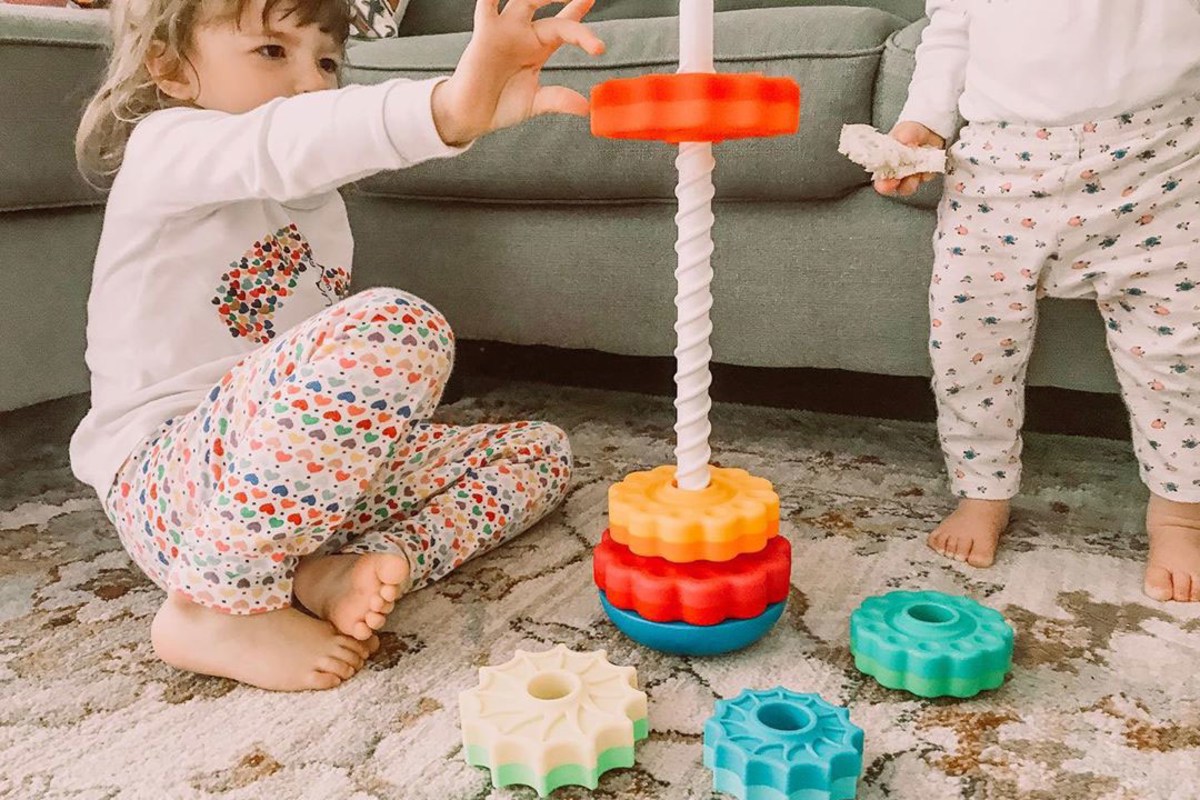 Talking about stimulating your little one's brain, don't skip the various educational toys such as detective or surgeon pretend play sets, different puzzles and similar toys. Not only are such toys great for developing your toddler's problem-solving skills and nurturing their imagination and creativity, but they will also teach some valuable life lessons such as solving different conflicts, the importance of sharing and more.
On the other hand, electronic toys such as RC vehicles, tablets for toddlers, walkie talkies and different robots are highly recommended to get your baby introduced to technology as well as boost their logic and space orientation skills. But have in mind that these toys are very advanced, and can be beneficial only for toddlers older than 2 years.
Safety Always Comes First!
Even though many toy manufacturers take safety regulations into account, it's always best to examine your baby's playthings carefully. Babies tend to throw, drop and kick their toys, so make sure you choose only durable ones that won't break into pieces after reaching the ground for the first time. Also, getting durable toys is very important since those tiny pieces can easily end up in your baby's mouth and be a potential risk for choking.
But even if you choose toys that won't break easily to get swallowed, know that your baby will still bite, chew and suck them. This means that you should always make sure they don't contain any toxic chemicals and are BPA free, or at least they aren't painted or finished with such chemicals before you purchase them. In addition to this, don't forget to check their label about the cleaning instructions, to make sure you can wash or clean them regularly in order to keep them hygienic and free of germs and bacteria.
Finally, babies are still unaware of the potential risks to get hurt with their toys, so make sure you choose only lightweight ones that won't hurt your little one when it accidentally drops them on their toes or bangs them into their face. Also, avoid toys with sharp edges or with strings or ribbons which are long enough to get wrapped around your baby's neck.
Choose Eco-Friendly and Sustainable Toys
Like we mentioned before, many of the cheap plastic toys tend to contain toxic chemicals and bisphenol A (BPA) plastics that are harmful to your baby. So, it's about time to ditch all those unhealthy baby toys and go for eco-friendly, sustainable toys.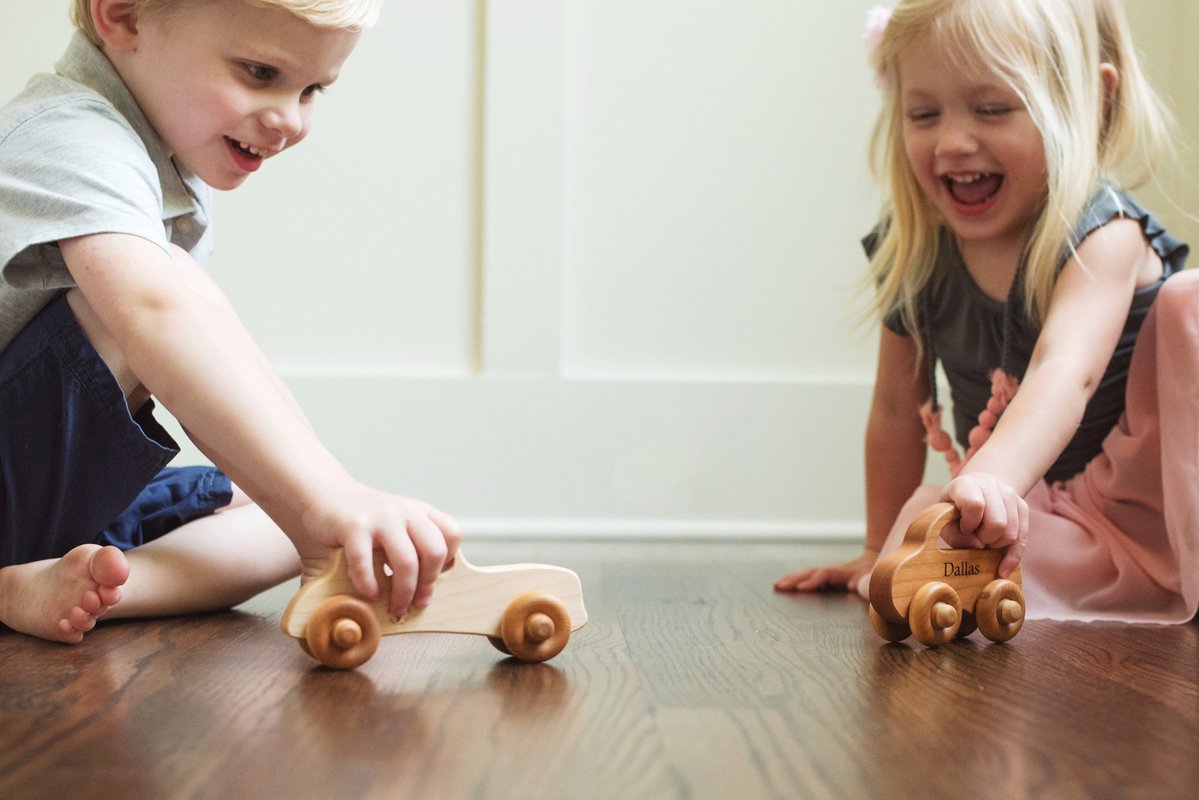 When we say eco-friendly and sustainable toys, we mean the various wooden toys or the ones made of cotton and naturally harvested rubber. What's important to know about these toys is that they're produced without releasing any carbons or other gases and consuming natural resources at an unsustainable rate. Also, their parts are composed together using plant-based adhesives instead of toxic glues and screws, which makes them completely recyclable, bio-degradable without harming the environment in any way.
Sustainable and eco-friendly toys are also a great way to start teaching your baby about the importance of taking care of the environment, as well as to bring them closer to nature and adopting healthy habits since their youngest age.