As a result of the Greta effect, more and more people are becoming aware of the inevitable – rapid changes in climate that will eventually lead to the Earth becoming uninhabitable. And while most people can do very little individually to make a significant impact, businesses are in a position where they can make a change. As a restaurant manager or owner who's interested in helping the cause, you might wonder what you, as a small or middle-sized business, can do to play your part in saving the planet. The answer to that is a simple, yet efficient solution – disposable, eco-friendly dinnerware.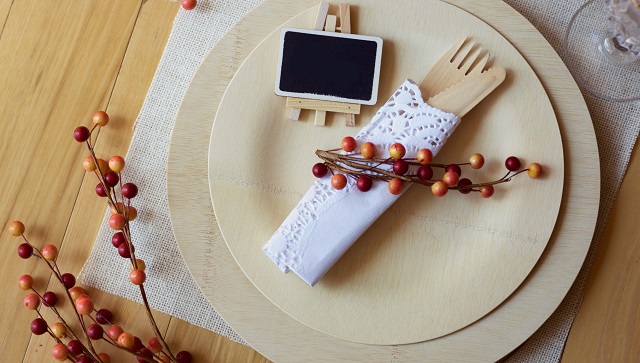 Transforming your business into an environmentally-conscious one can attract a lot of new customers and improve your brand image at the same time. Running an eco-friendly business is slowly becoming a standard and not just something to separate you from the competition. Regardless of whether you're running a catering business, a takeout restaurant, operate a food truck or a concession stand, serving your products on dinnerware made of compostable and biodegradable materials can go a long way in helping the planet, and growing your brand.
When you hear about sustainability in the food industry, the first thing that comes to mind is the source of the food. You ask yourself questions like, is this beef from free-range cows? Are the eggs from cage-free chickens? Are vegetables and fruits organic? When it comes to sustainable dinnerware, however, there's a bad stigma attached to traditional disposable products, as they've created a lot of waste around the country due to the fact that disposable products can take many years to decompose. However, modern disposable dinnerware is made of compostable and biodegradable materials that degrade naturally into nutrient-rich materials, leaving no toxic residue, and are broken down by biological microorganisms without damaging the environment.
One of the most popular materials for manufacturing disposable, eco-friendly plates is bamboo. Bamboo is a great alternative to plastic and paper disposable products. It adds an attractive, upscale presentation for any type of event. Not only can you buy bamboo plates, but you can also find forks, sporks, and knives. Bamboo dinnerware is FDA approved, generally sourced using sustainable forestry practices that don't harm the environment. This means that the dinnerware is pesticide- and chemical-free and contains no dyes or bleaches. Bamboo is known for its durability, so you can rest assured the dinnerware won't buckle or bend even when serving hefty portions.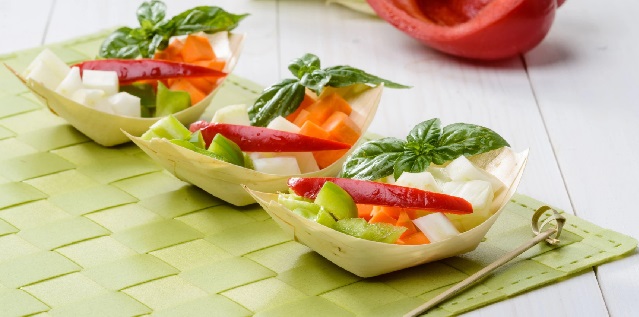 Besides bamboo wood, there are many different models of dinnerware made from various types of wood, like pine, grown in sustainable forestry that's strong and environmentally-friendly. Similarly to bamboo, you can have forks, knives, plates, and unorthodox serving products like a pine food boat that enables you to serve your products in a unique way. Pine food boat dinnerware has a clean and elegant look, and it can add originality to your business. It's ideal for serving seafood, desserts, appetisers and bite-size entrees. Besides pine food boat dinnerware, you can also find cones, steamers, skewers, and cups made of water- and heat-resistant wood that's ideal for use in the foodservice industry.
Then, you can find dinnerware made from sugar cane or bagasse, which is another economical and environmentally-friendly alternative to traditional disposable products. These products are made of a combination of sugar cane and bamboo. Bagasse is basically the by-product of sugar cane fiber left after the sugar cane's juice has been extracted. Bagasse is very heat tolerant, and you can microwave products in it, as well as re-heat it in temperatures as high as 100°C.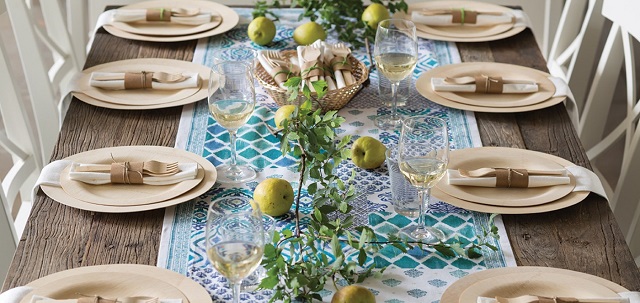 There's also plastic dinnerware that's made of biodegradable materials like polypropylene, ideal for businesses that want a traditional, elegant looking dinnerware. However, not all polypropylene plastic is FDA approved, so you need to look for ones that are biodegradable. Even though polypropylene may take more time to break down than the other aforementioned materials, they can be recycled with other polypropylene products. Further, polypropylene dishware is microwave safe, allowing you to quickly re-heat meals before serving them, which can be especially beneficial and convenient for catering purposes.
And lastly, you can get disposable kraft paperboard dinnerware. This is another environmentally-friendly solution for catering businesses, delis, cafes and markets. Made from 100% unbleached paperboard, kraft plates usually have an added coating that makes them leak and cut resistant. Unlike other plates that have a plastic coating that doesn't break over time, disposable kraft paperboard plates have natural silicone coating which will deteriorate, ensuring the dinnerware is completely biodegradable and compostable. Like other materials, kraft paperboard dinnerware can be microwaved and stored in freezers with no problem.
That being said, where's a will, there's a way. Get ahead of the curve and start serving your dishes in disposable dinnerware to raise awareness to climate change, and showcase that your business doesn't care just on paper, but takes direct action as well.