Swimming is one of those activities that make summertime that much more enjoyable and fun. Be it at the beach, at the local pool, or in the backyard, it is a pastime that both children and adults enjoy. People from every generation slip into their swimsuits and take a dip in the cool water to refresh themselves and reap the benefits of swimming. If there is one thing that beats going for a swim in the ocean or at the local pool, it's organizing a pool party where everyone can relax and have a good time. There is nothing like inviting some friends over, grabbing some cool drinks and lounging by the pool listening to great music. But like any get-together, throwing a pool party requires some planning and preparation.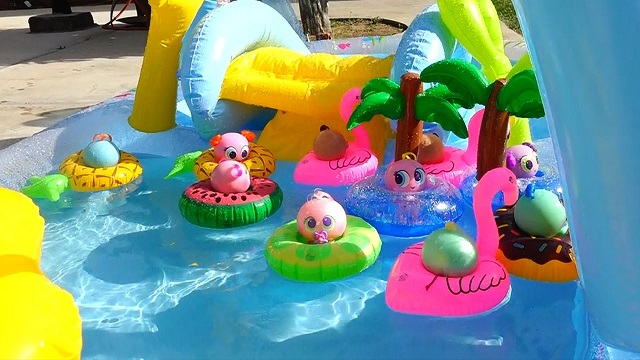 Cool Pool Toys and Games
In order for your pool party to be a success, providing your guests with some cool pool toys is a must. From flaming floats to cactus, doughnut and pizza floats, you can mix and match styles according to whatever suits your party theme best. Not only are these pool toys photo-friendly but they are also super comfy for lounging while chatting with friends or catching rays. You can also take relaxation and convenience to the next level with a drink float. Drink floats are inflatable holders designed to keep your favourite beverages close by so you can soak up your drink while you soak up the sun.
Games and activities are for sure a great way to liven up any pool party. Plus, guests of all ages can get into the action. Squirt gun and water balloons fights don't have to be just for the kids. Adults also have fun playing these kinds of games. Pool toys like basketball, beach balls, and mini pool balls are also favourites. You can also take a break from the water and engage in playing some cool lawn games . Make sure to set up the games in advance so that guests know they are available.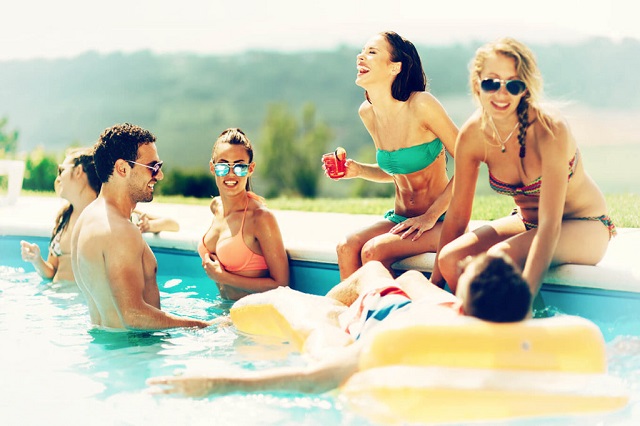 Speakers and a Good Playlist
What's the point of having a pool party without a good playlist? Unless you want a quieter and less fun pool party, you better pump up the entertainment with speakers. Consider placing a few speakers in different areas around the pool. This way, whether you are playing yard games, grabbing food, or going for a swim, the music will be heard. Keep in mind that a playlist has the power to set the tone of the party, so select your songs in advance and let the good times rock'n' roll. When the sun goes down, be mindful of your nighttime noise level.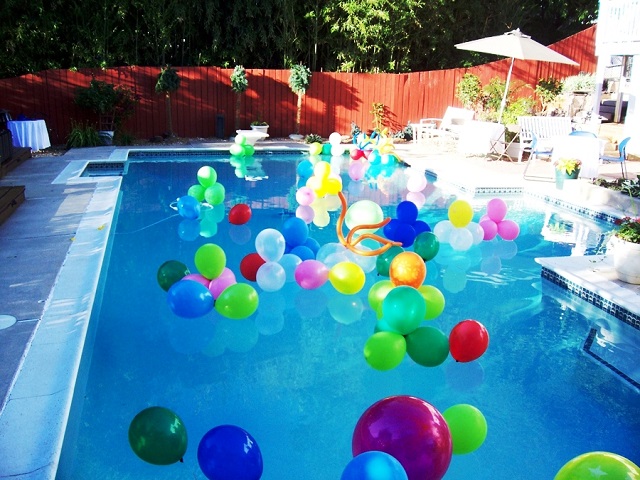 Pool Decorations
Decorations can be fun and really elevate your pool party. Paper products, coloured straws, lanterns, and garlands can all be part of your pool party theme. For example, bring the Caribbean to your celebration with tropical accessories like paper drink umbrellas. Consider the time of day when picking a theme for your party. If you are having a night pool party, a little lighting can go a long way. Put some glow sticks inside balloons that float on the pool's surface, or simply throw them at the bottom of the pool for some extra light and a funky ambiance.

Towels
Your guests might bring their own towels to the party, but make sure you have plenty of extras just in case. Spreading out an extra-large beach towel is a great and extremely inviting way to get groups of people together for some good old fashioned chit-chat. Place the towel on the grass for maximum comfort. And last but not least, make sure you have towel racks or something where your guests can hang their wet towels.

Snacks and Drinks
Consider smaller snacks that everyone can eat. Keep paper towels or beach towels near the food station so that guests can dry their hands before diving into the snack pile. Go for veggie sticks, mini crescent dogs, chips and dip, frozen fruit pop or anything that doesn't necessarily require a fork and a knife. Grilled food that is easy to grab is also among the pool party food favourites. Consider covering your snacks with food nets. This will help keep the bugs at bay.
To prevent your beverage from becoming weakened with water once the ice melts, make ice cubes out of the same type of juice that you will be serving. To help keep track of your beverages, you can colour code your drink cups or use a marker to write the name of guests. Consider using plastic dishware near the pool to avoid having broken glass in that area.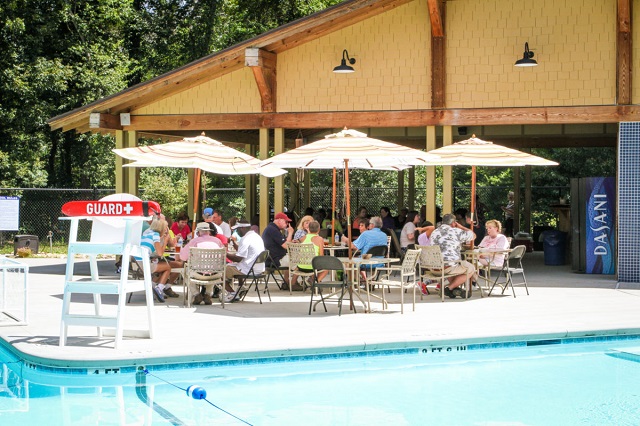 Umbrellas and Canopies
While a pool party is all about having fun in the sun, it is important to provide a shady space for those who like to chill out. For smaller spaces, consider umbrellas. If you need more shade for more people, canopies are available in a variety of sizes. Canopies are also a great way to keep your food out of direct sunlight and prevent the ice from melting faster.