The mining shovel is a type of heavy-duty machinery that is used for excavating operations, like digging ground, ore, coal and other types of materials. The mining shovel can be powered by diesel fuel or electricity. Although it is heavily used in the mining and metallurgy industry, this piece of heavy-duty equipment is used for other applications where moving large amounts of ground needs to be excavated and moved from one place to another.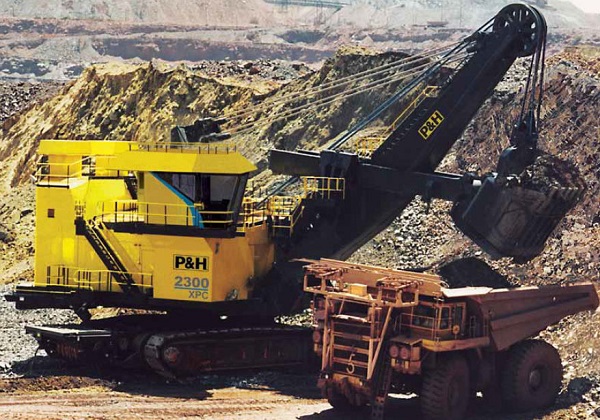 There are two types of mining shovel models: dragline mining shovel and bucket mining shovel.
Dragline mining shovel – Because of its incredible weight, this type of mining shovel cannot be moved easily from one location to another. When this machine needs to be moved form one place to another, operators ask for assistance of special carriers. In most cases, the dragline mining shovel is positioned on the highest point on the working site.The bucket of the dragline mining shovel is very flexible, which is crucial for precise and effective ground excavation operations. Even though located on high locations, this mining shovel can effectively operate downward with its long reach boom. Thanks to this feature, the dragline mining shovel doesn't need an assistance from a dump truck. This machine can dump the materials that have been excavated to the desired location, thanks to its long reach boom.
Bucket mining shovel – Unlike the dragline shovel, the bucket mining shovel is not that heavy and moves on tracks. The main feature of the bucket shovel is the heavy boom. This part of the shovel provides support during the excavation process. The bucket mining shovel cuts the ground outwards from the location where it is set.
In general, both types of mining shovels are heavy-duty machines which are heavily used in the mining industry. These heavy-duty excavating tools have the capacity to excavate up to 168 cubic meters with only one scoop. Because of that, the mining shovels are used for projects such as: building roads, railways, tunnels, canals, and many other construction applications.