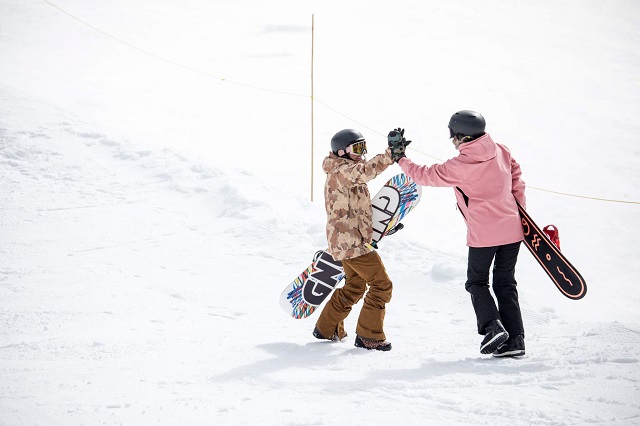 When it comes to snowboards style and board type, everyone has their preferences. All-mountain snowboards are ideal for hill, park and powder riding. The things you should consider prior to buying a snowboard are the length, width, the shape of the snowboard as well as the type. But most important of all, you should remember that it's a matter of personal choice.
Picking the Right Size of Womens Snowboards
When determining the snowboard's size, weight is the first detail to look at. That's due to the fact that the way you ride will be influenced by your weight distribution across the surface area of the board. If the board is just too long for your weight, it will be almost impossible to apply the right amount of pressure in order to turn and control the board. When it comes to choosing a snowboard, you also shouldn't underestimate your height. Just stick to the old rule: find a board that's come up to between your chin or nose. When browsing the market, you will come across various types of womens snowboards for sale online – you just need to know what to look for to get the one that suits you best.
Once you're done with checking the height and weight, the next step in choosing a women's snowboard will be to determine your riding style and ability level. If you're new to snowboarding, you will most likely opt for a smaller board. The reduced swing weight of the shorter boards makes them easier to maneuver around. The softer board will definitely help you to make your first turns and tricks a lot easier and you will be able to learn quickly how to ride across the hill. If, on the other hand, you are an intermediate snowboarder and your riding style tends to be more steep runs, then you can cope with a longer board. This type of board will make you feel more stable at speed and in rough terrain – it is a perfect match for freestyle, freeride, and all-mountain riding.
Snowboard Profiles
Camber refers to the way a board lays flat on the surface. In other words, it's the length of the snowboard between where the tip and tail curve up. A longer effective edge is typical for a traditional camber snowboard, while the hybrid one has shorter (with an upward curve in the tip and tail). A fully rockered snowboard has the least amount of effective edge. Most of the womens snowboards for sale nowadays are a mix between rocker and camber or a hybrid camber. Each profile is designed so it can suit specific performance attributes.