The cranes are very important machines used in various industries like: construction, manufacturing or production facilities, transportation, etc. There are many different crane models, and every one has own features, specifications and configurations. One particular crane model that is widely used today is the crawler crane. The crawler crane is basically a tracked vehicle that has a crane mechanism attached to it. This crane has the capability to work on every type of ground surface, even on the softest grounds, thanks to its specially designed track properties. The metal tracks make the crawler crane very stable on the ground and also provide increased maneuverability on the ground.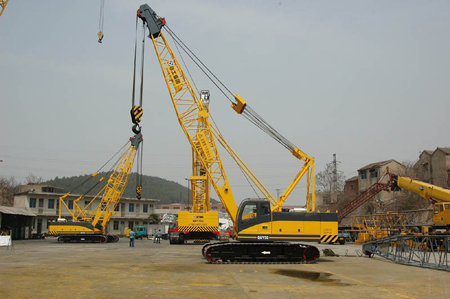 The lifting capacity of the crawler crane ranges from 30 to 3000 tons depending on the model. This machine has both advantages and disadvantages. The main advantage of the crawler crane is the ability to move and lift items and other heavy loads around the construction site very easily. In addition, the tracks of the crawler crane provide support and increased stability and no outriggers are needed. While on the other hand, the biggest disadvantage of the crawler crane is the big size and weight. The crawler cranes are generally big and bulky construction machines which is why they cannot be transported easily from one construction site to another without additional equipment. Once the work is done, the crawler crane must be dismantled into smaller pieces and transported by trucks, rail or other vehicles. This negative side increases the costs of using a crawler crane.
All crawler cranes consist of several parts. The propulsion system and the tracks are the main parts of the crane. The engine and the control cabin are placed on top of the tracks. A long boom is attached to the cabin and can be raised high above the control cabin. Cables move through the boom and a hook is attached at the end of the boom for catching, lifting and moving various kinds of items and loads from one place to another. Some crawler crane models come with additional part known as a jib which is attached at the end of the boom. The jib allows the crawler crane to move items even further from its position on the ground. The crawler crane moves like a crawler tractor, but because of its weight it moves very slowly on the ground.
One main feature which allows the crawler crane to lift and move heavy loads without losing control is the counterweight. The counterweights are usually placed at the back of the crane and can weight up to several tons. The crawler crane is a versatile machine, capable of performing and completing various lifting tasks on all types of ground surfaces and weather conditions.
For more information, browse online for available crawler cranes for sale in Australia.