Many parents make the common mistake when it comes to buying kids' toys. They choose a toy according to their parenting techniques and interests ignoring manufacturer's recommendation printed on the box or toy label. And most of the time spend a lot of money for a toy that captures child's interest for not more than 15 minutes. Little of them know that when choosing toys is crucial to choose the ones that appropriate for the age of a child in order for them to fulfill their purpose. This is due to the fact that a child has different needs and exhibits different abilities in different stages of life and thus a toy must adjust to child's both mental and physical capacity.
Many parents do very little research on best toys for kids overall development. They simply type girls or boys toys online Australia in the search box of favorite search engine and usually get toys from 'new edition' or 'best seller' category. Customer reviews are there for a reason. So, do not ignore them. This information comes straight from the horse's mouth and should be considered as a guide. Of course, reviews are not to be blindly trusted as every kid develops differently, but they are a good start. You, as a parent, know your child best and should be able to choose an adequate toy that will capture his/her interest, promote logical thinking and boost motor and reasoning skills. That's why it is important to carefully select toys and always consider age, gender, toy's function and if particular toy is worth the money. Below you can find a guide on toys that help in child's development and are 100% worth your money.
Building Blocks Sets – It is always good to have a nice set of colorful building blocks. These are perfect as children can play with them for years. They consist of well-designed pieces of different shape and size that fit together perfectly and promote motor and reasoning skills as well as imagination. Regardless of whether your child is still a baby or a toddler, he/she will have fun stacking these blocks.
Pretend Toys – Pretend toys for kids are perfect way to develop your child's imagination and exercise his/her brain. They are also a good way to teach your child good manners and introduce good habits. Nowadays, many manufacturers design and produce pretend toys that mimic not only house and parenting but also real life professions such as doctors, farmers, bank tellers, firemen, mechanics, etc.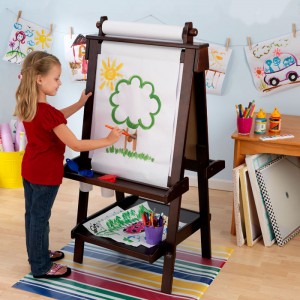 Books – It's never too early to introduce a book in your child's life. They are loaded with colors, pictures and interesting stories and thus stimulate imagination and concentration, boost development of verbal, listening and memory skills.
Push And Pull-Along Toys – These toys date back to ancient Egypt and are very functional. They are perfect for developing balance and coordination skills at children that just mastered walking skills and are very good in mastering social skills during play dates.
Educational Toys – The best way to stimulate your child is with educational toys. Kids are not even aware that they are learning while playing which is the best approach in teaching values. Browse online through the wide array of educational toys and pay close attention to product description and features to ensure you get a toy appropriate for your child's age and mental development.