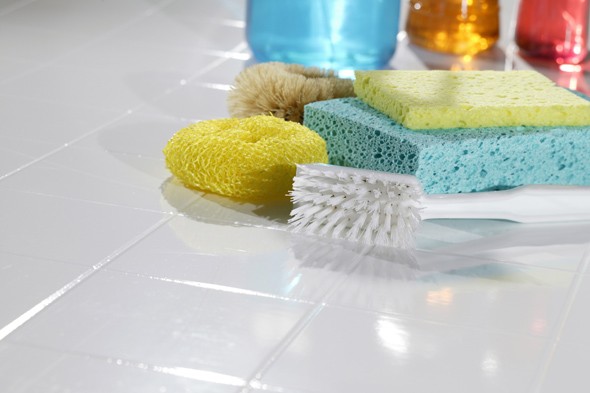 If you're among those people who hate to clean the bathroom – welcome to the club. Even the professional house cleaners don't like the task of removing soap scum and mildew from shower doors and tiles. But however it is, tiles must be cleaned to keep them bacteria-free and good looking. For best results it is best to regularly maintain tile surfaces in your house, preferably on a daily basis. This will save you hours of hard scrubbing and will also help you keep your home germ-free. However, try to avoid commercialized tile cleaning products which consist of very harmful ingredients and in most cases do not live up to the expectations. Instead, go green and whip up homemade solutions that will surely leave the tile surfaces in your home sparkling clean.
Vinegar – Vinegar is one of the most popular cleaning products as it is highly effective in removing mold and bacteria due to its acidity level. It is not harsh and is a very good odor remover. However, when cleaning with vinegar, do not mix it with any other cleaning product and never add bleach to it. Use these naturaltile cleaning products to successfully get rid of scum, mold and mildew.
Make a mixture of equal parts of water and vinegar, spray the affected area, scrub with no-scratch sponge or toothbrush, leave it on for about 15-30 minutes (depending on how dirty tiles are), wash with luke-warm water and wipe of excess moisture with a cloth.
If you're tired of scrubbing mix vinegar, salt and hot water (1 cup of each) and 2 tablespoons of mild dish washing liquid. Spray the mixture on tiles, let it sit for 15 minutes and rinse good.
Bleach – You've probably seen all those commercials for bleach and its powerful characteristics. Is it true that bleach can be such an effective cleaning tool. Yes, it is. Bleach not only disinfect, but will instantly remove mold and grime build-ups from your tiles. The easiest, fastest and extremely efficient way to clean tiles and grout with bleach is to spray them with 1/4 cup bleach and 3/4 cup water mixture and then simply rinse them off with luke warm water.
Baking Soda – Now, who new baking soda was so versatile and super kitchen ingredient. It is not only used in baking and health purposes, but it is one of amazing tile cleaning products which cleans and deodorizes at the same time. If you have a habit of cleaning tile surfaces on a daily basis, you can simply sprinkle baking soda onto the tiles, rub it a bit with a sponge and rinse off. If, however, your tiles need a complete makeover, spray them with vinegar first and then sprinkle baking soda over them. Scrub with a sponge, leave the products for at least 30 minutes or even overnight and then rinse off.
Of course, there's always professional tile cleaning companies that you can use, and you can compare different prices & review them before you use them. Just Google "Tile Cleaning Companies" and start reviewing.