Managed IT services have been around for years, yet many businesses still rely on in-house IT teams alone to manage their technology. Lately, this trend has been slowly fading and more and more businesses have started moving towards outsourcing their IT managed services. Some of these services include backup and recovery, email hosting, monitoring networks, data storage and CRM as well as maintaining HIPAA compliance. If you are wondering why is this so, here are just some of the benefits that come from outsourcing your IT services.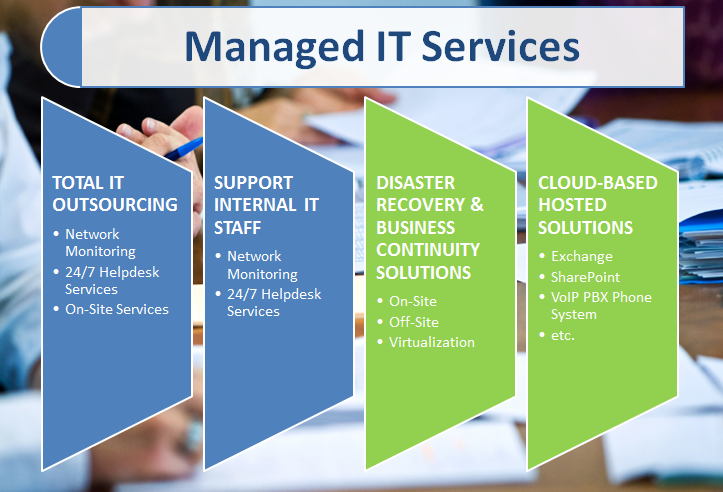 Less Employee Downtime
No business owner wants to see their employees wandering around due to an IT issue or internet failure that's preventing them to do their job. Downtime can be a serious productivity killer, and businesses lose thousands of dollars because of it. When you outsource your IT managed services, you get 24/7 monitoring by professionals who can recognize and fix problems rather fast. Moreover, managed IT service companies don't just sit around waiting for your system to break so they can fix it. On the contrary, they perform proactive and regular maintenance so there's nothing to fix in the first place.
Simplified Business Management
Outsourcing managed IT services allows you to focus on the core of your business, not email issues and server crashes. A quality IT provider can assist with web hosting, data storage, server and network maintenance, and a wide range of other technical issues. But what if you already have an in-house IT staff? Well, you can let them tackle new initiatives and projects that can improve your business operations. They don't need to be bothered daily with day-to-day maintenance tasks.
Streamlined Budget
IT costs can be extremely unpredictable. Computers break and systems fail all the time, typically resulting in unexpected costs that can take a toll on your budget. Moreover, in-house staff can be expensive to hire and train. That being said, outsourcing IT management services is a fixed, recurring cost. Regular repairs and maintenance are built into the contract, so there are no unexpected costs that might blindside you.
Secure Business
From customer records to personnel files and financial data, every business has sensitive information it must protect. Unfortunately, nowadays there are more threats to your business than ever before from cybercriminals and hackers. Moreover, a natural disaster, human error, or hardware failure might be the cause for you to lose all of your valuable data. As a business owner, protecting your data is essential, but you probably don't have the technical knowledge or the time to monitor and protect your data. IT consultants frequently review your systems and network, carefully watching for potential security threats. They work hard to prevent risks to your business and work on recovery plans in the event of a security breach or data loss.