If you care about the functionality and aesthetics of your bathroom, then you'd certainly want to add a vanity. Don't get me wrong, I'm not implying you can't have a bathroom without one by all means. However, vanities are the rare pieces of furniture that can add a decorative touch in the bathroom. Not to mention how they're great for adding storage.
So, taking into account the efficiency a vanity provides, it's an element most homeowners want for their bathroom. Since there's a wide assortment of gorgeous vanity bathroom designs, available in a variety of sizes and materials, there's no doubt you'll find one that suits your spatial needs, taste and budget. But to be able to elevate the look and functionality of the room, you'd have to carefully consider the options.
What Are the Installation Options?
First and foremost, you should start with the design, looking at it from the point of view of the installation.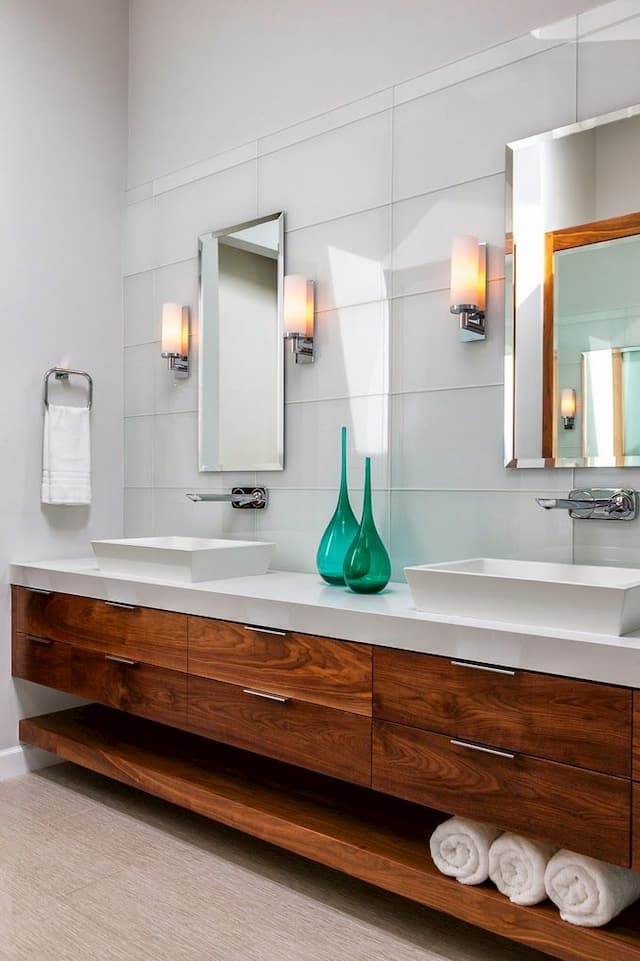 Source: pinterest.com.au
– Wall-mounted/Floating – This is one of the most popular types of bathroom vanity units as of late. It offers the right amount of storage for your belongings, be it skin care products for your daily routine, medicines, toiletries or makeup, while leaving you with floor space.
This is why it's called floating, so it's ideal if you've got a small bathroom and you want to create the illusion of space. Despite this, you'd have enough room for both a countertop and a sink. Not only is it preferred by minimalists, as it doesn't visually clutter the bathroom, it's also loved by people who want to have the ease of cleaning underneath it.
It also offers plenty of space if you want to store something below it, like placing your toilet paper supply or hairdryer neatly hidden in baskets that add further interest to the area. Throw in the beauty from a sleek mirror and ultra stylish tapware, and you've got a whole remodelling project complete.
– Freestanding – Unlike the previous, this type of vanity isn't wall hung but stands free which can be guessed by the name. As such, it offers more space where you can store your essentials, along with keeping pipes hidden from view.
Same as with the wall-mounted option, you have plenty of space for countertop use and sink. It also allows you to install double sinks if you require more functionality to avoid the morning rush hour with your partner for the grooming routine before work. Any sink is ideal for this kind of furniture, from under-mount, to drop-in and vessel.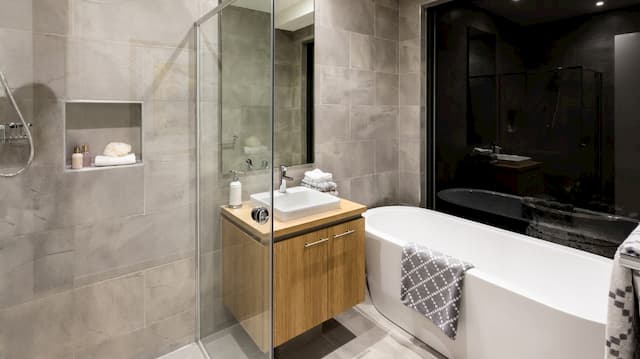 Source: youtube.com
What Are the Materials?
The material typical for the drawers and cupboards of these furniture pieces is wood. But don't think you're limited in choice given that there are bath vanities made from reclaimed hydrowood, recycled messmate, Tasmanian oak, French oak, celery top pine and blackbutt among others.
The last one is also known for being great as flooring, though given the moisture in the room, it's better to stick to vinyl flooring instead.
Wood is a preferred choice for the units because of its durability as well as the warmth it provides. It's your own piece of nature inside.
As for the countertops, apart from wood, you've got stone, porcelain, quartz and tile. The reason these four are the chosen ones has to do with their strength. So, if you want to invest in something that can withstand wear and tear you know what to buy.
Out of the four, stone countertops bear well with heat, stains, grease and water, same as quartz. In case you're wondering which stone, marble is one of the options that are always trendy. Tile is great if you're after versatility with colours, designs and finishes though if low-maintenance is also among your priorities then it's best to pick porcelain.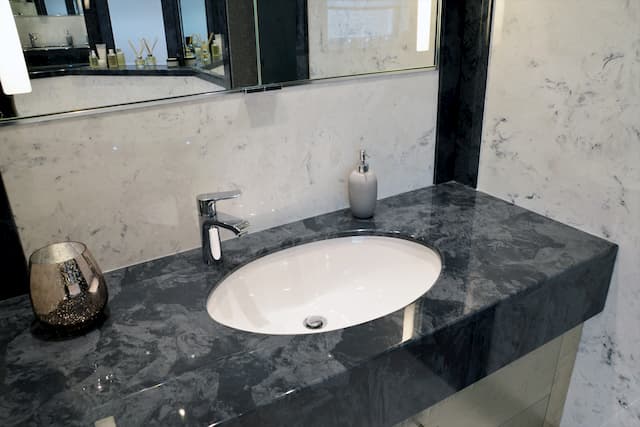 Source: versital.co.uk
What Are the Styles?
The two main styles of vanity bathroom furniture that dominate the stores are modern and traditional. The clean lines and simple designs are synonymous with modern which is more focused on the craftsmanship and minimalism, whereas the traditional are famous for the intricate details such as handles, panelling as well as edges.
The great thing about decorating your bathroom is you have the chance to pick out a style you want without worrying whether or not it suits the rest of your abode's style. For instance, even if your home is predominantly modern, feel free to introduce traditional charm to your bathroom oasis if timelessness and a rustic touch are what you're after.
What Are the Colours and Finishes?
You aren't out of options of colours and finishes either. You can find bathroom vanities online in white or vibrant colours, and those that come in unpainted wood you can later customise with a colour of your choice. If, on the other hand, you want a rich wood texture, semi-exotic woods are the solution.
In terms of finishes, you can pick from distressed and stained options. Choose the ones that work well in your home and you can count on remodelling success!