Who says that winter women outfits should consist of pants and only pants?! With the plethora of fabrics, breathtaking models and dresses with various length options, nowadays, mature women can really enjoy their feminine side. And since most women are all about keeping themselves warm and cosy, looking for the right type of fabrics for dresses is one of the things you should focus on.
Leather/Faux Leather
Without any doubt, leather and faux leather fabrics are considered the cosiest and warmest options for this time of the year. Except for being extremely stylish and sexy, especially when talking about leather dresses or pants, leather is also considered a durable fabric that only gets better with age. The main downside of leather fabric is that it requires special care (https://m.wikihow.com/Care-for-Leather ) that sometimes can be time-consuming. For those who prefer the friendlier option (animals wise), there are faux leather fabric dresses available on the market as well. Except for being prone to cracks, wear and tear when used and washed several times, the faux leather fabric looks exactly the same as the real one. And only true connoisseurs can tell the difference.
Cotton
Although considered a lighter fabric, ideal for any other season than winter, its thick versions can really hold up the winter weather elements. Despite the fact that cotton is ideal for more daily/casual dresses versions, there are lots of other models and combos to choose from. And, according to fashion designers, cotton women winter dresses are a real blast for all those of you who are not fans of the heavier winter fabrics and clothing. The long-sleeved version of cotton dresses with an asymmetrical or simple straight shape or the ones with or without a bubble hem are some of the many options you can choose from.
Although the long-sleeved dresses are the most common versions in women winter dresses, there are also other sleeve lengths available on the market in order to satisfy the needs of each and every customer. The colour range is also huge. Except for this, women with allergies can really benefit from wearing a cotton dress in winter as cotton is considered a fabric that has anti-bacterial and hypo-allergenic properties. Additionally, it is an extremely durable fabric that also happens to be soft and breathable. The main downside though is that it can absorb moisture which can be a problem usually when the weather is warm and people tend to sweat more.
Wool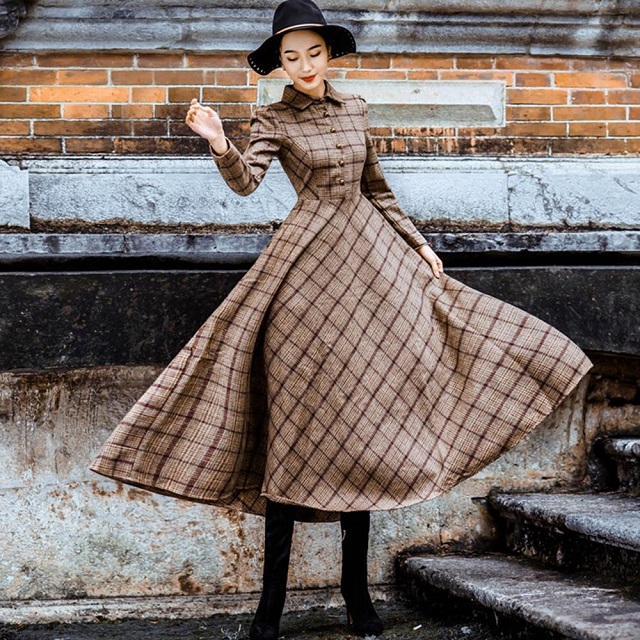 Last but not least, wool is another warm, natural and cosy type of winter fabric. In fact, wool is considered one of the warmest types of winter fabric on the market, and it's one that has exceptional insulation properties. It is also water-resistant which makes it ideal when the weather is rainy or snowy. Although it seems like heavy fabric, the truth is that wool is extremely lightweight, yet durable fabric which makes it a long-lasting option.