The dining area is the heart of many homes – made for gathering, entertaining and enjoying food, drinks and precious moments. Whether it's a stand-alone room or part of an open floor plan, your dining area should be both functional and stylish. The idea is to design an inviting space that reflects your personality and lifestyle. Here are a few ideas that can help you turn your dining room into one of the most frequently used areas of your home, where you and the people you live with can enjoy your mealtime and time spent together, especially in these stay-at-home times.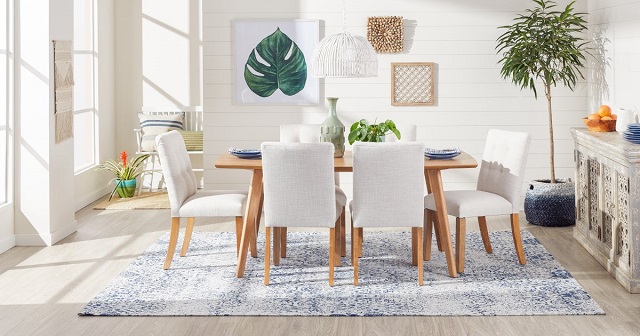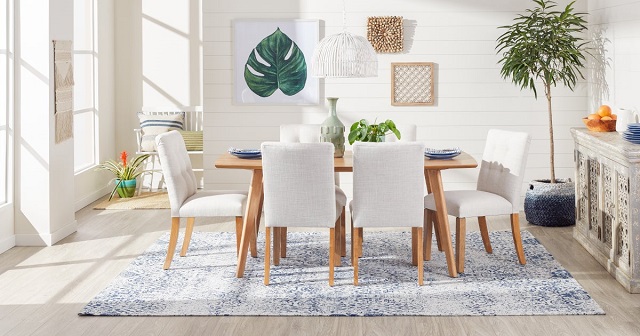 Choose Dining Chairs Carefully
You don't have to pass on a dining table that you like just because it doesn't come with chairs. The dining table and chairs don't have to match, all you need to do is pick carefully and begin by assessing the size and shape of your table and your room. It will help you get an idea of the number of chairs you need and the ideal height.
If you're going for a lighter, airy space, then you may consider wooden chairs with clean lines, while if you're planning to turn the dining room into a place for entertainment, or even work, then you can opt for upholstered chairs that will be more comfortable to sit in for long hours.
What Kind of Fabric is Best for Dining Room Chairs?
Since they're an essential feature of your dining room, you want your chairs to look good and feel comfortable at the same time. When you choose dining chairs Australia stores offer, you'll notice there is a huge selection of high-quality materials.
Some of the most popular solutions for modern dining areas are vibrant fabric and leather styles. Fabric chairs are cosy and you can easily play with texture, while leather chairs are sleek classics and durable options.
Mix and Match
Don't be afraid to mix and match your chairs and explore a more eclectic or bohemian look for your dining room. You can mix up colours, textures and upholstery fabrics of your chairs and keep them and the table within a similar colour family, texture or design theme for visual interest.
Depending on how much space you have available, dining chairs with arms are a good choice for the table ends where there is more room. But if you're working with a small dining room, focus on the comfort of the seat and back and of course, the right colours.
Beautify the Space with Wall Art
Believe it or not, every dining room needs some art. It makes the room look well-curated, carefully designed and welcoming. But when it comes to art, some people worry about the cost or about not knowing what's good and what's not. The good news is that there are no set rules for adorning your dining room walls, so you can find unique print wall art you love and add personality to the area. You can go by size, colour, theme or inspiration, whatever draws the eye.
Before you begin the search, consider the size of your living room to ensure you purchase pieces that enhance the area, instead of making it feel smaller and cluttered and shouldn't come too close to the ceiling height.
Choose with Your Heart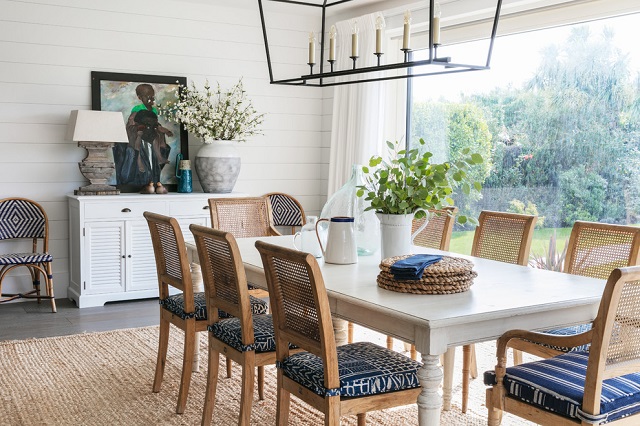 Choosing art doesn't always come naturally. If you find it challenging and overwhelming, look at it as an opportunity for self-expression and select print wall art that showcases your personality in a fun way, through subject, colour and composition.
Find wall art you love, something that foster feelings of enjoyment and relaxation. After all, it's your home and you want it to be a reflection of your taste, not the current trends. To strike a balance, you can opt for wall art that resembles the look of the seating pieces in the room and will give a complementary accent to the entire setup.
Wall art has the power to transform any space and it can surely do the same in your dining room. If the room is mostly neutral, then colourful art could be great to infuse and add a lively vibe to it. But if there is already plenty of colour, texture and pattern, then opt for simpler and more subdued art pieces that will create a balance in the room.
Add Warmth with Modern Rugs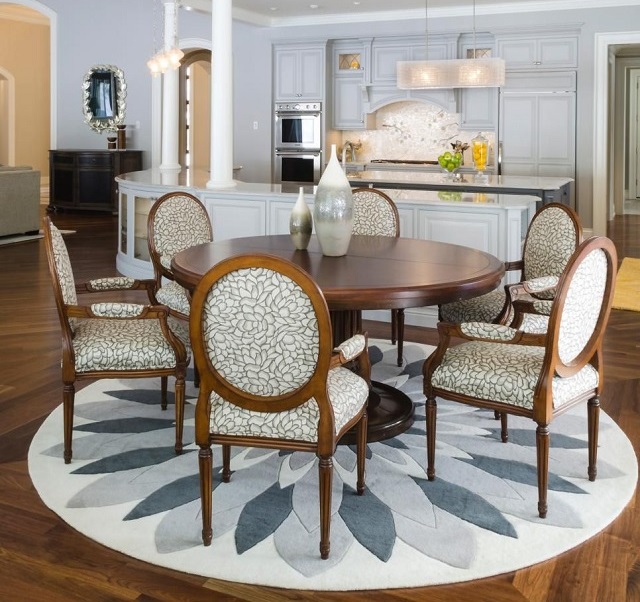 Rugs have been an important part of home décor since ancient times. Modern area rugs have lost none of their room defining powers and when added to a dining area, they can accent the table and the chairs, tying the room together through colour and pattern.
Rugs are some of the most popular and very powerful designer tools that work well with different types of floors. The right rug can bring the dining room together in a seemingly effortless way and create a warm atmosphere.
However, finding a dining room rug that's practical and stylish is not always an easy task. Consider the size and style of your dining room, the shape of our dining table and the existing décor in the room before selecting a rug. You can find modern area rugs that can create a casual sensibility in your dining room and complement the texture and tones of the existing décor scheme.
Pick the Right Colours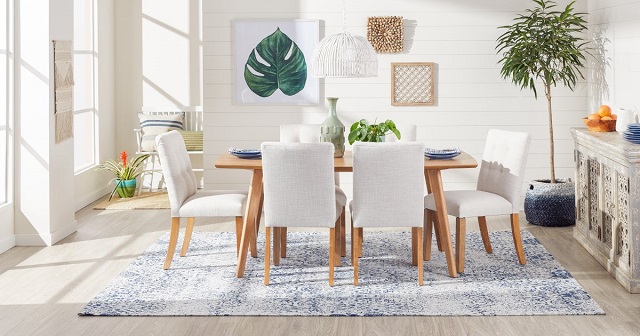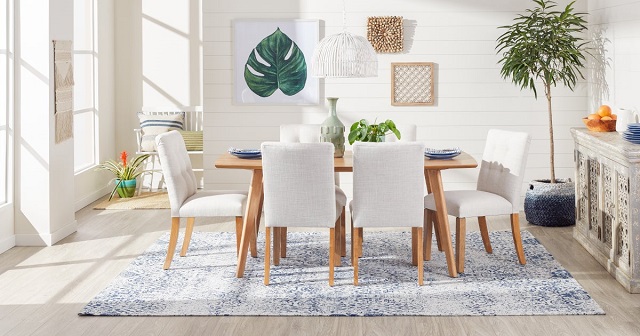 Modern rugs usually come in neutral, earthy colours and can make a big statement in a room that is rich in colours and patterns. But if your dining room furniture and walls are solid colours, then you can opt for patterned rugs that can easily bring the space together. Depending on your personal preferences, you can choose floral, tropical or striped patterns.
The rug shape can complement your dining room furniture and the easiest way is to find a rug that reflects the shape of the table. So, you can opt for a round or oval rug to emphasise a round table, while a rectangle rug will look great under a narrow table.
Lastly, choose a rug that can stand up to heavy use and made of easy-to-clean materials as a dining rug is likely to get a lot of foot traffic and heavy pieces of furniture will be sitting on it. Dining chairs are pulled out and pushed in and accidents with food are likely to happen every now and then.